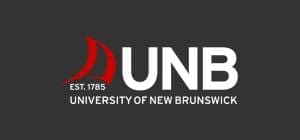 COLLEGE OF NEW BRUNSWICK

Fredericton, Canada
Particular: Details
Location: Fredericton, New Brunswick
Established: 2005
Total Students: 4,576
Percentage of International Students: 16%
University of New Brunswick (UNB), established in 1785, at Fredericton, New Brunswick, is the oldest English language university of Canada. The second UNB campus was established in 1964 at Saint John, New Brunswick. The University has a good reputation for STEM education and for fostering start-up companies.
Runs an exchange program with collaborations in 35 countries.
Partner of the Canadian Space Agency on the Project CubeSat.
Associated with NASA on the Jet Propulsion Laboratory.
Global leader in powered prosthetics research.
UNB has established the world's first dermoskeletics research centre.
Research partner with Google for Google Maps technology development
The UNB has two campuses: Fredericton and Saint John. The UNB also has two smaller, remote health sciences campuses in Moncton and Bathurst, New Brunswick. Two international offices are present in the Carribean and in Beijing, China
Both Fredericton and Saint John campuses have academic and administrative facilities. Both campuses have health services, student services, residences and dining and shopping amenities.
The Fredericton campus is home to the Institute for Information Technology, Muriel McQueen Ferguson Centre and the Richard J. Currie Centre. Saint John campus has the Canadian Rivers Institute and Engineering Machine Shop and Lab. Both campuses are very well-connected to the nearby towns.
CAMPUS FACILITIES
FOOD COURTS
We have a wide range of restaurants, food courts and coffee shops on campus that provide healthy food at reasonable prices. The food courts are located in spacious areas where students can socialize as well as enjoy delicious food.
Restaurant services are available both during the day for commuting students and late into the evening for those living on campus in the dormitories. Delivery of meals from restaurants and cafeterias off campus is also available.
HEALTHCARE
The University provides 24-hour medical clinics and ambulance services for students in case of emergencies.
HAIR & BEAUTY SALONS
Barber shops and hair salons on campus offer convenience to students with separate facilities for men and women.
ENTERTAINMENT & SOCIAL LIFE
The University provides a wide range of entertainment and social activities. Recent cultural events and activities include the celebration of the 42nd UAE National Day, student trips to Spain and Turkey, theatre productions and plays written and directed by students, and concerts and festivals as well as Wildlife, Biodiversity and Cancer Awareness days.
SPECIAL NEEDS RESOURCE CENTER
The Sharjah City for Humanitarian Services (SCHS) has endeavored, since its establishment in 1979, to realize the vision and directives of His Highness, Ruler of Sharjah, in cooperation and coordination with various relevant authorities.The SCHS has made every effort to realize the vision of being a leading institution in the support, care and enablement of disabled students in the United Arab Emirates and Arab nation. It has also been fully committed, through its it mission and collaborations, to limit the causes that lead to various special needs through promoting early intervention, social awareness, and providing support and care for special needs individuals through education, preparation, and employment opportunities so they may participate and perform independently in their communities.
Cooperation between SCHS and other institutions has been very productive with the University of Sharjah being one of its most successful partnerships. This cooperation has resulted in a number of positive accomplishments, the most important of which may be considered the establishment of Resource Center for Students With Disabilities at the University. SCHS will continue to exert all of its efforts to continuously upgrade the Center in accordance with the latest developments and best practices in this field around the world for the welfare of our society and in the best interest of disable students.
The Center aims to realize the full integration of special needs students at UOS and consequently achieve equality between them and other students at the University through offering academic and classroom opportunities, extra-curricular activities for all, and equal opportunities to obtain higher degrees.
STUDENT SUCCESS CENTER
The Student Success Center offers academic support and social guidance to help students with various acadamic and social issues. It also aims at developing all aspects of the student's personality through helping students acquire certain skills to facilitate learning at the University.
The Center focuses on developing an independent and balanced personality so that students are able to cope with various life situations. The Center offers its services through two dedicated offices: the Student Support Office and the Personal and Social Advising Office.
DORMS
The University provides accommodation in a safe and friendly atmosphere, conducive to academic achievement.
Student accommodations are located on campus in close proximity to the University classrooms. Each dormitory includes a lounge area, large kitchen, multi-purpose activity room, TV lounge, study hall, computer labs, convenience store and laundry and dry-cleaning facilities. All dorms offer free wireless highspeed Internet (WIFI) to students.
Visitors are welcome during visiting hours and experienced supervisors are on hand at all times to assist and to help maintain a comfortable atmosphere for all residents.
CHILD CARE SERVICES
We provide child care services to faculty and administrative staff. Our Child Care Center is managed by highly qualified individuals so that children receive proper care and attention under the Center's supervision.
Children receive health, physical and educational care, consistent with Islamic customs and traditions from professionals in the field.
GETTING AROUND
In conjunction with the Sharjah public transportation system, the University provides free transportation in air-conditioned shuttle buses to all students traveling from various districts and locations in Sharjah to the University. Also​ the University provides a variety of transportation services for students, including transportation using golf carts and buses to get around campus. Students will also find plenty of on-campus parking.
The University is well connected by excellent roads to downtown Sharjah, Dubai and Abu Dhabi. Students on campus have the opportunity to enjoy weekly shopping trips to the Dubai Mall.​
2014 Startup Canada Awards – Post-Secondary Institution of the Year for being the most entrepreneurial university of Canada
Center for Worlds University Rankings places UNB 30th in Canada and 895th in the world (top 3.3%).
Business Canada Review Rankings: UNB MBA Program ranked among the top ten in Canada and #1 business school in Atlantic Canada.
Application to be made on UNB website after confirmation of acceptance into a program.
Non-refundable residence application fee: $500 (CDN)
All students who apply before May 15 are allotted a room.
Students can register themselves for accommodation after receiving the acceptance letter.
Off campus housing is also available for students in both Fredericton and Saint John as both towns are close to the UNB campuses.
Fredericton residential options
Students can apply for accommodation in 14 university residence houses
Options include co-ed, all male and all female residences.
First-year students get double rooms.
Suites and apartments with kitchens are available on campus for students above 21 years of age and for married students.
Typical hostel features – Cafeteria, 10.5*8ft single, furnished room, TV lounge, study lounge, vending machine, computer lab, pool and ping-pong table, exercise lounge and internet & telephone cables.
Saint John Residential Options
Accommodation in two co-ed residences
Colin B. MacKay Residence – Two bedroom furnished suites
Sir James Dunn Residence – Single and Double traditional rooms.
Typical hostel features – Security with staff and student access cards, study and TV lounges, free WiFi, TV and phone services, free laundry, mailboxes and vending machines.
50% of high-school students admitted to the UNB receive some scholarship.
Graduate students have access to over 160 graduate awards.
Current and future students can apply to both internal and external awards.
Students can apply for scholarships via the School of Graduate Studies.
Depending upon past academic records, students can be considered without application for certain scholarships too.
The UNB has a very active and well-mannered alumni network. The university believes in making judicious use of social media.
UNB Associated Alumni represents over 85000 ex-students of the university.
Some of the notable alumni are:
Craig Aitchison – Canadian military general
Alfred Bailey – educator, poet, anthropologist, ethnohistorian
Sandra Barr – president of the Geological Association of Canada
If you are planning to study abroad in Dubai and targeting this university, you can get in touch with AEC. Give us a call on +91-8448446609 or 011-43334444 to get assistance on call. You can also write a query and sent it to us at enquiry@aecoverseas.com.