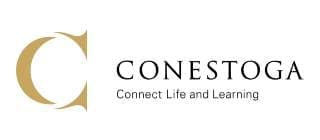 CONESTOGA COLLEGE

Kitchener, Ontario, Canada
Particular: Details
Location: Kitchener, Ontario, Canada
Established: 1967
Total Students: 23,000
Percentage of International Students: 26%
The College operates trades programs at the campuses in Kitchener, Waterloo, Cambridge and Guelph; training facilities are operated in Brantford and Ingersoll. The School's programs include Construction, Motive Power, Industrial and Service sectors, as well as Traditional Apprenticeship and, most recently, Pre-apprenticeship, offered in partnership with private enterprise companies. The College's president revealed a plan in late 2019 to consolidate all of the trades programs at one location in future but the date of the move was not disclosed at that time.
Conestoga has a one, two, three or four-year programs; as well as apprenticeship training programs. There are also many options available to students including four-year degrees[2] in Mechanical Systems Engineering, Integrated Telecommunications and Computer Technology, Architecture, Health Informatics or the International Business Management degree which started in the fall of 2006. Conestoga also has several agreements with Ontario universities including Wilfrid Laurier University, University of Windsor and McMaster University, as well as several other Canadian and international institutions.
Counselling Services
Health Services
Peer Tutoring
Workshops
EAP Support
Essential Study Skills
Library
Immigration, Refugees and Citizenship Canada (IRCC)
US Visa
Express Entry
Ontario Immigrant Nominee Program (OINP)
Active Study Skills
Exam Preparation
Note-taking (In-class)
Note-taking (in textbook)
Time Management
Plagiarism & Academic Integrity
World Ranking: 5076
Continental Ranking1: 125
Country Rank: 83
Presence: 5198
Each bedroom comes with:
Double bed
Desk and work area complete with chair
Television with cable
High speed Internet access
Telephone with free North America-wide calling and voicemail
Dresser
Closet with storage rack
Each kitchenette comes with:
Microwave
Refrigerator
Food preparation area with sink and cupboards
Table with two chairs
Each bathroom comes with:
Stand-up shower -or- bathtub with shower
Toilet
Sink
Doon Campus is the main campus for Conestoga College. It is located at the south end of Kitchener and houses the central administration offices as well as the majority of courses offered by the college. Regional campuses have select programs.
Doon Campus – Main Campus, 299 Doon Valley Drive, Kitchener, Ontario, N2G 4M4
Kitchener Downtown Campus, 25 Frederick Street, Kitchener, Ontario, N2H 6M8
Waterloo Campus, 108 University Avenue East, Waterloo, Ontario N2J 2W2
Cambridge Campus, 850 Fountain Street South, Cambridge, Ontario N3H 0A8
Guelph Campus, 460 Speedvale Avenue West, Guelph, Ontario N1H 6N6
Stratford Campus, 130 Youngs Street, Stratford, Ontario N5A 1J7
Brantford Campus, 50 Wellington Street, Brantford, Ontario N3T 2L6
Cambridge Downtown – Academic Upgrading, Suite 402, 150 Main Street, Cambridge, Ontario N1R 6P9
Ingersoll Skills Training Centre, 420 Thomas Street, Ingersoll, Ontario N5C 3J7
Honey J.23Nov {LTI & DynaM.}
Vic Fedeli, advertising executive and Ontario politician
Will Ferguson, Ontario politician and Cabinet member
Barry Greenwald, whose 1975 student film Metamorphosis at Conestoga College won the Short Film Palme d'Or at the Cannes Film Festival.
Brenda Halloran, RN and Mayor of Waterloo
Brenda Irving, CBC Television sports journalist
Jonny Staub, radio and television personality
Elizabeth Wettlaufer, serial killer
If you are planning to study abroad in Canada and targeting this university, you can get in touch with AEC. Give us a call on +91-8448446609 or 011-43334444 to get assistance on call. You can also write a query and sent it to us at enquiry@aecoverseas.com