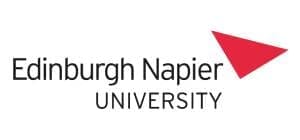 EDINBURGH NAPIER UNIVERSITY

Edinburgh, Scotland
Particular: Details
Location: Edinburgh, Scotland
Established: 1992
Total Students: 13,595
Percentage of International Students: 20%
The university is based around its three main Edinburgh campuses: Merchiston, Craiglockhart and Sighthill. It has over 19,500 students, including those on-campus in Scotland and others studying on transnational programmes abroad and online.[5] In 2018 this included nearly 9,500 international and EU students, from more than 140 nations worldwide.
Edinburgh Napier University's Principal and Vice-Chancellor is Professor Andrea Nolan OBE. The Chancellor is Edinburgh Napier alumnus David Eustace.
Edinburgh Napier has seven Institutes of Research and Innovation:
Institute for Science & Health Innovation
Institute for Creative Industries
Institute for Informatics & Digital Innovation
Institute for Product Design & Manufacture
Institute for Sustainable Construction
Forest Products Research Institute
Transport Research Institute
The Students' Association is a fully constituted, independent association providing student representation and confidential welfare advice, as well as supporting a variety of sporting and cultural societies, under the banner 'Team Napier'.
The Union Bar is located above the Three Sisters bar in the Cowgate, Edinburgh.
The student newspaper, Veritas, is no longer published. It was founded as a tabloid newspaper in 1993 by Neil McIntosh. Past Veritas editors include Craig McGill, Alan 'GtB' Brown, Robin Wynn and Gareth Mackie. Students now receive a monthly newsletter via email instead
Academic skills workshops- 
Theyoffer a range of workshops plus online courses and materials  to help you develop the skills you need to tackle university assessments effectively. Skills include critical reading, analysis, academic writing, oral presentations, E-posters, and preparation and planning for exams.To find out more see the Academic Skills pages on myNapier or contact academicskills@napier.ac.uk.
Academic Skills Advisers- 
Their Academic Skills Advisers are available for informal, confidential assistance. They'll work with you to develop your skills to help you be successful in your studies, from academic essay-writing to time management. To find out how to access this support see their One-to-one guidance pages on myNapier or, for advice about how theycan help, contact academicskills@napier.ac.uk
Get ready for University study- 
This online resource introduces you to some of the key skills you need for successful University-level study, with tips and advice from students in areas such as effective reading, academic writing, oral presentations, revision and exam strategies.
English language support- 
They offer free in-sessional English language support to all our international students to help improve your language skills so that you can excel in your studies. Practise your English and get feedback to further enhance your learning. They offer
Writing workshops
Discussion and presentation skills workshops
Individual help session.
Students with disabilities- 
Thwywelcome students of all ages, backgrounds and abilities. Our disability and inclusion team supports students with temporary or long-term health conditions, disabilities and additional needs.
Edinburgh Napier has student accommodation located at three sites across the city: Bainfield in Fountainbridge (opened 2014), Slateford Road (opened 2015) and Orwell Terrace (opened 2016).
Edinburgh Napier also provides assistance to students looking to rent in the private sector.
The university is based around its three main campuses at Merchiston, Craiglockhart and Sighthill.
Sighthill Campus- TheSighthill Campus opened to students in the School of Health & Social Care and School of Applied Sciences in January 2011. The campus includes a five-storey learning resource centre, 25 specialised teaching rooms including clinical skills laboratories, three IT-enabled lecture theatres and seminar rooms, a clinical skills suite and integrated sports facilities. The campus has received the BREEAM excellence rating. This sets the standard for best practice in sustainable design.
Craiglockhart Campus-TheCraiglockhart Campus is home to The Business School. It incorporates the CraiglockhartHydropathic Hospital buildings which were for a time known as Craiglockhart War Hospital, where First World War poets Wilfred Owen and Siegfried Sassoon were treated. The Craiglockhart Campus exhibits photography, writing, film and memorabilia to provide a glimpse into the minds of the poets, patients and medical staff at Craiglockhart. The exhibition also provides War Poets Collection based on the work of Siegfried Sassoon, Wilfred Owen and selected contemporary poets.
Merchiston Campus-The Merchiston Campus is home to the Schools of Art & Creative Industries, Computing and Engineering & the Built Environment. It is built around the refurbished shell of Merchiston Castle, the family home of John Napier, after whom the University is named. Merchiston Castle is also the ancient seat of Clan Napier. Merchiston Castle is currently a "Category A" listed building in Scotland due to its national significance.[13] The campus also includes the 500-seat, 24-hour Jack Kilby Computing Centre, named after the inventor of integrated circuits and the handheld calculator.
Arts
ShehzadAfzal, film director and screenwriter
Kaberi Gain, Bengali author and social activist
David Hamilton, tenor
El Mafrex, singer-songwriter
Media
Alan Fisher, journalist; Senior Correspondent, Al Jazeera English
Amanda Hamilton, broadcaster
Carol Kirkwood, BBC weather forecaster
Craig McGill, writer, media analyst and PR consultant
Neil McIntosh, journalist with the Wall Street Journal
Catriona Shearer, BBC Reporting Scotland anchor
Gordon Smart, journalist and show business editor at The Sun
Jim White, sports news presenter for Sky Sports News and Talk Sport radio
Politics
John Andrew Barrett, former Scottish Liberal Democrat MP
Jayne Baxter, Labour party politician
Jim Dobbin, English Labour MP
Tom Harris, former Scottish Labour MP
Graeme Morrice, former Labour Party MP
Danielle Rowley, Scottish Labour MP
Alex Salmond, former First Minister of Scotland and Scottish National Party MP
Tavish Scott, Scottish Liberal Democrat MSP
Sports
Peter Hoffmann, author, athlete, fencer
Jamie Mayer, rugby player
Lynsey Sharp, GB Olympian (800m) finalist
Kyle Traynor, rugby player
Other
Paolo Buoni, promoter of Renewable Energy technologies in Europe; Director of the European Energy Centre
Moray Callum, Scottish automotive designer
David Eustace, photographer and Chancellor at Edinburgh Napier University
Neil Poulton, industrial designer
If you are planning to study abroad in the UK and targeting this university, you can get in touch with AEC. Give us a call on +91-8448446609 or 011-43334444 to get assistance on call. You ca also write a query and sent it to us at enquiry@aecoverseas.com.