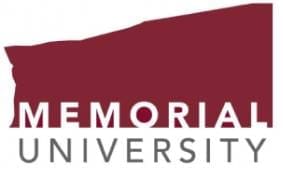 MEMORIAL UNIVERSITY OF NEWFOUNDLAND

St. John's, Canada
Particular: Details
Location: Newfoundland, Canada
Established: 1925
Total Students: 18,256
Percentage of International Students: 22%
Memorial University of Newfoundland (St. John's) is a comprehensive Canadian public university located in Newfoundland and Labrador, Canada. The university offers over 100 certificates, diploma, undergraduate and doctorate programs in various fields. Founded in 1925 as Memorial University College, it is a living memorial to residents of Newfoundland who were martyred in World War I and II.
The largest university in Atlantic Canada – 15,000+ pupils.
The number of student programs, exchanges and research partnership agreements: 134 spread out in 40 nations.
Strategic Internationalization Plan 2020 aims at increasing foreign students on Memorial campuses. 191 percent rise in international students since 2008
40% of Memorial research is ocean-related, with 68% of it being in the Faculty of Science.
Memorial University, Dalhousie University and the University of Prince Edward Island have established the Ocean Frontier Institute for Safe and Sustainable Ocean Development.
Investment of CAD 325 million CAD in the Core Science Building for old Ocean and Arctic Science, Technology and Society, or COASTS.: 125,000 ft2 purely for industry R&D collaboration.
The University has 4 main campuses in Newfoundland and Labrador. Apart from classroom courses, the University also provides 450 online courses.
St. John's Campus, Newfoundland
Modern and urban campus spanning 113 acres.
University administrative hub.
Teaching and research of all six faculties and schools takes place at St. John.
Grenfell Campus, Corner Brook, Newfoundland
Liberal arts and science campus specializing in environmental and fine arts programs.
18 Bachelor's and Masters's degrees are offered here.
The campus size is 75 hectares.
Marine Institute, St. John's, Newfoundland
One of the most internationally active Canadian institutes completing over 200 projects in +50 countries in the last 3 decades with governments, NGOs, and corporate partners.
Certified ISO 9001:2008 FS64986
Canadian leader for fisheries and marine education.
Listed among the largest marine training and education facilities in the world.
The size of the institute is slated to be increased by 1/3.
CAD155 million investment in COASTS project of the Marine Institute with +33% contribution from industry partners.
C-CORE participation in the construction of the world's pioneer ice-capable Oil Spill Response Centre of Excellence.
Counselling
Medical
Library
Financial Aid
Bookstore
Student identification
Student Residences provides on-campus housing at the St. John's campus in three residential complexes.
Paton College (colloquially Old Res), MacPherson College (colloquially New Res) and Burton's Pond. There is a mess hall for students in residence, the R. Gushue Dining Hall, serviced by Aramark. A meal plan is mandatory for students in Paton and MacPherson.
The Paton College dormitories offer traditional dormitory-style accommodations for approximately 1000 students in nine residences, called Houses, and named after persons associated with the University or Newfoundland and Labrador: Barnes, Blackall, Bowater, Burke, Curtis, Doyle, Hatcher, Rothermere, and Squires.
The newer MacPherson College consists of two similarly-named Halls: Shiwak and Cluett, which house 250 students each, and were officially opened in 2013.
The five Courts of Burton's Pond apartments accommodate a total of 640 students (inclusive of any dependents) in four-bedroom apartments, and provide a more independent lifestyle on campus. They are, in alphabetical order, Baltimore, Cabot, Cartier, Gilbert, and Guy.
David Agnew, president, Seneca College of Applied Arts and Technology, former Secretary of Cabinet, Government of Ontario
Gary Botting, poet, playwright, lawyer and legal scholar
Donald B. Dingwell, D.Sc. (h.c. mult.) FMSA FGAC MAE FAGU FRSC BVK ACATECH ML FAAAS, award-winning experimental geoscientist, past President of the European Geosciences Union, 3rd Secretary-General of the European Research Council, President of the International Association of Volcanology and Chemistry of the Earth's Interior
Robert Gellately, historian
John Gosse
Alan Haskvitz, educator, National Teachers Hall of Fame, Reader's Digest Hero in Education
George Ivany, President, University of Saskatchewan
Mary C. Lobban, British physiologist
Brian Pratt, award-winning paleontologist and sedimentologist, Fellow of the Geological Society of America, and past president of the Geological Association of Canada
Harold Williams, geologist and world expert on the tectonics of mountain belts
Nick Careen – Vice President at Air Canada
Moya Greene – President and CEO of Royal Mail
Lorraine Mitchelmore – President and Country Chair and Executive Vice President Heavy Oil for Shell Canada Limited
Barry Perry – CEO at Fortis Inc.
Una Power – CFO at Nexen Inc.
Larry Short, CPA – CBC Contributor, Executive Director, and Portfolio Manager at ShortFinancial
Jane Rowe – President of Teachers Private Capital, the private equity arm of the Ontario Teachers Pension Plan
If you are planning to study abroad in Canada and targeting this university, you can get in touch with AEC. Give us a call on +91-8448446609 or 011-43334444 to get assistance on call. You can also write a query and sent it to us at enquiry@aecoverseas.com.