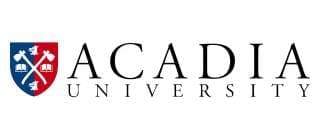 ACADIA UNIVERSITY CANADA

Wolfville, Canada
Particular: Details
Location: Nova Scotia, Canada
Established: 1838
Total Students: 3,737
Percentage of International Students: 6%
Founded 1838.
In pulverevinces – Through effort (dust) we conquer.
President and Vice Chancellor. Dr. Peter Ricketts.
Bruce Galloway ('68)
Campus size. 250 acres (100 hectares)
Full-Time Enrolment. Undergraduate: 3,574.
First-year Student Origins. Eastern Canada: 67%
Clubs and Organizations- 70+ student-run opportunities
Faculty to Student Ratio- 1:14
By choosing Acadia, you have opportunities to work closely with professors, volunteer in the community, study abroad, enjoy co-op placements, and be engaged in real-world research. Acadia's four faculties – Arts, Pure and Applied Sciences, Professional Studies, and Theology – offer more than 200 degree combinations in its undergraduate academic programs and graduate programs. Some of our most popular majors are in biology, marketing, English, psychology, environmental studies, and kinesiology.
Chaplaincy
Faith
Well Being
Counselling
Career Advices
Approximately 1500 students live on-campus in 11 residences:
Chase Court
Chipman House
Christofor Hall
Crowell Tower (13 Story High-rise)
Cutten House
Dennis House – First floor houses student health services
Eaton House
Roy Jodrey Hall
Seminary House – Also houses the School of Education in lower level
War Memorial (Barrax) House
Whitman Hall (Tully) – All female residence
Willett House (former residence)
Acadia University's campus is beautiful. So beautiful, in fact, that we often hear this phrase, "I visited campus and fell in love." Just steps beyond Acadia's campus you can explore a rich, natural environment that includes the world's highest tides, vineyards, woodland trails, and farmlands.
Edgar Archibald, scientist and politician
Norman Atkins, Canadian senator
Ron Barkhouse, MLA for Lunenburg East (Horton Academy)
Todd Battis, Correspondent CTV National News
Gordon Lockhart Bennett, Lieutenant-Governor of Prince Edward Island
Arthur Bourns, President of McMaster University
Libby Burnham, lawyer, Chancellor of Acadia University
Bob Cameron, football player
Dalton Camp, journalist, politician and political strategist
Elizabeth Cannon, University of Calgary's President & Vice-Chancellor
Paul Corkum, physicist and F.R.S.
John Wallace de Beque Farris, Canadian senator
Mark Day, actor
Michael Dick, CBC-TV Journalist
Charles Aubrey Eaton (1868–1953), clergyman and politician
William Feindel, neurosurgeon
Dale Frail, astronomer
Rob Ramsay, actor
Alexandra Fuller, writer
Gary Graham, musician, choral conductor
Milton Fowler Gregg, VC laureate, politician
Robbie Harrison, Nova Scotian politician and educator
Richard Hatfield, Premier of New Brunswick
Charles Brenton Huggins, Nobel Laureate
Kenneth Colin Irving, industrialist
Robert Irving, industrialist
Ron James, Canadian comedian
Lorie Kane, LPGA golfer
Gerald Keddy, Member of Parliament
Joanne Kelly, Actress
Kenneth Komoski, Educator
David H. Levy, astronomer
Peter MacKay, lawyer, Canadian Minister of National Defence
Henry Poole MacKeen, Lieutenant-Governor of Nova Scotia
Paul Masotti, football player
If you are planning to study abroad in Canada and targeting this university, you can get in touch with AEC. Give us a call on +91-8448446609 or 011-43334444 to get assistance on call. You ca also write a query and sent it to us at enquiry@aecoverseas.com.