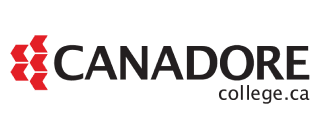 CANADORE COLLEGE

North Bay, Canada
Particular: Details
Location: North Bay Ontario, Canada
Established: 1972
Total Students: 3500
Percentage of International Students: 9%
The college is affiliated to CCAA, ACCC, AUCC, CBIE, CUP.
Canadore athletes (Panthers) compete at the OCAA (Ontario Colleges Athletic Association) varsity level in men's/women's volleyball, men's basketball and men's/women's indoor soccer.
Canadore College offers more than 65 full-time post-secondary programs, focused in several key academic sectors: aviation technology; business and management; community justice and police studies; culinary arts; environmental studies and biotechnology; health, human care and wellness; indigenous studies; language, access and preparatory studies; media, design and dramatic arts; sport and recreation; and trades and technology. Part-time studies in business; general interest; geographic information systems; health sciences; hospitality; information technology; languages; law and justice; preparatory studies; recreation and leisure services; trades and technology; and transportation are also offered in the traditional classroom and/or online.
On-Campus Support Services
Mature student testing
Individualized guidance, consulting and support
Peer tutoring, academic supports
Media resources
Open access to computer labs
Student success resource centre
Emergency food bank
Summer transition program
Co-curricular record / Canadore Volunteers
Mental health triage nurse
Ontario Telemedicine Network
Canadore shares its main campus facilities with Nipissing University. Canadore College has four campuses: Aviation Technology Campus, Commerce Court Campus, and the Education Centre (College Drive Campus) in North Bay, Ontario, one campus in West Parry Sound, Ontario, and two campuses in the GTA – Canadore at Stanford. The Education Centre is situated on a 263-hectare (650-acre) wooded escarpment with over 26 km (16 mi) of wilderness trails.
Canadore College offers apartment-style residences, also referred to as Lower Residence.
Kevin Frankish
Susan Hey
Bryce Hallett
Lorraine Rekmans
Sara Mayhew
Derek Elliot
If you are planning to study abroad in Canada and targeting this university, you can get in touch with AEC. Give us a call on +91-8448446609 or 011-43334444 to get assistance on call. You can also write a query and sent it to us at enquiry@aecoverseas.com