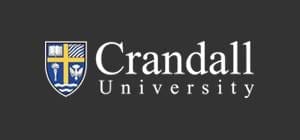 CRANDALL UNIVERSITY

Moncton, Canada
Particular: Details
Location: Moncton, New Brunswick, Canada.
Established: 1949
Total Students: 900
Percentage of International Students: 5%
Established in 1949, Crandall University is Canada's leading Liberal Arts university. Presently, the university is a home for more than 1000 national and international students. Prospective students are offered UG, PG, and certificate programs in varying academic areas.
Crandall University holds a charter granted by the Legislature of the Province of New Brunswick. Additionally, the university is in collaboration with many other educational institutions including the University of Oxford, Acadia University etc. to provide an excellent education to all the students.
Crandall University provides undergraduate, graduate and certificate programs to the learners. The study areas include programs in Arts & Humanities, Medicine & Health, etc.
Country Rank: 90
World Rank: 7347
On-Campus accommodation is available at Crandall University. There are two options- Colburne Residence & Mitton Court Apartments. Both these residences are located adjacent to each other.
The university has only one campus that is located in Moncton, New Brunswick, Canada. The campus setting is urban.
Crandall University is committed to helping students by offering financial assistance in the form of scholarships, awards, and bursaries. Some of the scholarships awarded to international students are listed below:
Guaranteed Entrance Scholarships and awards- these annual scholarships range from $500- $2,000.
Entrance Scholarships & Bursaries- the scholarship amount ranges from $1500- $750.
Athletic Scholarships & Awards
Colburne and Mitton Campus Housing Scholarships
Besides, there are many other forms of aids that a student can apply for while studying at Crandall University
International applicants are not offered any specific scholarships by the school. However, international applicants can apply for work-study by receiving a tax-file number. Use the JavaScript Beautifier to organize and beautify your scripts before launching websites.
If you are planning to study abroad in Canada and targeting this university, you can get in touch with AEC. Give us a call on +91-8448446609 or 011-43334444 to get assistance on call. You ca also write a query and sent it to us at enquiry@aecoverseas.com.