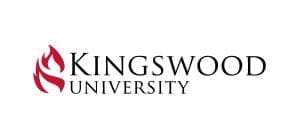 KINGSWOOD UNIVERSITY

Sussex, Canada
Particular: Details
Location: Sussex, NB
Established: 1945
Total Students: 500
Percentage of International Students: 2%
Founded in 1945, Kingswood University is a non-profit private higher education institution located in the rural setting of the small town of Sussex (population range of 2,500-9,999 inhabitants), New Brunswick. Officially accredited and/or recognized by the Department of Post-Secondary Education, Training and Labour, New Brunswick, Kingswood University (KU) is a very small (uniRank enrollment range: 250-499 students) coeducational higher education institution formally affiliated with the Christian-Methodist religion. Kingswood University (KU) offers courses and programs leading to officially recognized higher education degrees in several areas of study. See the uniRank degree levels and areas of study matrix below for further details. This 75 years old higher-education institution has a selective admission policy based on students' past academic record and grades. International students are welcome to apply for enrollment.
Legal services 
Health clinic

Personal/psychological

counselingCheckmark

Women's center
International students advisor
Kingswood University is located in the city of Sussex in Canada. The institute was established in the year 1945 This is a Public type of institution Programs available at Kingswood University are Bachelor , Master The total number of students enrolled in Kingswood University is 499 The Eligibility for admission in Kingswood University, Canada is IELTS/TOEFL/PTE or alternative qualifications or GRE Accepted Kingswood University is accredited to Association of Christian Schools International (ACSI)
Kingswood University is located on the west side of Sussex, New Brunswick. The campus is split between the lower campus located off Main Street and the upper campus located on top of a hill. The back side of campus is ringed by the Kennebecasis River.
Lower campus–
Nicholson Hall

The Earle & Marion Trouten Library

Library staff offices

One classroom

Burbury Administration Building

Administration Department

Communications Department

One classroom

Practice Rooms

Video Studio
Kingswood University Upper Campus-
Bridgeo House

Enrolment Department

Operations

Faculty House

Faculty offices

Joan Phillippe House

Female residence

Townhouse

16 apartments for married and single students

Spiritual Life Department

Academic Department

Ingersoll Dorm

Male residence

Stairs Hall

Cafeteria

Classrooms

Mitchell Student Center

Student Services

Deli

Campus mailboxes

TV and rec room

Tom Phillippe Dorm

Split male and female dorm

Saunders Irving Chapel

Chapel

Prayer room

Wesley Hall (Banquet Hall with Meeting Room / Classroom Area)
On campus housing for students is available.
For medical and other emergencies, on-campus hospital is available.
Financial aid is available for students studying at Kingswood University
If you are planning to study abroad in Canada and targeting this university, you can get in touch with AEC. Give us a call on +91-8448446609 or 011-43334444 to get assistance on call. You can also write a query and sent it to us at enquiry@aecoverseas.com.