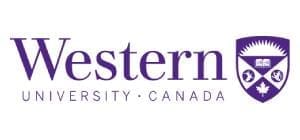 UNIVERSITY OF WESTERN ONTARIO

Ontario, Canada
Type of University- Public University
Affiliation- The University of Western Ontario is affiliated with three university colleges-  Brescia University College, Huron University College, and King's University College.
Number of Students- According to the university website, there are currently 43,352 students in the university and out of them 4759 are international students from 129 different countries
Location- 1

151 Richmond St, London, ON N6A 3K7, Canada

Established- 7 March, 1878
Founded in: 1878.
President: Dr. Alan Shepard.
Operating Revenue: $778.2 million.
Library Book Holdings: 5.7 million.
Land Area: 481.2 hectares.
Founded by Bishop Isaac Hellmuth in 1878, the institution known today as Western University has maintained a legacy of visionary leadership and commitment to research excellence. Initially offering four faculties, including Arts, Divinity, Law, and Medicine, the university opened its doors in 1881. In 1916, the campus was acquired from the Kingsmill family, leading to its renaming as The University of Western Ontario in 1923. Over the years, Western University has evolved into one of Canada's top research universities, with its pioneering discoveries spanning from fundamental to applied knowledge, contributing significantly to economic, social, health, and cultural development, both nationally and globally.
The main campus of The University of Western Ontario offers student housing, with nine student residences housing either first-year students or upper-year students. In September 2015, 23.49 percent of the undergraduate population lived on campus, including 78.69 percent of all first-year students. Each residence operates their own Residences' Council, governed by their own constitutions. Student residence building are split between traditional-styled residences, suite-styled residences, and hybrid-style residences that incorporate elements of traditional and suite-styled residences.
Traditional-styled residences include Delaware Hall, Medway-Sydenham Hall, and Saugeen-Maitland Hall. Suite-styled residences include Alumni House, Elgin Hall, Essex Hall, and London Hall. Hybrid-styled residences include Perth Hall and Ontario Hall. Alumni House and London Hall is reserved strictly for upper-year student. The largest residential building at the university is Saugeen–Maitland Hall, which houses 1,252 first-year students. The smallest residential building is Alumni House, which houses 224 upper-year students. The university also operates three apartments on campus strictly for upper-year and graduate students. The University's apartments consist of Bayfield Hall, made up of 299 1-bedroom units, Beaver & Ausable Halls, made up of 99 2-bedroom units, and Lambton Hall, made up of 150 2-bedroom units.
Western University, also known as the University of Western Ontario (UWO), is a publicly funded research institution situated in London, Ontario, Canada. The primary campus occupies a sprawling 455-hectare (1,120-acre) expanse, nestled among residential communities, with the Thames River running through its eastern sector. The university encompasses twelve academic faculties and schools, fostering a diverse and vibrant educational environment.
QS- 114
Times Higher Education- 201-250
M. Shahid Alam — economist
U. Aswathanarayana — Honorary Director of the Mahadevan International Centre for Water Resources Management, India
George Ayittey — Ghanaian economist, author and president of the Free Africa Foundation in Washington DC, professor at American University
Donald Charlton Bradley — inorganic chemist
Roberta Bondar (M.Sc. 1971 Experimental Pathology) — astronaut
Sudi Devanesen — physician, professor of medicine
Thalia Assuras (B.Sc. 1980, M.A. 1981 Journalism) — CBC and CBS journalist[4]
Cameron Bailey — film critic and Toronto International Film Festival programmer
Perrin Beatty (1970) — former president, CBC
If you are planning to study abroad in Canada and targeting this university, you can get in touch with AEC. Give us a call on +91-8448446609 or 011-43334444 to get assistance on call. You can also write a query and sent it to us at enquiry@aecoverseas.com.