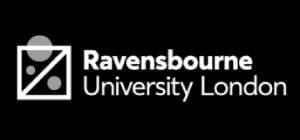 RAVENSBORNE UNIVERSITY LONDON

London, England
Particular: Details
Location: London, UK
Established: 1962
Total Students: 2,530
Percentage of International Students: 12%
Ravensbourne was established in 1959 by the amalgamation of Bromley School of Art and the Department of Furniture Design of Beckenham School of Art. It was originally at Bromley Common and Chislehurst in outer London. It moved to a purpose-built campus in inner London on the Greenwich Peninsula in September 2010.
Ravensbourne University London (formerly Ravensbourne College of Design and Communication) is a digital media and design university, with vocational courses in fashion, television and broadcasting, interactive product design, architecture and environment design, graphic design, animation, moving image, music production for media and sound design.
They offer learning support and development with Study Skills, specialist tutoring and mentoring to keep you motivated and on-track
They aim to ensure that disability and learning difficulties are not barriers to your studies
They are here to provide a listening ear and point you in the right direction for counselling if you're having personal issues
They offer careers advice, help with getting work placements and job opportunities
They are here to help you with managing your money
They also offer support and advice on accommodation for undergraduates and postgraduates
Undergraduate
Postgraduate
International students
In addition to the providers listed above:
A new campus was constructed at Greenwich Peninsula, opening in September 2010. The new campus is next to The O2, an entertainment district at Greenwich Peninsula. This brings the institution closer to partner institutions and the industries to which it relates. The building won a British Construction Industry Award in 2011.
Brian Barnes, artist
David Bowie, musician
Dinos Chapman, artist
Maria Cornejo, fashion designer
Beryl Dean Disruptive embroiderer
Rose Finn-Kelcey, artist
NazaneenGhaffar, weather presenter, Sky News
Robert Hewison, literary scholar
Simon Hilton, film director & editor
Peter James, writer and film producer
John Leckie, record producer
Anthony McCall, artist
Stella McCartney, fashion designer
Bruce Oldfield, fashion designer
Chris Orr, artist
Jay Osgerby (BarberOsgerby), product and furniture designer
Tim Pope, film director
Carol Tulloch, Professor of Dress, Diaspora and Transnationalism
Ben Cormack, writer and illustrator
Alison Wilding, sculptor
Andrew Kötting, Artitist
AndiOsho, comedian
Clare Waight Keller, fashion designer.
Wilson StraightwaterIII (CEO – Acme), brightboy.
If you are planning to study abroad in THE UK and targeting this university, you can get in touch with AEC. Give us a call on +91-8448446609 or 011-43334444 to get assistance on call. You ca also write a query and sent it to us at enquiry@aecoverseas.com.