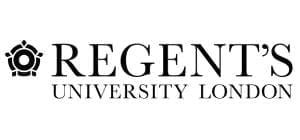 REGENT'S UNIVERSITY LONDON

London, England
Particular: Details
Location: South Villa Estate campus of the University of London's Bedford College in Regent's Park.
Established: 1984
Total Students: 3,772
Percentage of International Students: 12%
Regent's University London currently has around 3,600 full-time students.
The University has an international student body with students coming from 130 countries overall. Fifteen per cent of Regent's students are from Britain. Another forty per cent come from elsewhere within the European Union. Fifteen per cent of the students come from the US
Regent's University London offers a wide range of courses in business, arts and humanities. Undergraduate fees as of 2013 were about £14,000 per annum. The University has a student-faculty ratio of 14 to 1.
The University offers PhD research degrees that are validated by the University of Northampton and a Doctor of Psychology (DPsych) programme validated by the Open University.
Regent's University London had an average of 538 full-time equivalent staff during the year ended 31 July 2015 (561 in 2014), of whom 253 were academic staff and 285 were management and administration staff.
Regent University's ranking in the 2020 edition of Best Colleges is National Universities, #281. 
Reid Hall
Reid Hall is the main campus dormitory and houses 224 students in a mix of single, twin and triple rooms over four floors. Each floor has three communal bathroom facilities, and, while the rooms include meal credit to be used in the University's range of dining outlets, there is also a pantry on each floor, providing you with access to a kettle, sink, and microwave.
Oliver Flats
The Oliver Flats are a small collection of rooms which are on campus but separate from the dormitory. Each room has its own private bathroom and shares the same kitchen. There are three single rooms and one twin room available in the Oliver Flats. Meal credit for use in the University's range of dining outlets is included with these rooms.
JavedAfridi (CEO of Haier Pakistan)
Sultan Sooud Al-Qassemi (Emirati commentator on Arab affairs and also a member of the Sharjah ruling family)[citation needed]
AnjumAnand (food writer and television chef)
Mark Ehrenfried, (Pianist and composer)[citation needed]
Prince Félix of Luxembourg
Kathrine Fredriksen (Norwegian businesswoman. Board member of Norwegian Property)
Fabien Fryns (Belgian art dealer and collector)
Riccardo Giraudi (CEO of Giraudi)
Eleonore von Habsburg (Austrian fashion model, family member of the House of Habsburg-Lorraine)[citation needed]
Prince Konstantin of Bavaria
Sultan Muhammad V (former head of state of Malaysia)
Pascale Mussard (sixth-generation Hermès family member; former co-artistic director with her cousin Pierre-Alexis Dumas)
Philip OzoufJr (Treasury and Resources Minister in the Council of Ministers, Jersey)
SharanPasricha (Founder & CEO of Ennismore, owner of Gleneagles Hotel and The Hoxton)
JetsunPema (Queen consort of Bhutan)
Karl-Johan Persson (President& CEO of Hennes&Mauritz)
Sir Robert Paul Reid (form Chairman of the British Railways Board)
Lady Kitty Spencer (English fashion model)
Noelle Reno (fashion entrepreneur, television presenter and former model)
Ruby Wax (comedian and television presenter)
Elizabeth Yake (film-maker)[citation needed]
Zeeshansiddique (Indian politician)
If you are planning to study abroad in the UK and targeting this university, you can get in touch with AEC. Give us a call on +91-8448446609 or 011-43334444 to get assistance on call. You can also write a query and sent it to us at enquiry@aecoverseas.com.