Supply chain management is involved in every possible aspect of moving services and goods to customers like moving raw materials to supermarket shelves. The professionals of supply chain management attempt to optimize and integrate the essential steps to produce the right amount of the products and deliver them to the customers within a stipulated period. If you are interested in making your career in this field, read on this post to know more about supply chain management. Let us get started with the basics first.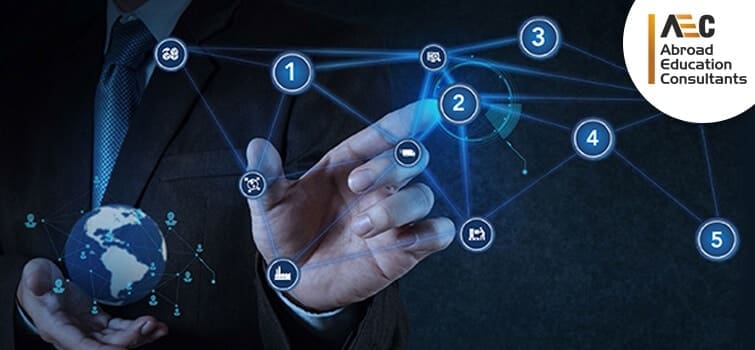 What is Supply Chain Management?
Supply chain management is the field that ensures that services and goods get into the hands of the customers. And the logistics industry acts as a driver of economic development and growth. All types of businesses whether it is small or big, need logistics managers or supply chain managers to help with accounts and inventory. A larger firm appoints different people to handle different tasks in the supply chain and logistics departments, while smaller firms may have only one person for the duties.
Education Requirements for Supply Chain Management
For entry-level jobs or to work in supply chain management and logistics field, you will need a bachelor's degree. Some companies may require a master's degree or a professional degree to mid-level and senior-level positions. However, it depends on the level of responsibility.
Most degree programs and courses offer internship opportunities. It is an easy way to get the first-hand experience. There are various other programs with a concentration in supply chain management and logistics. However, both are equally beneficial for you if you have an interest in this field.
Some universities and colleges offer several options to the students. We have tabulated some of the popular yet common degree courses and programs available globally:
Particular
Details
Associates

Associates in Logistics/Supply Chain Management Programs

Bachelors

Bachelors in Project Management Programs
Bachelors in Logistics/Supply Chain Management Programs
Bachelors in Operations Management Programs

Masters

Masters in Industrial Engineering Programs
Masters in Operations Management Programs
MBA in Project Management Programs
Masters in Project Management Programs
Masters in Logistics/Supply Chain Management Programs

Doctoral

Ph.D. in Project Management Programs
DBA in Logistics/Supply Chain Management Programs

Certificates

Certificates in Logistics and Related Fields
Economics, accounting, statistics, and business law are some common courses to add-on the most specified supply chain management and logistics material. A professional in this field should have adequate knowledge of several software programs to track the products' movement.
The majority of professionals work in the manufacturing sector for the government or with other opportunities in technological, scientific, aerospace or transportation fields.
Various Career Options in Supply Chain Management
The field offers different career options to those who are certified and skilled. Some career options have been given in the table below:
Please note the job title may change or may available or not as everything depends on the geographical location, size of the company, etc.
| | |
| --- | --- |
| Job Title | Job Description |
| Project Managers | These professionals are responsible for leading the teams of consultants in the daily management of clients' relation. They typically oversee analysts and work closely with consultants to ensure that the project is executed as per the plans within the time and cost mentioned. |
| Industry Analysts | They interview candidates in manufacturing, logistics, inventory, procurement and warehousing roles to establish business processes and other supply chain requirements of a company. |
| Global Logistics Managers | These individuals manage a huge range of functions that include distribution and warehouse, predicting, planning, customer service, logistics information systems, and buying. They negotiate and contract with carriers and suppliers, create supply chain metrics and strategies, and supervise routine management of the logistic functions. |
| Supply Chain Sales | They sell supply-related services and outsource work to the third-party vendors along with logistic solutions to the targeted customers in certain industries. The functions of this job role focus on both account and sales management. |
| Transportation Directors | They are accountable for managing both the outbound and inbound transportation of materials and final products from the distribution center. They oversee carriers, transportation budgeting and costs, freight bill representation and third-party transport providers. These professionals negotiate contracts and ensure cargo transgresses borders effectively and smoothly. |
| Supply Chain Consultants | Now, many logistics firms work with foreign distribution centers. You, as professional work as a consultant and manage a wide range of companies and provide useful tips and strategies on how to coordinate certain processes. |
| Purchasing Managers/ Procurement Analysts | As the title refers, purchasing managers oversee the purchasing department of the company. They work on analyzing the past cost or historical data for materials, predicting future costs and checking out the prospective vendors. This is an important role as you have to identify suppliers of raw materials, negotiate contracts and manage suppliers. |
Apart from this, you can kick-start your career in the following fields of supply chain management:
General Management
Project Management
Small Business Management
Operations Management
Job Titles as per the Position
We have listed some common job titles above. Now look at the job titles as per the position:
Level of the Job
Job Titles
Entry-Level

Assistant Buyer
Assistant Purchasing Agent
Inventory Clerk

Mid-Level

Materials Manager
Traffic Manager
Procurement Specialist
Purchasing Analyst

Leadership or Senior-Level

Strategic Planning Director
Contracts and Procurement Director
Vice President of Supply Management
Average Salary and Career Outlook in Supply Chain Management
As per the reports of the PayScale.com, supply chain professionals earned an average annual salary of $81,000 in August 2019. According to this website, most supply chain managers and other professionals of this field may earn between $52,000 and $116,000.
According to the US Bureau of Labor Statistics, the employment in supply chain management is anticipated to grow up to 7% from 2016 to 2026. This growth will demand more well-trained and well-informed professionals to fulfill the needs of this sector.
Real-World Examples of Best Supply Chain Management
According to the US Bureau of Labor Statistics, the employment opportunities for these professionals along with computer and information research scientists is expected to grow up to 11% by 2024. These professionals are likely to enjoy exceptional job prospects when more and more companies started reporting difficulties in finding highly skilled professionals.
Educational Requirements for Data Analysts
There are so many real-world examples of prosperous firms that have properly developed and executed the supply chain management concepts and practices. These examples include:
This brand is dedicated to producing, selling and distributing oral hygiene as well as home cleaning products. They keep presenting various aspects of product diversity, usefulness, optimization, and customer support. For this, they use effective and popular distribution channels that encompass different aspects of maintenance and care. The products of Colgate are mainly sold in venues like supermarkets, pharmacies, small wholesalers, convenience stores, etc. therefore, creating an exceptional impact within their management and distribution channels is necessary for them.
They are well-known makers, distributors, and marketers of non-alcoholic syrups and drink concentrates. Even though they are situated in Atlanta, their products are distributed or sold virtually all around the world. Their preparation, supply, and transportation logistics are aligned with segmentation strategies for their targeted customers when it comes to the products and its presentation. Apart from having a successful supply chain, the company participates in partnership, sponsorship, and alliance programs. All these things create brilliant marketing and management of their products.
It is a global chain of convenience stores. They have more than 58,308 stores in 16 different countries and most of them are franchises. The focus of this brand is on selling medicine, basic food items, magazines, toiletries, etc. They are known for supplying a wide range of products and services of customer needs round the clock. Their management, reach and capacity have made this brand one of the most productive and biggest companies in the world.
Feeling excited after reading this post? Or do you have the essential skills to become a supply chain management professional? If all your answers are YES, then to start your career in this field, you must enroll yourself in the degree or any other related programs. Some universities and colleges in the UK, Ireland, Australia, and Canada offer such courses and programs. To know more about the universities/colleges, courses, programs, admission process, and student visa process, kindly visit AEC and get assistance from our expert student relationship managers and consultants. For details, you can give us a call on +91-8448446609 or 011-43334444 or simply write to us at enquiry@aecoverseas.com.