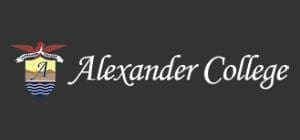 ALEXANDER COLLEGE

Burnbay, Canada
Particular: Details
Location: British Columbia, Canada
Established: 2006
Total Students: 4500
Percentage of International Students: 15%
Alexander College is a private post-secondary educational institution established in British Columbia, Canada in 2006. The college has two campuses – Burnaby and Vancouver, both in British Columbia. The college offers two-year Associate degrees and university transfer.
Prerequisites & Eligibility Criteria
Students applying for applying for Alexander College must fulfill the stated eligibility criteria and have the following documents ready before applying.
Transcripts must be in the English language or they should be submitted along with a notarized English translation.
Applicants should be 16 years of age or older.
Direct Entry from High School
Applicant must have completed 12 years of secondary education to be eligible for the Associate Degree program.
International students must demonstrate a fluent command of the English language.
University Transfer
Applicants should have a minimum of 9 transferable credits earned after completion of high-school or equivalent level of education.
Cumulative GPA should be 1.50 or higher.
Provisional admission is possible for students who have GPA less than 1.50.
Transcripts must be in the English language or they should be submitted along with a notarized English translation.
Certain programs may have specific requirements and candidates are requested to check with concerned departments for the same. Alexander College, Canada Alexander College is a well known university in Canada. The university was established in the year 2006 and admits around 2000 students every year. Currently, The University offers over 80 university level programs in varied disciplines which are transferable courses. The University believes in having small class sizes to provide big opportunities to students.
The university invites applications for admission in summer, spring and fall sessions.
Students need to apply for both undergraduate and postgraduate courses through the university admission portal.
For English proficiency, standardized test scores like IELTS, TOEFL, LPI, and other equivalent scores are accepted by the university.
The candidate must hold a Canadian citizenship or authorization to work in Canada.
The winter/fall term requires 3 or more university level courses, spring term requires 3 or more university level courses and summer term requires 2 or more university transfer level courses.
Alexander College offers a variety of undergraduate degree and transfer programs including University Transfer, Associate of Arts degree and Associate of Science degree.
An integrated English for Academic Purposes program is also available to assist non-native English speakers with their transition to university level studies in the English language.
Alexander College is recognized and accredited by the BC Ministry of Advanced Education, Degree Quality Assurance Board (DQAB), BC Education Quality Assurance (EQA)[3] program, and is a proud participant in the BC Transfer System, organized by the BC Council on Admissions and Transfer (BCCAT)
Vancouver and Burnaby campuses are centrally located in the respective cities and well-connected via public transport to various areas of the cities. Both campuses have spacious classrooms, learning and writing centers, a library, a bookstore and a science laboratory each.
Counselling
Medical Library
Financial Aid
Bookstore
Student identification
Alexander College does not offer University Residences. Students can choose between homestay, room rental and apartment rental for housing during their degree. Students under the age of 19 are required to choose homestay option with a family or a local, legal guardian as per the law of British Columbia.
Students are advised to search for shared apartments on Craiglist Vancouver, Pad Mapper and Search4Student Housing.
Alexander College is in the process of establishing an alumni association. The college will provide its alumni with a number of benefits once the association is established. A few of them are:
Continued opportunities for career counselling, resume building and improving interview skills
Access to the ongoing services provided by the Writing and Learning Centres of the college
A social network aimed at supporting the alumni as they adjust to their changing surroundings and challenges
If you are planning to study abroad in Canada and targeting this university, you can get in touch with AEC. Give us a call on +91-8448446609 or 011-43334444 to get assistance on call. You can also write a query and sent it to us at enquiry@aecoverseas.com.