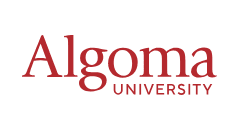 ALGOMA UNIVERSITY

Marie, Canada
Particular: Details
Location: Ontario, Canada
Established: 1965
Total Students: 1600
Percentage of International Students: 15%
Established in 1965, Algoma is the smallest undergraduate-only university in Ontario. With a particular focus on the needs of Northern Ontario, Algoma U is a teaching-focused and student-centred post-secondary institution, specializing in liberal arts, sciences, and professional degree programs.
Located on the former site of the Shingwauk Indian Residential School, Algoma U has a special mission to provide and cultivate cross-cultural learning between Aboriginal populations and other communities. Algoma U also offers satellite programming in Brampton and Timmins, Ontario.
Algoma offers more than 30 programs – three and four year bachelor's degrees in disciplines such as biology, business, computer science, community development, English, geography, history, psychology, social work, sociology, political science, music and fine arts.
The university also offers extension programming in Timmins and Brampton.
Counseling
Health services
Well Being
Chaplaincy
Algoma U has three residence facilities: The Dr. Lou Lukenda Dormitory, the Spirit Village Townhouse Residence and the Downtown Residence.
Lou Lukenda Dormitory- Built in September 2003, the facility contains 45 single bedrooms.
Spirit Village Townhouse- The entire complex consists of 15 townhouses, housing 75 students. Each townhouse unit has five single bedrooms, two bathrooms, a common kitchen and living room.
Algoma Dormitory- With construction starting in late 2011, a new residence building opened at Algoma University for the start of the 2012 school year. Housing over 96 students, Algoma Dormitory is furnished with an open concept area, a single bed, wardrobe and a desk with a high speed wireless internet connection. The student shares a bathroom with another roommate of the same sex. There is a shared common room on each floor of the complex with microwaves and HD TV with satellite.
Windsor Park- The university acquired the former Windsor Park Hotel in 2010 as residences and sold it to private developers in 2015.
Algoma ranks 71 in the country and 3825 in the world.
Shingwauk Hall
Shingwauk Hall is currently used to house various classrooms, as well as administrative and faculty offices. It is connected on the 1st, 2nd and 3rd levels by links to the newer East, West and North-West wings that house further classrooms, research space and offices. The second floor of Shingwauk Hall (SH200's) houses various student services, including Co-Op and Career Services, the Learning Center, Student Advisors and the ESL Program.
Essar Convergence Centre
In 2009 Algoma received more than $16 million to build a biosciences and technology convergence centre. Ground was broken for the new building in September 2009. Along with state-of-the-art classroom and laboratory space for students and professors, the building is home to various research institutes, including the Health Informatics Research Institute, the Invasive Species Research Institute, the Sault Ste. Marie Innovation Centre and Algoma Games for Health. The building opened its doors to students in September 2011, and was officially named the Essar Convergence Centre in a ceremony including David Johnston, Governor General of Canada, in August, 2012.
Sherwood Bassin – College professor, general manager in Ontario Hockey League
Jeffrey S. Boyce (General Business – Marketing, 1980) – President and CEO of Sure Energy Inc. and recipient of the Premier's Award in 2006; and
Tyler Boyco (Digital Video Production, 2014) – musician, filmmaker and artist popular for making short films "Sassquatch" and a Robin Williams portrait that went viral in 2014.[3]
Dylan Jón Hannesson (Marketing, 2011) – CEO of the German imageboard "Krautchan.net"
Brandon Nolan (Business Administration – Marketing 2013), retired hockey player, vice-president of Ted Nolan Foundation and advisor for community and client relations with Ishkonigan Incorporated
Patricia O'Connor (Nursing, 1976) – Founding member of the Canadian Association of Aero-medical Transport, recipient of the Order of Canada in 2007 and recipient of the Premier's Award in 2009.
Paul Vessey (Marketing, 1975) – COO of Visa USA and recipient of the Premier's Award in 2000;
Fred Upshaw (Registered Nursing, 1975) Upshaw has served as president of OPSEU, which represents 110,000 Ontario public sector workers.
Jeffrey S. Boyce (Business Administration – Marketing, 1980) Boyce is also the former president and CEO of Vermilion Resources, a $1-billion oil and gas exploration and production company that he co-founded.
Bev Woods (Dental Hygiene, 1986) Bev held a council position with the College of Dental Hygienists of Ontario and was president of the Bay of Quinte Dental Hygienists Society and Ontario Dental Hygienists' Association.
Brandon Bird (Level 3 Plumber Apprentice Certificate, 2012) CEO of Bird Mechanical Ltd, youngest in the companies history.
Roland Kielbasiewicz (Business Operations Management, 1990) Founder and CEO of Loraxian, Inc. The company specializes in the development, finance, ownership, and management of sustainable infrastructure projects in Canada and internationally.
If you are planning to study abroad in Canada and targeting this university, you can get in touch with AEC. Give us a call on +91-8448446609 or 011-43334444 to get assistance on call. You can also write a query and sent it to us at enquiry@aecoverseas.com.