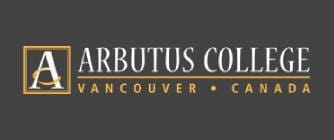 ARBUTUS COLLEGE

Vancouver, Canada
Particular: Details
Location: Vancouver, Canada
Established: 2002
Total Students: 3,179
Percentage of International Students: 5%
Arbutus college attracts a large population internationally and locally alike as it has a flexible study schedule allowing students to work while studying,
co-op placements,
pathways to higher education and
a healthy supporting community with experts for helping international students build a successful life.
The college stands out among others because of its perfect blend of theoretical and practical knowledge catering to the need of today's work requirements.
Arbutus College is among the top ten schools of Vancouver and is highly sought out for its high standards in terms of education and professional training alike.
Co-op work-study programs are a special feature of this college as in all programs offered here, there's access to practical working environment in addition to the academic studies which also carries significant credit scores. It's also beneficial to international students as these co-op diploma programs help in the process of obtaining a Canadian work permit.
Arbutus College is a private business college in Vancouver, Canada established in 2002. Spread over two floors, the campus has a welcoming atmosphere located only ten minutes from Stanley Park. Arbutus college has programs paired with work experience making the students equipped for their blooming careers ahead. The college offers certificate, diploma and specialization programs in business management, international trade, marketing, office administration and hotel management.
Students here stay satisfied as this college goes above and beyond making the life of students comfortable by taking up endeavours here in and outside campus.
The flexibility in study schedules helps students manage work and academics with the least stress possible.
The co-op work-study program help students to build work ethic and also acquiring Canadian work visa.
One of the best things about studying here is the personal attention one gets by studying in small size classrooms.
Wide range of electives to choose from gives students to learn according to their personal interests and goals.
Rich is diversity and culture as students have come here to study from more than 30 countries making the whole experience here socially learnable too.
Students have a great support system here with advisors, ambassadors and the student association to ensure the betterment of the student community as a whole as well as individually.
The friendships and connections made here are what later develop into valuable professional networks helping them grow even after the program has long ended.
Students consider this campus their second home and believe that they earn more than just a diploma by the end.
Most popular housing options for the students of arbutus are-
Homestay- for someone looking for a cultural experience, homestay is the best option to go for. Staying with a Canadian family will help with improving vocabulary, understanding culture here faster and better, making connections that might help with personal and business prospects later on and also having a stable familial environment.
Rental apartments- for a single student this option might be expensive but many students live together and share apartments. There are different types of apartments and in different locations for different people with different budgets.
Dormitory residences- allows students to rent out fully furnished rooms with a student-oriented environment.
The certificate courses usually are for three months.
Practicum certificates are extended to be a total of six months.
The diploma and co-op diploma are for six and twelve months respectively.
Students can also do Honours diploma and Honours co-op diploma in one and two years respectively.
If you are planning to study abroad in Canada and targeting this university, you can get in touch with AEC. Give us a call on +91-8448446609 or 011-43334444 to get assistance on call. You can also write a query and sent it to us at enquiry@aecoverseas.com.