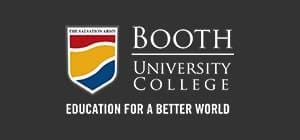 BOOTH UNIVERSITY COLLEGE

Winnipeg, Canada
Particular: Details
Location: Winnipeg,Manitoba Canada.
Established: 1982
Total Students: 300
Percentage of International Students: 5%
Booth University College offers degree, diploma and certificate programmes. There are four faculties available in the University- School of Business, School of Social Work, School of Humanities and Social Work and School of Continuing Studies.
The Booth University College, Canada is a Christian university colleges which was established in 1982. Its main campus is located in Winnipeg, Manitoba. The university college is affiliated with the Salvation Army. The college is devoted to academic excellence with a range of degree, certificate and continuing studies programme.
Ranking: Rank
World ranking: 10370
UniPage World University Ranking: 10370
It offers housing and residential facilities to its students at affordable and convenient terms. Rooms are available for rent in two terms, September through April and May through August.
The University College has only one main campus located in Winnipeg, Manitoba
Booth University College offers various forms of financial aids like scholarships, awards, and work-study.
President's Entrance scholarship is awarded to high school applicants who demonstrate excellent academic potential and consistent records. Applicants availing this scholarship must apply by March 31.
Booth UC offers entrance scholarship of $2,000 to all the high school applicants with an average grade of >80%.
Community Impact Award Scholarship is offered to new Booth UC student who demonstrates active community engagement.
If you are planning to study abroad in Canada and targeting this university, you can get in touch with AEC. Give us a call on +91-8448446609 or 011-43334444 to get assistance on call. You ca also write a query and sent it to us at enquiry@aecoverseas.com.