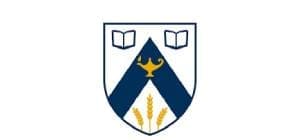 BRANDON UNIVERSITY

Brandon, Canada
Particular: Details
Location: Brandon, Manitoba, Canada
Established: 1889
Total Students: 3,662
Percentage of International Students: 12%
The university's sports teams in U Sports are called the Brandon Bobcats. Brandon University competes in basketball (men/women) and volleyball (men/women). Brandon University used to field a men's hockey team in the CIAU, however, that ceased in 2000.
Music students can join the Brandon University Orchestra.
The current location was founded on July 13, 1899, as Brandon College as a Baptist institution.
Undergraduate
Bachelor of Arts (BA)
Bachelor of Business Administration (BBA)
Bachelor of Education (BEd)
Bachelor of Fine Arts (BFA)
Bachelor of First Nations and Aboriginal Counselling (BFNAC)
Bachelor of Music (BMus)
Bachelor of Nursing (BN)
Bachelor of Science (BSc)
Bachelor of Science in Environmental Science (BSES)
Bachelor of Science in Psychiatric Nursing (BScPN)
Graduate
Master of Education (MEd)
Master of Music (MMus)
Masters of Rural Development (MRD)
Master in Psychiatric Nursing
Master of Science in Environmental and Life Sciences (MELS)
Diplomas
Graduate Diploma in Rural Development (GRD)
Post Diploma in Mental Health (BScMN)
Programs
Brandon University Hutterite Education Program (BUHEP)
Program for the Education of Native Teachers (PENT)
Community Based Education (CBE)
Defunct Programs
Brandon University Northern Teacher Education Program (BUNTEP)
Counselling
Math Skills
Writing Skills
Learning Skills
Career Planning and Placement
WORKSHOPS AND EVENTS
Learning Skills Workshops
Math Skills Schedule – Tutors & Workshops
Battle on the Border – University Affairs article
In the 2015 Macleans rankings of primarily undergraduate universities in Canada, Brandon University was ranked 16th out of 19 overall and #1 in the student to faculty ratio category. The school of music is rated one of the best in Canada. The university press, The Quill, is a member of CUP. In the 2019 Macleans ranking Brandon University was ranked the lowest ranked party school in Canada
Darrach Hall. Darrach Hall is their men's-only facility and can accommodate up to 90 residents.
Flora Cowan Hall. Flora Cowan Hall is their women's-only facility and can accommodate up to 110 residents.
McMaster Hall. McMaster Hall is an all-gender residence and can accommodate up to 270 residents.
Brandon University is a university located in the city of Brandon, Manitoba, Canada.
Henry Champ, Canadian broadcast journalist
Tommy Douglas, father of medicare and The Greatest Canadian (as voted on by CBC viewers)
Stanley Knowles, New Democratic Party Member of Parliament
Frank McKinnon, sports executive and Member of Order of Canada
Andy Murray, NHL and Team Canada Head Coach
Brian Pallister, Conservative Party of Canada Member of Parliament, Manitoba MLA and Premier of Manitoba
H. Clare Pentland, historian at the University of Manitoba
Neil Robertson, mathematician known for the Robertson–Seymour theorem
John W. M. Thompson, Manitoba MLA and provincial cabinet minister
If you are planning to study abroad in Canada and targeting this university, you can get in touch with AEC. Give us a call on +91-8448446609 or 011-43334444 to get assistance on call. You ca also write a query and sent it to us at enquiry@aecoverseas.com.