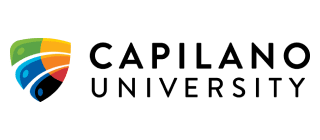 CAPILANO UNIVERSITY

Vancouver, Canada
Particular: Details
Location: North Vancouver, British Columbia, Canada
Established: 1968
Total Students: 12,700
Percentage of International Students: 16
The main student newspaper, The Capilano Courier, is staffed by students and operates independently of the university and the student society. It is published twice per month.
Capilano University's creative writing students publish an innovative literary magazine, The Liar, once a year with funding from the English department.
The university faculty established The Capilano Review in 1972. It is an arts journal highlighting poetry, fiction, drama, and visual art. In 2015, the magazine became an independent publication based in downtown Vancouver.
The university also founded Capilano University Editions (CUE) in 2008, a book publishing imprint of the Capilano Press Society focusing on Canadian avant garde writing and art. It now operates independently from the university as CUE Books.
Capilano Radio is a student-run podcast production which started in 2019.
Capilano university offers 97 programs through 5 faculties: the Faculty of Arts & Sciences; the Faculty of Business & Professional Studies; the Faculty of Education, Health & Human Development; the Faculty of Fine & Applied Arts; and the Faculty of Global & Community Studies.
Within the Faculty of Arts & Sciences, there is the School of Social Sciences (with programs in Arts, Academic Studies, Applied Behaviour Analysis (Autism), Psychology, and Liberal Studies); the School of Humanities (with programs in Arts, Creative Writing, English, Liberal Studies, and Lil'wat Nation, Sechelt, or Squamish Nation Language and Cultural Studies); and the School of Science, Technology, Engineering & Mathematics or STEM (with programs in Biology, Science, Engineering, and Health Career Pathways).
The Faculty of Business & Professional Studies includes is the School of Business (with programs in Accounting, Business Administration, Advanced Business Administration, and Retail Business); the School of Communication; and the School of Legal Studies (with programs in Legal Studies – Paralegal, Contract Law, and Legal Administration).
The Faculty of Education, Health & Human Development includes the School of Access & Academic Preparation (with programs in College and University Preparation, Community Capacity Building, Community Leadership and Social Change, Education and Employment Access, English for Academic Purposes, and University One for Aboriginal Learners); the School of Allied Health (with programs in Music Therapy, Health Care, and Rehabilitation); and the School of Education & Childhood Studies (with programs in Early Childhood Care and Education, Education Assistant and subspecialties in Infants and Toddlers as well as Special Needs).
Its Faculty of Fine & Applied Arts offers the IDEA School of Design (programs in Visual Communication); the School of Motion Picture Arts (with programs in Motion Picture Arts, Costuming for Stage and Screen, Indigenous Independent Digital Filmmaking, Lighting for Digital Imaging and Film, Grip Work for Digital Imaging and Film, 2D Animation & Visual Development, 3D Animation for Film and Games, Animation Fundamentals, and Digital Visual Effects); and the School of Performing Arts (with programs in Acting for Stage and Screen, Advanced Arts & Entertainment Management, Performing Arts, Music, Conducting in Music, Music Therapy, Musical Theatre, Technical Theatre, and Jazz Studies with subspecialties in Education and/or Performance/Composition).
The Faculty of Global & Community Studies offers the School of Global Stewardship; the School of Human Kinetics; the School of Outdoor Recreation Management; the School of Public Administration (with programs in Local Government Administration, Advanced Local Government Administration and Local Government Leadership Development); and the School of Tourism Management (with programs in Tourism Management, Global Hospitality & Tourism Management, Tourism Management Co-operative Education, Tourism Management for International Students, and Tourism Marketing).
Capilano University offers joint partnerships and projects as part of the university's commitment to international education. It has dual degree and post graduate programs, as well as development partnerships with a number of schools abroad
Immigration
Chaplaincy
Counselling
Faith
Well Being
Mentorship Program
Student groups and clubs
Community organizations
Volunteer opportunities
Student success workshops and resources
Social and cultural events.
The CapU student residences currently accommodate up to 293 students. The residences are located on Dollarton Highway, 10 minutes from main campus002E
The real estate development company, Woodbridge Northwest Communities, is proposing a Capilano University Village including a six-floor condominium tower, three and four-floor townhouses, 60 dormitories for CapU students, and an amenities building at the North Vancouver campus. The company's plan also includes personalized student kitchens, a swimming pool, clubhouse and children's play area. Another North Vancouver developer is offering to build rental apartments exclusively for Capilano University's students and staff. Darwin Properties has submitted an application to build 346 units of rental housing in two six-storey buildings. The company also wants to build an adjacent cafe. The nearby Holiday Inn Hotel & Suites near main campus offers discounts for students who seek temporary accommodation.
Capilano University's degree programs are approved by the Government of British Columbia's Ministry of Advanced Education, Skills and Training. The degree-granting powers of the University are legislated by British Columbia's University Act. In 2012, CapU became Canada's first university to receive accreditation from the Northwest Commission on Colleges and Universities (or NWCCU) in Washington (state), one of six major regional agencies in the U.S. that are recognized by the United States Department of Education.
Capilano University's main campus is located at 2055 Purcell Way in North Vancouver (district municipality), on Metro Vancouver's North Shore. It is approximately a 30-minute drive from Downtown Vancouver. The majority of the programs are offered at this campus. There is also a smaller regional campus, referred to as the kálax-ay Sunshine Coast Campus in Sechelt, British Columbia that serves the communities of the Sunshine Coast. In September 2019, CapU welcomed students to CapU Lonsdale, the University's newest location, the iconic Shipyards Development in North Vancouver's Lower Lonsdale.
The University also runs the Early Childhood Education programs in Squamish, British Columbia, and holds classes at the Ts̓zil Learning Centre in Mount Currie, British Columbia.
Godfrey Gao
Elicia MacKenzie
Nick Bateman (model)
Camilla d'Errico
Charles van Sandwyk
Rick Celebrini
Bria Skonberg
Gigi Saul Guerrero
Chantal Strand
Natalia Tudge
Steve Rolston
Johnny Ferreira
Joel Fafard
Elizabeth Zvonar
Cheri Maracle
Cowboy Smithx
Helen Haig-Brown
Jennifer Gasoi
Jamie Lee Hamilton
Silvana Burtini
DJ Clazzi
Tanya Marquardt
Cherelle Khassal
Jamie Garratt
If you are planning to study abroad in Canada and targeting this university, you can get in touch with AEC. Give us a call on +91-8448446609 or 011-43334444 to get assistance on call. You ca also write a query and sent it to us at enquiry@aecoverseas.com.