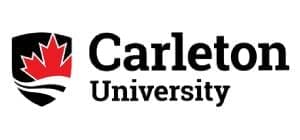 CARLETON UNIVERSITY

Ottawa, Canada
Particular: Details
Location: Ottawa, Ontario, Canada
Established: 1942
Total Students: 31,202
Percentage of International Students: 30%
$55 Million in sponsored research funding
1,000 plus research projects underway
185 new start-up companies since 2010
27,863 Full-time and part-time undergraduate and graduate students
83% average entering grade – up from 75% in 1995
859 faculty, 1,090 professional staff, 126,000 alumni
$42,069,044 scholarships and bursaries awarded to undergraduate/graduates
14 Joint institutes and 29 graduate programs shared between Carleton and the University of Ottawa
24 Canada Research Chair holders
7 Endowed chairs
27 Royal Society Fellows
2 Royal Society College of New Scholars
13 recipients of the Order of Canada
Eight 3M National Teaching Award Winners
7 Banting Postdoctoral Fellowships
3 National Killam Award winners
Programs in more than 65 disciplines including new Health Science program
Joint Programming with University of Ottawa and collaborations with Algonquin College, Dominican College and La Cite Collegiale
Home to the Carleton Ravens men's varsity team – record 10 TIME CIS champions
75th anniversary in 2017 – coinciding with Canada's 150th
| | |
| --- | --- |
| Faculties[45] | Established |
| Faculty of Arts & Social Science | 1997[46] |
| Faculty of Engineering & Design | 1963[47] |
| Faculty of Graduate & Postdoctoral Affairs | 1974[48] |
| Faculty of Public Affairs | 1997 |
| Faculty of Science | 1963 |
| | 2006[49] |
Carleton is a mid-sized comprehensive and research-intensive public university, and is part of several pan-institutional bodies, including Universities Canada and the Association of Commonwealth Universities. As of the 2017–18 academic year, Carleton received 25,121 applications, producing a first-year cohort of 6,716. In 2019, the school reported an enrolment of 31,202 students, comprising 27,152 undergraduate and 4,050 graduate students, supported by 929 full-time faculty members and 778 adjunct instructors. Carleton's graduation rate within seven years is approximately 70.4% as of the 2017–18 academic year, with a graduate employment rate of 92.7% within two years of graduation.
Writing
Writing Services
Study skills
Centre for Student Academic Support
Health and well-being
Health and Counselling Services
Learning or physical disabilities
Career/employment counseling
Career Services
Co-operative Education
Admission and internal degree transfers Undergraduate Admissions
Tuition and fees Financial Services
OSAP, scholarships, bursaries and Work Study Awards and Financial Aid
Traditional residences

Dundas House (1991)
Glengarry House (1969)
Grenville House (1965)
Lanark House (1962)
Lennox and Addington House (2011)
Renfrew House (1962)
Russell House(1965)
Stormont House (1991)

Suite-style residences

Frontenac House (2008)
Leeds House (2001)
Prescott House (2001)
Carleton has eleven student residence buildings clustered together in the northwest section of campus, and are connected to the university's tunnel system. Although the majority of students housed on-campus are first-year students, Frontenac House is reserved for returning second-year students, while Leeds House is reserved for upper-year and graduate students. Residence Commons serves as a hub for students living in residences, as it houses The Caf, the university's main dining hall, the Residence Reception Desk, a Tim Horton's location, and Abstentions, a convenience store operated by the Rideau River Residence Association (RRRA), which functions as the student government for residence students.
The Carleton University campus is situated on 150 acres (60 ha) bounded to the west by Colonel By Drive and the Rideau Canal, to the east by Bronson Avenue, and the south by the Rideau River. During its initial construction in 1959, the campus consisted of three buildings, the MacOdrum Library, the Tory Building, and Paterson Hall, forming a quadrangle situated at the heart of the university's academic buildings. Since then, the university has expanded to forty-seven buildings, the newest addition being the Health Sciences Building, which was inaugurated in 2018.
The campus is accessible to road traffic through two entrances respectively located at Bronson Avenue and Colonel By Drive. Carleton's campus contains a series of surface roads to facilitate traffic in and out of the university, the most heavily-used of them being Campus Avenue, which was converted to a single-direction road in 2019. Several OC Transpo bus lines, including the 7, 10, and 111 serve the campus directly, in addition to the O-Train's Carleton station, located at the centre of campus.
Shane Smith, co-founder and Executive Chairman of Vice Media
Rosemary Barton, journalist and anchor of The National on CBC News
Jim Watson, Mayor of Ottawa, MPP for Ottawa West—Nepean (2003-2010) and Minister of Municipal Affairs and Housing
Peter Grünberg, Nobel Prize in Physics recipient, 2008
Conrad Black, Newspaper publisher and author, former owner of Hollinger International
John Manley, former Deputy Prime Minister of Canada (2002-2003), Minister of Finance (2002-2003), and Minister of Foreign Affairs(2000-2002), former MP for Ottawa South (1988-2004)
Niki Ashton, MP for Churchill—Keewatinook Aski and former leadership candidate for the New Democratic Party
If you are planning to study abroad in Canada and targeting this university, you can get in touch with AEC. Give us a call on +91-8448446609 or 011-43334444 to get assistance on call. You can also write a query and sent it to us at enquiry@aecoverseas.com.