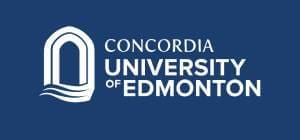 CONCORDIA UNIVERSITY OF EDMONTON

Edmonton, Canada
Particular: Details
Location: Edmonton, Alberta, Canada
Established: 1921
Total Students: 2,333
Percentage of International Students: 10%
Concordia University College of Alberta, is a publicly funded private university in Edmonton, Alberta, Canada.
Accredited under the Alberta Post-secondary Learning Act, Concordia is primarily funded by tuition and private donations but also receives some limited funding from the Government of Alberta. Prior to its secularization in 2016, Concordia University of Edmonton was affiliated with the Lutheran Church–Canada.
The university has five faculties and two schools: Faculty of Arts, Faculty of Education, Faculty of Graduate Studies, Faculty of Management, Faculty of Science, School of Physical Education and Wellness, and School of Music. The university offers 45 majors and minors in the fields of Arts, Science and Management; two after-degree programs, three master's degrees, and several graduate certificates and diplomas. The University of Lethbridge had a small extension campus at the university from 2012 to 2015. Bright Horizons Childcare and the Concordia Lutheran Seminary also share the university grounds.
Campus life features a community orchestra, a community choir, a women's choir, a touring choir, and regular drama productions. There are three dormitory buildings on campus. Founder's Hall is for first year students, Eberhardt Hall is for first and second year students, while Wangerin House is for third year students. Two more residences are designated for students taking after-degree or masters' programs. The university has a gymnasium and a large athletic field on campus. In the past the field was sometimes used for spring practice by the Edmonton Eskimos football team.
Career Services
Financial Aid & Awards
Indigenous Student Services
Student Groups
Registrar's Office
Residence
Student Life & Learning
Counseling
Benefits of the Residence Life Experience
Proximity When you live in residence, you are steps away from classes, your faculty, student support services, catered meals, and your friends! The Residence Life Experience is a convenient experience.
Educational AND Exciting Programming There is always something happening for you to enjoy in residence. The Resident Advisors work together and with various campus experts to bring you the highest quality of community building and learning fun! The Residence Life Experience is a community learning experience.
Support Systems Moving away from home and starting at university can be a stressful experience! We have a variety of highly skilled, well-trained staff across campus who work together to provide a collaborative support system to all of our residents! These committed staff include a Residence Life Coordinator, a team of Resident Advisors, and 24/7 on-site Security. The Residence Life Experience is a successful experience.x
The university ranks 79 in the country and holds 5293 rank in the world.
Nathan Fillion, actor
Sarah Hoffman, politician
Sam Lam, soccer player
Lynne Bowen, university professor, oral historian and writer—CUE Distinguished Alumni Award 2000 winner
If you are planning to study abroad in Canada and targeting this university, you can get in touch with AEC. Give us a call on +91-8448446609 or 011-43334444 to get assistance on call. You can also write a query and sent it to us at enquiry@aecoverseas.com.