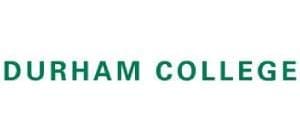 DURHAM COLLEGE

Oshawa, Canada
Particular: Details
Location: Ontario, Canada
Established: 1967
Total Students: 43,600
Percentage of International Students: 30%
Durham College of Applied Arts and Technology is located in the Durham Region of Ontario, Canada, with a campus co-located with Ontario Tech University in Oshawa, a second campus in Whitby, a learning site in Pickering, and community employment services in Uxbridge, Port Hope, Port Perry, Beaverton, Oshawa and Bowmanville.
The college offers a wide range of programs in a number of different disciplines including business, information technology, media, art, design, general arts, science, skilled trades, justice, emergency services, health and engineering technology.
At Durham College, since the Student Association split between Ontario Tech University and Durham College in 2017, student life activities , clubs and programs that promote their intellectual development and growth has been lacking. On campus, there are many amenities available to students, including housing options, sports and recreational activities, shopping, transportation, parking, health and medical facilities, campus safety, and franchise of food options.
Within the college there are multiple learning spaces designated for educational purposes. One space is the 73,000-square-foot (6,800 m2) campus library which has four floors of learning space and a rotunda housing a periodicals collection. The rotunda includes a three-storey glass wall overlooking the Polonsky Commons. Other learning spaces include the computer learning commons, student services building, student centre, and bookable study spaces campus-wide.
Durham College offers first year information, academic support resources, career services, and Student Academic Learning Services (SALS). The student life office and Student Association (SA) offer events and programs for students of all years, while the student media comprises The Chronicle student newspaper, Riot Radio, and The Water Buffalo. Athletics range from badminton to basketball, rowing to running, and more.
Access and Support Centre- Durham College recognizes the importance of inclusive learning environments designed for diverse learners
Athletics- Whether you want to unwind after a long day of classes or are simply looking to work up a sweat, the Campus Recreation.
Career Development- The Career Development office is your gateway to all things career-related at Durham College. Click on the category you fit below to find out…
Co-operative Education (co-op)- What is Co-operative Education? Co-operative education (co-op) is a model of education that formally integrates a student's academic learning with workplace learning in fields…
Coaching-  Coaching is about helping students build resilience and succeed in achieving their goals. Coaching helps students learn more about themselves so…
Computer Support- Many issues can be resolved by sending a self-service ticket to IT, if you have questions about your Hardware, Software or a service that…
DC Students Inc.- Durham College Students Inc. is a service-based association that puts students' needs at the forefront, and provides quality campus engagement for every full-time student.
First Peoples Indigenous Centre- Durham College's Aboriginal Student Centre (ASC) utilizes a holistic approach to education serving Aboriginal students focusing on their physical, mental, emotional, and spiritual well-being.
Food options- Whether you're looking for a full meal or a quick snack, Durham College has a variety of dining options to tempt your taste buds….
Housing- Welcome to Durham College. As a new or returning student you may be exploring your housing options. Congratulations! Living away from home can be…
Library- Durham College provides library services at both the Oshawa and Whitby campuses. The Oshawa campus library provides approximately 600 study spaces.
Outreach Services- Outreach Services provides a positive, inclusive space focused on equality, equity and diversity within the campus community and beyond.
Peer Coaching- The Peer Coaching program provides additional support to students to better navigate the demands of post-secondary education, assist with organization and time management.
Rights and Responsibilities- Campus Safety The Office of Campus Safety is committed to protecting the rights of everyone on campus while promoting a professional, respectful and safe.
RISE (Reach, Include, Support and Elevate)- Durham College (DC) recognizes that students need a wide variety of supports in order to be successful in their program of study.
Social Media Hub- Meet the Social Media Ambassadors and connect with Durham College.
Strategic Enrolment Services- Strategic Enrolment Services plays a key role in the delivery of a wide variety of services to prospective students, applicants, registered students, and graduates.
Student Academic Learning Services (SALS)- Student Academic Learning Services (SALS) is here to help students reach their academic goals. 
Student Advisors- Durham College is committed to student success. Academic advising is a comprehensive service that is aimed to guide students through their college experience. 
Student Diversity, Inclusion and Transitions- The Office of Student Diversity, Inclusion and Transitions is dedicated to ensuring that Durham College students feel welcomed and supported on our vibrant campus.
BHIHMS has three campuses – Leura Campus, Sydney Campus, and the Melbourne Campus. Leura Campus operates as a hotel where students are both guests and staff. Third-year of the degree is completed at the Sydney Campus while the first two can be taken at any of the two campuses.
Durham College (DC) announced today that for the fourth year in a row it has been ranked among Canada's top 50 research colleges by Research Infosource Inc., a Canadian research and development intelligence company.
Durham college provided on-campus accommodation to international students
The Simcoe Village and South Village residences offer safe, clean, and comfortable living accommodations for 1,360 students. First-year students are guaranteed a spot in residence if they meet the deadlines for accepting Durham College's offer of admission and applying to residence.
Features include:
TV, local cable, phone, and high-speed Internet access
Double beds
Private bathrooms
On-site laundry, additional kitchen facilities and storage space
24-hour security
Controlled building access
On-site management
Furnished lounges
Individually controlled air conditioning/heating
A movie lounge with a large-screen TV and theatre-style seating
A games room, meeting room and common study areas
Light housekeeping every two weeks
Link for on-campus housing
https://durhamcollege.ca/student-life/student-services/housing/on-campus-housing
Living expenses description
Accommodation-Quadruple Occupancy South Hall $3100 and Meal – Unlimited meals/week $5424
Link for Living expenses
Durham College has two main campuses, located in Oshawa and Whitby, Ontario, and a learning site in Pickering. Uxbridge campus was originally an Ontario Employment Services centre, but the Uxbridge site now has classrooms to offer programs for those planning to upgrade academic skills to enter into college programs.
Sherwood Bassin – College professor, general manager in Ontario Hockey League
Jeffrey S. Boyce (General Business – Marketing, 1980) – President and CEO of Sure Energy Inc. and recipient of the Premier's Award in 2006; and
Tyler Boyco (Digital Video Production, 2014) – musician, filmmaker and artist popular for making short films "Sassquatch" and a Robin Williams portrait that went viral in 2014.[3]
Dylan Jón Hannesson (Marketing, 2011) – CEO of the German imageboard "Krautchan.net"
Brandon Nolan (Business Administration – Marketing 2013), retired hockey player, vice-president of Ted Nolan Foundation and advisor for community and client relations with Ishkonigan Incorporated
Patricia O'Connor (Nursing, 1976) – Founding member of the Canadian Association of Aero-medical Transport, recipient of the Order of Canada in 2007 and recipient of the Premier's Award in 2009.
Paul Vessey (Marketing, 1975) – COO of Visa USA and recipient of the Premier's Award in 2000;
Fred Upshaw (Registered Nursing, 1975) Upshaw has served as president of OPSEU, which represents 110,000 Ontario public sector workers.
Jeffrey S. Boyce (Business Administration – Marketing, 1980) Boyce is also the former president and CEO of Vermilion Resources, a $1-billion oil and gas exploration and production company that he co-founded.
Bev Woods (Dental Hygiene, 1986) Bev held a council position with the College of Dental Hygienists of Ontario and was president of the Bay of Quinte Dental Hygienists Society and Ontario Dental Hygienists' Association.
Brandon Bird (Level 3 Plumber Apprentice Certificate, 2012) CEO of Bird Mechanical Ltd, youngest in the companies history.
Roland Kielbasiewicz (Business Operations Management, 1990) Founder and CEO of Loraxian, Inc. The company specializes in the development, finance, ownership, and management of sustainable infrastructure projects in Canada and internationally.