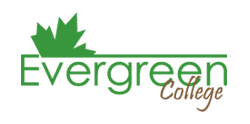 EVERGREEN COLLEGE

Toronto, Canada
Particular: Details
Location: Downtown Ontario, Brampton, Canada
Established: 2002
Total Students: 4828
Percentage of International Students: 28%
The College is registered under the Private Career Colleges Act, 2005.
It is also approved by the Private Vocational Training branch (PVT) of Alberta Innovation and Advanced Education.
It is a member of highly respectable institutions of Canada including the National Association of Career Colleges (NACC) and Career Colleges Ontario (CCO).
Established in 2003, Evergreen College offers various diplomas and certificates to make the students career-ready. The institution boasts of highly advanced infrastructure and presence across eight locations Mississauga, Brampton, Markham, Scarborough, Downtown Toronto, west (Oakville), Oakville and York Mills.
The College is running diplomas and certificate programs for domestic as well as international students in streams like healthcare, business, community support, technology, hospitality and others.
As of now there are 18 diplomas and 5 certificate programs comprising of one corporate training certification which is totally customizable as per the needs of the students.
Evergreen College provides financial services to its students. The college offers services connecting students with Student Aid Alberta, and it offers multiple payment options to students. Evergreen College also provides career services to its students; resume-writing workshops, interview workshops, job search databases, and career consultation are available. Career services are included in each program. The Calgary campus offers a shuttle service to its students. The shuttle services the nearby Whitehorn LRT stations, picking up and dropping off students for their classes.
In total there are around 8 campuses of evergreen college in locations like Brampton, Markham, Mississauga, Oakville, Scarborough, Toronto, West and York mills.
Though the campus does not have options of in-house residence. However, the college runs a Homestay Program where the international students apply for homestays available. The application fee for applying for the program is 150 CAD.
Evergreen College has campuses in Downtown Toronto, Brampton, Markham, Mississauga, Oakville, Scarborough and Calgary, Alberta.
The living expenses including transportation, meals, housing, accommodation, clothing would range between 8,000 CAD – 16,000 CAD, depending upon location chosen by the student.
International students are not offered any scholarships by the college. However, students have the option to work up to 20 hours per week and full – time during the break from college. They have the options to work on-campus or off-campus and that too without a work permit.
If you are planning to study abroad in Canada and targeting this university, you can get in touch with AEC. Give us a call on +91-8448446609 or 011-43334444 to get assistance on call. You can also write a query and sent it to us at enquiry@aecoverseas.com.