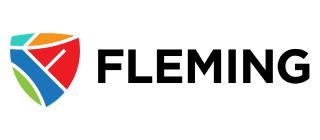 FLEMING COLLEGE

Peterborough, Canada
Particular: Details
Location: Peterborough, Ontario, Canada
Established: 1938
Total Students: 16,800
Percentage of International Students: 15%
The social and political needs of students are served through the Student Administrative Council (SAC) at Sutherland Campus and the Frost Student Association (FSA) at Frost Campus. These are student-run corporations.
Students are often involved in the communities Fleming serves, whether through work placements, volunteerism, or applied projects. Most recently, students hosted the Fleming College Police Foundations Outstanding Police Officer Service Award, participated in the Yellow Umbrella Project and Bell Let's Talk Day, and organized Big Brothers Big Sisters Come to Fleming day.
Ensuring accessibility and financial aid for students in need is among the highest priorities at Fleming College. Fleming has provided more than $3.3 million to students in financial need through donor-sponsored scholarships and bursaries. Donor-sponsored student financial aid allows Fleming to support a diverse and vibrant student body, creating educational opportunities for students with exceptional promise.
The college has established pathways [9] from college to university through affiliations with a number of provincial, national and international post college institutions and universities. There is a specific program for students to move to Trent University.
Fleming College features more than 100 full-time programs in Arts and Heritage, Business, Environmental and Natural Resource Sciences, General Arts and Sciences, Health and Wellness, Justice and Community Development, Skilled Trades and Technology, and Continuing Education.
Fleming College is noted for its excellence in environmental and natural resources sciences as well as unique programs in business, museum management and cultural heritage, and social services. It also offers a number of post-graduate diplomas in Geographic Information Systems (GIS), Aquaculture, and Environmental Visual Communication. As well, Fleming College has a Computer Security and Investigations program, which is one of only three related programs in Canada.
Free Airport Pick-up
Welcoming Orientation
Student Advising
Cultural Trips and Events
Health Care
It ranks 108 in Canada and 7323 in the world.
Peterborough Campus
The main campus of Fleming College is the Sutherland Campus at Peterborough. Other campuses are located in Cobourg, Haliburton (Haliburton School of Art + Design), and Lindsay (the Frost Campus). The college's modern architecture was designed by Ronald Thom.
Sutherland Campus
The Dobbin farm was selected in 1967 for what would later be named the Sutherland Campus. In 1973 the first two phases of the site were opened, and in 1983 the site was named the Sutherland Campus in honour of the college's first and founding president. The Sutherland Campus underwent expansion, including a new on-campus residence in 2002 and a new technology wing in 2003.
McRae Building
In 1967 a campus opened in a renovated textile mill on McDonnel Street, and in 1968 the site was named the Stewart W. Daniel Building. The McRae building was also constructed on this same property in 1976. The site was home to Fleming College's trades programs but closed when the KTTC opened in 2014.
Cobourg Campus
The Cobourg Campus opened in 1971. Today the campus offers Academic Upgrading and Continuing Education/Corporate Training courses.
Haliburton Campus
In 1969, the Haliburton School of Fine Arts became part of Sir Sandford Fleming College. In 2004 the campus moved to a new location in Glebe Park on Head Lake in the Village of Haliburton, and today it is known as the Haliburton School of Art + Design. The campus offers full-time 14-week Art Certificates in Artist Blacksmithing, Drawing and Painting, Photo Arts, Digital Image Design, Sculpture, Ceramics, Glassblowing, Jewellery, and Fibre Arts. Students can combine these Certificate programs with a year of foundation credits to obtain a Visual and Creative Arts Diploma. Other programs offered at the campus include Expressive Arts, Sustainable Building Design and Construction, Continuing Education, and Academic Upgrading.
Frost Campus
St. Joseph's Convent was the original location of the college's Lindsay campus in 1967. The college acquired its own facilities by 1973 and, in turn, this site was named the Frost Campus (in honour of Leslie Frost). Frost Campus is Fleming's School of Environmental and Natural Resource Sciences, which focuses on environmental and natural resource education (including earth resources, fish and wildlife, and GIS). In 2004, the campus expanded with a new environmental technology wing.
Randy Bachman, musician (The Guess Who, B.T.O.), did not graduate
Rod Black, Sports Anchor for CTV Sports and TSN[citation needed]
Dawna Friesen, Television Journalist and News Anchor (Creative Communications)
Chris Jericho, Professional Wrestler and Entertainer (Creative Communications)
Sean Kavanagh, Reporter, CBC News Winnipeg (Creative Communications, 2003)
Andrea Slobodian, Television Journalist (Creative Communications)
Josh Grummett, Video Journalist at APTN
Adam Smoluk, Writer and Director (Human Resource Management)
Shawn Xiong, Ph.D. – Structural Biologist, Assistant Teaching Professor, The Pennsylvania State University
If you are planning to study abroad in Canada and targeting this university, you can get in touch with AEC. Give us a call on +91-8448446609 or 011-43334444 to get assistance on call. You can also write a query and sent it to us at enquiry@aecoverseas.com.