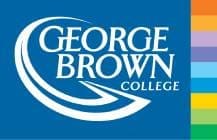 GEORGE BROWN COLLEGE

Toronto, Canada
Particular: Details
Location: Toronto, Ontario, Canada
Established: 1996
Total Students: 25,888
Percentage of International Students: 26%
George Brown offers a wide variety of programs in art and design, business, community services, early childhood education, construction and engineering technologies, health sciences, hospitality and culinary arts, preparatory studies, as well as specialized programs and services for recent immigrants and international students. The college offers 35 diploma programs, 31 advanced diploma programs as well as eight degree programs, one in conjunction with Ryerson University. The college offers the following degrees:
Bachelor of Interpretation – American Sign Language – English
Bachelor of Applied Arts – Early Childhood Leadership
Early Childhood Education (Consecutive Diploma/Degree)
Bachelor of Science in Nursing
Bachelor of Commerce – Financial Services
Bachelor of Commerce – Culinary Management
Bachelor of Applied Business – Hospitality Operations
Bachelor of Technology – Construction Management
An additional 27 certificate programs, five pre-college programs, 10 apprentice programs, and 28 graduate certificate programs round out the college's full-time offering. There are 193 continuing education certificates/designations available. Currently, there are about 25,888 full-time students, including 3,553 international students, as well as 3,729 part-time students and 62,840 continuing education students.
George Brown has 15,000 distance education students studying in over 35 countries. The most popular distance education program offered by the college is its award-winning Electronics Technician distance education program, developed by Dr. Colin Simpson. In 2012, George Brown was named one of the Greater Toronto's Top Employers. In 2014, George Brown College has been ranked the third-best research college in the country, climbing 19 spots in the rankings from the previous year. Research Infosource, which publishes annual rankings reports on research and development at institutions across Canada, released the results for the top 50 colleges on Oct. 22, 2014. George Brown led 16 Ontario colleges "by attracting $9.3 million of research funding" in the 2013 fiscal year. The Dialog is the student newspaper on campus and is a service provided by the Student Association of George Brown College, The Dialog is a member of CUP.
Accessible Learning Services- George Brown has services to support students with many types of disabilities. A consultant will work with you and talk about how to accommodate your learning needs.
Athletics and Recreation- George Brown offers full gymnasiums and fitness centres at our St. James and Casa Loma campuses. These facilities are available to full-time George Brown students at no additional cost. You can also try out for varsity sports, or you can play intramural or extramural sports. We also offer fitness classes.
Career Services- Do you need help to improve your resume? Do you want to brush up on your interview skills? Don't know where to start in the search for your dream job, or something more short-term? You can book a consultation with a Career Services advisor or attend a workshop. You can search job listings on GBCareers.
Counselling- If you need help managing an academic or personal issue, you can speak with a counsellor. Counselling is free and confidential. It's available to all full-time George Brown students.
Diversity, Equity and Human Rights Services- This service provides advice and information regarding human rights, discrimination, harassment, diversity awareness and conflict resolution. If you have a question you can speak with an advisor. There are Diversity, Equity and Human Rights Services offices at Casa Loma, St. James and Waterfront campuses.
Financial Aid/Assistance- George Brown offers hundreds financial awards that you can apply for through STU-VIEW. Financial Assistance offices are located each campus if you have further questions.
Health and Dental Plan- The George Brown College Student Association offers health and dental insurance to all full-time students. The student health and dental plan fee is mandatory and is included in your tuition fees (for full-time students). You do have the option to opt out of the coverage.
Housing Services- This team helps students to find off-campus housing. The office is located at the St. James Campus (200 King St. E.). Staff can assist you with your housing search and provide tips. The college has a partnership with Ontario Student Housing and encourages students to view those listings. George Brown College also has a student residence, The George.
Indigenous Services and Education- The Indigenous Services and Education team will assist students in navigating resources, provide up-to-date information on college-wide activities, as well as provide other services such as counselling, cultural teachings and workshops.
Library Learning Commons (LLC)- George Brown College's Library Learning Commons (LLC) provides services to help you with your studies and research. Through the LLC, you can take care of all your printing needs, book study rooms, borrow equipment such as iPads, access captioned media and e-texts, look for research guides and download handouts for paper citations.
Office of Student Concerns and Support- Complaints regarding violations of the Code of Student Behaviour and Community Standards can be directed to Carmen Cubillan, Assistant to the Director, Student Affairs, Susan Toews. Complaints regarding safety on campus should be directed to Public Safety and Security.
Safe Walk- If you're on campus studying in the evening and you'd like someone to walk with you to your car, bicycle or to a transit stop, you can contact the George Brown Safe Walk team. Safe Walk staff work/walk in pairs.
Casa Loma campus- Casa Loma campus is situated on the stretch of Kendal Ave. between Davenport Rd. and MacPherson Ave. Nearby features include Casa Loma, and the City of Toronto Archives. The campus itself is a collection of five buildings.
St. James Campus- St. James campus consists of five buildings. The first is a large brick building at 200 King St. E. The second and third are located at 290 and 300 Adelaide St. East and are connected. They are home to Financial Services, Creative Arts, Business Administration and the faculty of Centre for Hospitality and Culinary Arts. This campus is where the chef school is located.
Waterfront Campus– In September 2012, George Brown opened the Waterfront Campus located at 51 Dockside Drive, south of Queen's Quay between Jarvis and Parliament Streets (between Corus Quay and Redpath Sugar Refinery). This campus is home to the Centre for Health Sciences. It also has a residence building that is the former 2015 Pan American Games Athletes' Village.
Ryerson University Campus- This associate campus is in the Sally Horsfall Eaton building (SHE building) at Ryerson University. The address is 99 Gerrard St. E.
St. James Housing Office
200 King St. East
Room B130
(416) 415-5000, ext. 2101
Monday – Thursday – 8:30am – 4:30pm
Friday – 8:30am – 4pm
Saturday 9:00am-1:00pm
(Between June 7th and August 23rd-except long weekends)
Casa Loma 146 Kendal Ave
Room E246 – Main Lobby
(416) 415-5000, ext. 2878
Monday – Friday – 8:30am – 4:30pm
Waterfront Campus 51 Dockside Drive, Daphne Cockwell Centre for Health Sciences: 51 Dockside Drive
Room 101C – Main Lobby
(416) 415-5000, ext. 5528
Monday-Friday 8:30am-4:30 pm
As per web metrics, George Brown college has a world ranking of 4654.
Katherine Barrell, actress, writer, producer, director
Samantha Bee, comedian, writer, actress, television host
Shaun Benson, actor
Ryder Britton, actor
Robin Brûlé, actress
Valerie Buhagiar, actress, film director
Darwyn Cooke, comics artist, writer, cartoonist, animator
Lynn Crawford, television chef
Christine Cushing, television personality
Mary Jo Eustace, actress, singer, chef
Natasha Falle, activist, professor, abolitionist
John Henry, politician
Daniel MacIvor, actor, playwright, theatre director, film director
Dan MacKenzie, sports and marketing executive
Michael Mahonen, actor, director, screenwriter
Mark McEwan, celebrity chef
Keith Mondesir, Saint Lucian politician
Roger Mooking, chef, musician, TV host
Jayde Nicole, model
Aaron Poole, actor
Rob Rainford, television chef, broadcaster
Ted Reader, chef, author
Lou Rinaldi, politician, entrepreneur
Gigi Gorgeous, YouTube personality
If you are planning to study abroad in Canada and targeting this university, you can get in touch with AEC. Give us a call on +91-8448446609 or 011-43334444 to get assistance on call. You can also write a query and sent it to us at enquiry@aecoverseas.com