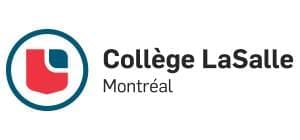 LA SALLE COLLEGE

Montreal, Canada
Particular: Details
Location: Montreal, Quebec
Established: 1959
Total Students: 2,000
Percentage of International Students: 35%
Being the largest bilingual college in North America, LaSalle College counts five specialty schools with over 60 programs to choose from. Each year, its campus welcomes close to 35% of its student population from all corners of the globe. From the very first week of class up until the day you graduate, LaSalle College walks the extra mile for its students.
LaSalle College: the international reference in post-secondary education
Training beyond compare
Programs offered in French and English with the option to alternate some of your classes to a second language.
Practical educational projects that reflect professional realities and lead to internationally-recognized diplomas.
The most flexible of Quebec's colleges, allowing for accelerated studies.
Enthusiastic, devoted teachers with a solid background in the workforce.
Combination work/study programs.
Opportunities for students to participate in regional, national and international contests.
Internships with the most innovative companies.
A general education – in all programs – encouraging environmentally conscious practices.
Integration of entrepreneurial concepts in all programs.
A unique environment. Our backyard: downtown Montreal.
State-of-the-art equipment. Our norms: those of the market!
LaSalle International's first educational establishment opens its doors in 1959. It all starts with the LaSalle College located in the LaSalle borough of Montreal. Mr. Jean-Paul Morin is the founder of the College. This Canadian entrepreneur's mission is to create job opportunities for the Quebec population by providing education that is in line with job market demands. In response to the growing demand in administrative labour at the time, the College offers its first program in secretarial training.
In the heart of the city of Montreal, LaSalle College has successfully brought together elite cohorts over the last 50 years. The College's teachers are professionals in their respective fields, passionate and respected. Their mandate is to provide quality education and respond to their students' needs. They are also prepared to adapt to societal shifts and job market trends.
LaSalle College offers over 60 programs that respond to students' needs with programs that bridge college level education and the various outlets, be it the industry, organizations or university. The two-year preuniversity programs lead to a DEC and allow graduates to pursue university studies in Canada, USA, Europe and Australia. Three-year DEC programs are also offered and allow students to gain a skill set directly applicable in the job market. Vocational programs lead to an AEC or DEP. These studies prepare students to directly access the work place. They can fulfill positions with a company or start their own business.
LaSalle College devotes a whole floor to the fabulous world of beauty. The new beauty facility spans across 14,500 square feet which is dedicated to esthetic care and hairdressing and can accommodate over 200 students. These new classrooms, furnished with the latest equipment, will immerse you into a dynamic environment, faithfully mirroring the beauty industry.

LaSalle College's innovative new collaborative learning spaces are equipped with ergonomic furniture and cutting-edge technology appreciated by students and teachers alike. It's the end of learning standards as students have known them. In these classes, there's no more front or back of the room, no traditional blackboards, no desks in a row. The educational institution now has a dozens of these collaborative rooms in its facilities, including six new ones. They all enable the school to better meet the needs of modern learning methods.
LaSalle College offers more than just a qualification. It provides students with comprehensive learning experiences in a warm, inclusive and dynamic environment. It pushes students to develop their skills in entrepreneurship and encourages them to innovate by fully assuming their place in society, as a global citizen.
Global Citizen 
Sensitivity to cultural, social and economic diversity in the modern world
Expression of concerns for sustainable development, respect for the environment, ethics and healthy living
Strong spoken and written communication skills in both French and English
Development of the skills needed for team work, such as self-respect, respect for others, team spirit, open-mindedness and the ability to adapt to any given situation
Openness to professional development opportunities, both local and international
Interest in mobility and the possibilities that it could offer
Innovation 
Knowledge of trends and cutting-edge technologies used in the industry
Open-minded learning that enables technological agility
Demonstration of creativity and a reflective approach to it
Intellectual curiosity and open-mindedness towards continuing education
Ability to be self-taught
Entrepreneurship 
Management skills for entrepreneurs Development of business opportunities in the industry Working methods that enable professional development Ability to create networks of industry contacts Skills to develop a business plan
If you are planning to study abroad in Canada and targeting this university, you can get in touch with AEC. Give us a call on +91-8448446609 or 011-43334444 to get assistance on call. You can also write a query and sent it to us at enquiry@aecoverseas.com.