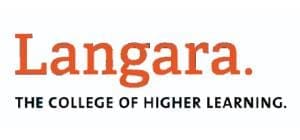 LANGARA COLLEGE

Vancouver, Canada
Particular: Details
Location: Vancouver, British Columbia, Canada
Established: 1994
Total Students: 21,000
Percentage of International Students: 30%
Student media include the newspaper The Voice, operated by the College's Journalism Program.
Langara's intercollegiate athletic program is one of the top college athletic programs in Canada. Langara is a member of the Pacific Western Athletic Association (PACWEST), formerly known as the British Columbia Colleges' Athletic Association (BCCAA), and the Canadian Colleges Athletic Association (CCAA). In 1999, Langara College was the runner-up for the Overall CCAA Sport Supremacy Award for athletic achievements between the years of 1974 and 1999.
Studio 58, Langara College's School of Theatre Arts offers professional theatre training for actors and production personnel. The program ranked within the Top five theatre schools in Canada in 2006
Programs and courses at Langara College are delivered in the following subject areas:
Arts
Business
Health
Humanities & Social Services
Science & Technology
Langara College provides university-level programs and courses and offers a variety of qualifications, including baccalaureate degrees, associate degrees, diplomas, certificates, and citations. The three 4-year degree programs offered by the College are Nursing, Recreation Management, and Business Administration. Langara's wide range of academic programs in more than 60 subject areas are offered over three semesters per year. Langara is a popular choice for university transfer students due to smaller class sizes, excellent support services, and competitive tuition fees. More students transfer to BC universities from Langara College than from any other college in the province.
Accessibility Services
Athletics & Intramurals
Co-op & Career Development Centre
Counselling
Financial Aid
Health Services
The Hub
Indigenous Education & Services
| | |
| --- | --- |
| Ranking | 2623 72 |
| World ranking | 2623 |
| UniPage World University Ranking | 2623 |
The University does not offer on-campus accommodation. The students can choose from off- campus accommodations. Students who live off-campus are generally renting an apartment, condo, basement suite or room in a shared house. Shared accommodations (roommates) will usually have lower costs as expenses are shared. Rental accommodation prices range from $500 to over $1,000 per month. When renting, it's important to know your rights as a tenant (renter). You will be asked to sign a rental agreement. Understand the terms of the agreement before you sign. Things to look out for:

Is it a lease (fixed term, usually 1 year) or a month-to-month agreement? If you are signing a lease, understand the penalty if you choose to move before the end of the term.
What is included with rent? Your rent may include Internet and/or cable television, heat, electricity, parking, laundry, or additional storage. If these are not included, you will need to plan for these additional expenses.
How much of a security deposit is required? This will be in addition to the first month's rent.

Other things to consider:

How close the accommodation is to public transportation
If the rental unit is already furnished, or if you need to purchase furniture
How far you are from Langara and how long it will take to get to and from school
What stores, restaurants, and recreational facilities are nearby

Some references for off-campus accommodation: We encourage you to visit the  Tenant Resource & Advisory Centre website as well as the Provincial Goverment website to learn more about renting in Metro Vancouver and the key issues you need to consider. Please refer to the IE Office if you have any questions. www.rentingitright.ca  – free online course to help you find a rental unit
Daniel Doheny
Alison Acheson
Ujjal Dosanjh
Gaurav Sharma
Gary Mason
Sam Sullivan
Joey Haywoo
If you are planning to study abroad in Canada and targeting this university, you can get in touch with AEC. Give us a call on +91-8448446609 or 011-43334444 to get assistance on call. You can also write a query and sent it to us at enquiry@aecoverseas.com.