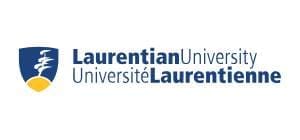 LAURENTIAN UNIVERSITY

Sudbury, Ontario, Canada
Particular: Details
Location: Greater Sudbury, Ontario, Canada
Established: 1960
Total Students: 9, 515
Percentage of International Students: 12%
72% of students in the Faculty of Arts are women.
15% of students in Arts at the Sudbury campus are enrolled in French-language programs.
12% of students in Arts self-identify as Indigenous
As of June, 2018, Laurentian offers:
Actuarial Sciences
Archaeology
Architectural Studies
Behavioural neuroscience
Biochemistry
Biology
Biomedical Biology
Biomedical Physics
Chemistry
Computer Science
Computer Science – Game Design
Computer Science – Web Data Management
Earth Sciences
Ecology
Engineering
Engineering – Chemical
Engineering – Civil (first 2 years)
Engineering – Mechanical
Engineering – Mining
Environmental Geoscience
Environmental Science
Forensic Science
Liberal Science
Mathematics
Physics
Radiation Therapy
Restoration Biology
Zoology
Career Counselling
Health
Security
Food
Parking
Bookstore
Printing
Residences
Employment
The Laurentian Residences offers five unique residences under the supervision of the main campus and three located at the main campus under the supervision of the federated colleges.
Single Student Residence
The Single Student Residence (SSR) is an apartment style complex, with apartment units for 4–6 residents, containing a living room, kitchen, and washrooms. The entire complex includes rooms for 387 students in 72 apartments. Student Street, consisting of a convenience store, computer room, mail room, snack bar, and games room, among other rooms and services, is located at the bottom of the SSR complex. A $5.9 million renovation of the residence began in 2013.
University College Residence
The University College Residence (UC) is a ten-storey co-ed building with single and double (shared) rooms, providing accommodations for 240 students. University College is also connected to Student Street, giving students access to the same amenities available to SSR students.
Married/Mature Student Residence
The Mature Student Residence (MSR) offers furnished apartments for those who have accumulated over 90 university credits. The residence is generally thought of as the quietest at Laurentian. Rooms consist of one bedroom, a living room, bathroom and kitchen.
The West Residence
This is a new residence completed in 2007. It is designed for students who have spent at least two years at the university and obtained a minimum of at least 60 credits. The residence consists of same sex apartment style rooms and cost $14.5 million CAD.
Thorneloe Residence
The Thorneloe University College Residence provides accommodations for 58 students. This residence offers large kitchens, a sauna, and common rooms. In 2004 the former administrative offices were transformed into a suite for four students. Thorneloe University College, although founded by the Anglican Diocese of Algoma, welcomes all students at Laurentian.
University of Sudbury
The University of Sudbury Lucien Matte Residence houses 174 students in 92 single and 41 double bedrooms. The University of Sudbury, although associated with the Roman Catholic Church, welcomes those of all religions.
Huntington University
Huntington Residence houses 184 students in dorm-style rooms. Kitchens and TV lounges are present on both floors. The residence is located with the Academic complex which includes classrooms and a library. Huntington University is affiliated with the United Church of Canada, but does not require religious affiliation
East Residence
This is the newest residence on campus, completed for the 2012–2013 school year. This is a 12-story residence building and is for upper-year students (minimum 60 university credits) and has 62 self-contained apartments. Each unit has three or four single bedrooms, living room, kitchen and two bathrooms. The apartments are wired for cable TV, high-speed internet and telephone. In addition, this new residence is connected to Student Street.
Rick Bartolucci
Alex Baumann
Michel Bock
Minnijean Brown-Trickey
Carlo Cattarello
Leo Gerard
Mike Harris
Diane Marleau
Elie Martel
Tony Martin
Sharon Murdock
André Paiement
Marie-Paule Poulin
Tony Ruprecht
Dave Salmoni
Rosemary Sexton
Derwyn Shea
John Sola
Sylvia Sweeney
Shawn Swords
Stephen Walkom
John Willinsky
Akolisa Ufodike
Gary Wilson
If you are planning to study abroad in Canada and targeting this university, you can get in touch with AEC. Give us a call on +91-8448446609 or 011-43334444 to get assistance on call. You ca also write a query and sent it to us at enquiry@aecoverseas.com.