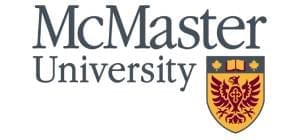 MC MASTER UNIVERSITY

Ontario, Canada
Particular: Details
Location: Ontario
Established: 1887
Total Students: 31,843
Percentage of International Students: 30%
Founded in 1887 in Toronto through a bequest from the estate of Senator William McMaster, a member of the first senate after Confederation and founding president of the Canadian Imperial Bank of Commerce.
Maroon and grey were adopted as the official colours in 1912.
Relocated from Toronto to Hamilton in 1930.
The winner of the 2018 Global Teaching Excellence Award from the Higher Education Academy for our strengths in experiential learning and our commitment to global engagement.
Named Canada's most research-intensive university by Research Infosource in 2017, 2018 and 2019.
The McMaster Model, a problem-based, student-centred approach to learning, has been adopted worldwide.
28,290 undergraduates and 4,857 graduate students, for a total student population of 33,147.
In fall 2018, 13.3 per cent of all McMaster students were international, up 2 per cent from last year, from 120 countries.
International graduate students represented more than 27 per cent of the graduate student body in fall 2018.
The percentage of undergraduates registering with an admission average of 90 per cent and above has risen from 13.5 per cent in 2000 to 44.7 per cent in 2018.
300 acres of scenic property.
30-acre central core designated for pedestrians and bicyclists.
The McMaster Forest: 115 acres of natural lands in the Dundas Valley.
Explore the natural beauty in McMaster's own backyard at Nature@McMaster.
As of March 2019, McMaster has twelve smoke-free student residences: Bates, Brandon, Edwards, Hedden, Les Prince, Mary E. Keyes, Matthews, McKay, Moulton, Wallingford, Whidden, and Woodstock Hall. McMaster's student residences can accommodate 3,685 students. The latest residence to be built was Les Prince Hall, a large co-ed building, completed in 2006. It was named for a long-time hall master in the residence system who lived with his family on campus until after his retirement in 1980. In September 2010, 50.19 per cent of first-year students lived on campus, with 15.54 per cent of the overall undergraduate population living on campus. Residences provide traditional room and board style, furnished apartment style, and suite-style accommodation. Brandon Hall houses the university's substance-free lifestyle living spaces. The residence system is supervised by Residence Life staff, who provide guidance and help the transition to university life for many first-year students. Residence students are represented by the Inter-Residence Council (IRC), which aims to build a sense of community among the residents through programming. Additionally, the IRC seeks to advocate for residence students on issues they may face, such as facilities, dining, environment, and more, and provide opportunities for residence students to gain valuable leadership opportunities. They are an integral part of the McMaster residence community.
McMaster University is in the city of Hamilton, Ontario, in the Golden Horseshoe along the western end of Lake Ontario. The main campus is bordered to the north by Cootes Paradise, an extensive natural marshland, to the east and west by residential neighbourhoods, and to its south by Main Street West, a major transportation artery. Its northern boundaries are a popular destination for walkers who use the many trails that connect the campus to Royal Botanical Gardens. While the main campus is 152.4 hectares (377 acres), most of the teaching facilities are within the core 12.1 hectares (30 acres). In addition to its main campus in Hamilton, McMaster owns several other properties around Hamilton as well as in Burlington, Kitchener, and St. Catharines, Ontario.
Prominent alumni in the field of science include Douglas L. Coleman, who discovered leptin;  Richard Bader, noted for his work on the atoms in molecules theory; Harold E. Johns, who pioneered the use of cobalt-60 in the treatment of cancer, Karl Clark, who pioneered the separation method to extract bitumen from the oil sands; Peter R. Jennings, computer programmer and developer of Microchess; and Simon Sunatori, an engineer and inventor. Notable faculty members include chemist Ronald Gillespie, who helped shape VSEPR theory, as well as David Sackett and Gordon Guyatt, whose research team was credited for establishing the methodologies used in evidence-based medicine. Notable alumni and faculty members in the field of social sciences include Harold Innis, who helped shape communication theory and the staples thesis, and sociologist Henry Giroux, one of the founding theorists of critical pedagogy. Two medical researchers, and members of McMaster had travelled in space; faculty member Dafydd Williams, and alumna Roberta Bondar, the first Canadian woman in space.
Many former students have gained prominence for serving in government. Croatian Prime Minister, TihomirOrešković was an alumnus of the university. Lincoln Alexander, the former Lieutenant Governor of Ontario, as well as the first visible-minority Lieutenant Governor in Canada was another alumnus of the university. Canadian premiers that have graduated from the university include the former premier of Ontario, Dalton McGuinty, and the former premier of Saskatchewan, Tommy Douglas. Many graduates have also served in the House of Commons of Canada, including, Tony Valeri, the Government House Leader; and Lawrence Pennell, the Solicitor General of Canada. Roy Kellock, a Justice of the Supreme Court of Canada was a graduate from the university. Charles Aubrey Eaton, a member of the United States House of Representatives, and signor of the United Nations Charter on behalf of the United States, was an alumnus of the university.
If you are planning to study abroad in Canada and targeting this university, you can get in touch with AEC. Give us a call on +91-8448446609 or 011-43334444 to get assistance on call. You can also write a query and sent it to us at enquiry@aecoverseas.com.