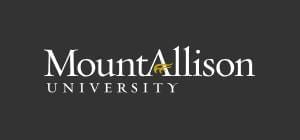 MOUNT ALLISON UNIVERSITY

Sackville, Canada
Particular: Details
Location: Sackville, New Brunswick
Established: 1839
Total Students: 2,250
Percentage of International Students: 9%
Student body of approximately 2,100.
Students come from more than 50 countries around the world.
Nestled in a town of 5,500 residents.
Campus size 76 acres.
Student-to-faculty ratio 16:1.
Average first and second-year class sizes 41.
Upper-year classes average class size 14.
Faculty of Arts(BA, BMus, BFA)
Faculty of Social Sciences(BA, BComm)
Faculty of Science(BSc, MSc)
Academic assistance
Academic integrity & misconduct
Bookstore
Code of Conduct
Computing Services
Disability services
Career Services
Indigenous student support
Mail services
Mountie Money
Registrar's Office
Safety & security
Sexual assault & harassment support
Student Life Office
Student wellness
| | |
| --- | --- |
| Country rank | 52 |
| World rank | 1828 |
Noted architectural historian, John Leroux, who is working with visual artist Thaddeus Holownia on a book about the University's architecture, calls the campus "one of the finest in Canada" and says some of the most beautiful buildings built in New Brunswick in the last 100 years are located at Mount Allison.
The newest building on campus is the Purdy Crawford Centre for the Arts, which opened in 2014. Housing the Department of Fine Arts and the drama program, the building features art studios, a large atrium, and the 100-seat Motyer-Fancy Theatre. Designed by the internationally honoured Canadian architecture firm Zeidler Partnership, it was featured in Canadian Architect magazine in March 2015
Other significant buildings are the Owens Art Gallery, the oldest University art gallery in Canada, which opened in 1895, and Hammond House, the only registered National Historic Site in the Town of Sackville. Both were designed by noted Toronto architect Edmund Burke. The Queen Anne Revival-style Hammond House was originally built for Canadian artist and head of the Fine Arts department John Hammond in 1896. It now serves as the President's residence
Bond University Student Housing caters for both domestic and international students, with a range of housing on campus. Bond University is centrally located on the Gold Coast, in the suburb of Robina.
Robert Barritt, Bermudian painter and politician
Kate Beaton, Cartoonist
Louise Belcourt, artist
Winthrop Pickard Bell, historian and philosopher
Rick Black, CFL football player, Grey Cup champion
Harold Lothrop Borden, military officer
John Bragg, O.C., industrialist
Kate Braid, poet
John Buchanan, Premier of Nova Scotia, senator
Henry Burr, entertainer
Catherine Callbeck, Premier of Prince Edward Island and businesswoman
HerménégildeChiasson, Lieutenant-Governor of New Brunswick
Erminie Cohen, Senator
Alex Colville, P.C., C.C., artist
Marilyn TrenholmeCounsell, physician, Senator, Lieutenant Governor of New Brunswick
Purdy Crawford, CC QC, Canadian lawyer and businessman
Frank Parker Day (RS), author, educator, president of Union College (NY), 1929–1933
Michael de Adder, cartoonist
James M. Dickson, Q.C., jurist and business leader
Muriel McQueen Fergusson, senator
HewardGrafftey, politician and businessman
John James Grant, Lieutenant Governor of Nova Scotia
John Gray, playwright
Don Hannah, playwright and novelist
Ian Hanomansing, journalist
Sheila A. Hellstrom, first woman Regular Force member to achieve the rank of Brigadier-General
John Peters Humphrey, jurist
Greg Kerr, current Member of Parliament for West Nova
Eric Lapointe, CFL football player, HecCrighton Trophy winner
Leslie M. Little, justice of the federal Tax Court of Canada
Kevin G. Lynch, Vice-Chair, BMO Financial Group
Mary Florence MacDonald, curator
Angus MacLean, Premier of Prince Edward Island
Michael MacDonald, Chief Justice of Nova Scotia
Margaret McCain, O.C., Lieutenant-Governor of New Brunswick
Wallace McCain, C.C., industrialist
Abner Reid McClelan, 10th Lieutenant-Governor of New Brunswick
Moses Morgan (RS), academic
Arthur Motyer, (RS) playwright, novelist, professor emeritus
David Myles, singer-songwriter
Christopher Pratt, C.C., artist
Mary Pratt, C.C., artist
Ivan Rand, jurist
Edgar Ritchie (RS), Canadian Ambassador to the United States (1966–1970) and Ireland (1976–1980)
Brenda Mary Robertson, first female in the New Brunswick Legislature; Order of Canada
Alison Sealy-Smith, actor and founding director of Obsidian Theatre
Sir Cuthbert Sebastian, Governor-General of Saint Kitts and Nevis
Scott Simms, current Member of Parliament for Bonavista—Gander—Grand Falls—Windsor
If you are planning to study abroad in Canada and targeting this university, you can get in touch with AEC. Give us a call on +91-8448446609 or 011-43334444 to get assistance on call. You ca also write a query and sent it to us at enquiry@aecoverseas.com.