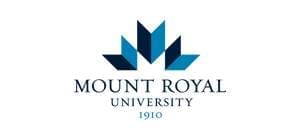 MOUNT ROYAL UNIVERSITY

Calgary, Canada
Particular: Details
Location: Calgary, Alberta, Canada
Established: 1910
Total Students: 14,258
Percentage of International Students: 15%
Accredited with AUCC, U Sports, AACTI, CBIE and CONAHEC
Total revenue of CAD 231 million that includes government grants, tuition and fees, services and products, etc.
Offers 12 degrees, 32 majors with average lecture size 29
Scholarships and bursaries worth CAD 3.8 million awarded to students in the year 2016-2017
Two residence complexes –West Residence and East Residence, which offer accommodation for 1,000 students.
Increase in number of international student enrolments from 2% to 3.5% in 2016-2017
Has 1,679 full time equivalent employees
Total 9,534 Full Load Equivalent (FLE) students
73% students are from Calgary
1% of credential program students are studying on visa
Faith
Medical and counselling support
Student housing
Disability
JP/Commissioner for Declarations service
Counseling
The campus of Mount Royal University has an award winning eco-building Roderick Mah Centre for Continuous Learning.
The campus has impressive residence buildings, state of the art classrooms and amazing recreation facilities.
MRU students can avail the benefits of various facilities such as 40 ft. climbing wall, computer labs, EnCana wellness Centre, etc.
It also has a library and Student's Association Wyckham House.
It is ranked 53rd in Canada by Webometrics.
MRU has two residence complexes- East residence and West residence. Both of them offer accommodation to 1,000 students.
One payment per semester covers accommodation and all utilities (Internet, cable, water, electricity, and heat), as well as regular maintenance.&
Installment plans are also available.
West Residence
It provides one, two and four bedroom apartments and four bedroom townhouses.
Two Resident Advisors (RAs) live in the West Residence townhouses and one RA lives on each floor of the apartment buildings.
RAs are upper-year students to support students through Residence experience and organize fun social events.
Doris Anderson (1939); powerful force for change and women's rights as editor of Chatelaine magazine from 1957 to 1977. She continued her advocacy efforts as Chair of the Advisory Council on the Status of Women, President of the National Action Committee on the Status of Women and President of Fair Vote Canada.
Dallas Arcand (Behavioural Science, 2005); world class Native American hoop dancer. In 2007, he was awarded first prize at the Annual World Championship Hoop Dancing Competition in Phoenix.
Paul Brandt (Nursing, 1992); most awarded male country musician in Canadian history. He was a pediatric nurse in 1996 when the release of his first single My Heart Has a History, propelled him to international musical success.
John de Chastelain; Canadian soldier and diplomat who heads the Independent International Commission on Decommissioning.
Chris Gailus (Journalism, 1989); Emmy award-winning news anchor. After leaving Calgary in 2000, he worked in Dallas and then New York before joining the Global BC team in Vancouver as weekend anchor.
Bret Hart; professional wrestler.
Kent Hehr; former Alberta MLA, member of parliament and Minister of Veterans Affairs.
Norman Kwong (Commercial, 1949); former CFL player and was installed as Alberta's 15th Lieutenant Governor on Jan. 20, 2005. He was the first person of Chinese heritage to serve in either profession.
Alvin Law; motivational speaker.
Bruce Mcculloch (Public Relations); successful director, writer, actor and comedian who has won several Gemini awards and received multiple Emmy award nominations. He is best known for his work as a member of The Kids in the Hall and as a writer for Saturday Night Live.
Kirby Morrow; professional voice actor.
Dave Pierce; Emmy-winning composer.
Alison Redford; Premier of Alberta from 2011 to 2014.
Kavan Smith; Canadian actor.
Yuja Wang; classical pianist.
The PropheC Indo-Canadian Singer
You are planning to study abroad in Canadaand targeting this university, you can get in touch with AEC. Give us a call on +91-8448446609 or 011-43334444 to get assistance on call. You can also write a query and sent it to us at enquiry@aecoverseas.com.