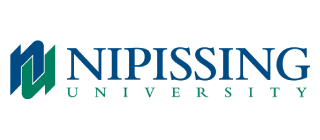 NIPISSING UNIVERSITY

North Bay, Canada
Particular: Details
Location: North bay, Ontario, Canada
Established: 1992
Total Students: 5,100
Percentage of International Students: 10%
The Nipissing University Student Union (NUSU) is the official body representing the student point of view at Nipissing. All students, both full-time and part-time, belong to the Student Union and fund the organization through their incidental fees. NUSU deals with many aspects of student life on campus, including the academic governance of the university and social events.
Nipissing University has a variety of clubs and activities. Clubs are sanctioned by NUSU and run by students. Common club categories include academics, recreation, volunteerism, current social topics, and religion.
Nipissing University has a Work Study Program (called NUWork) that enables students with financial need to work part-time on campus. Students in the NUWork program are capped at a maximum of ten hours per week and have flexible hours to accommodate class schedules.
The university is represented in the Ontario University Athletics and Canadian Interuniversity Sport by the Nipissing Lakers.
Nipissing University offers the following undergraduate degrees:
Bachelor of Arts (BA) with majors in: Anthropology, Child and Family Studies, Classical Studies, Computer Science, Criminal Justice (with streams in Corrections, Criminal Justice Studies, Criminology, and Policing), Economics, English Studies, Environmental Geography, Gender Equality and Social Justice, Geography, History, Liberal Arts, Mathematics, Native Studies, Philosophy, Political Science, Psychology, Religions and Cultures, Social Welfare and Social Development, and Sociology
Bachelor of Business Administration (BBA)
Bachelor of Fine Arts (BFA)
Bachelor of Physical and Health Education (BPHE)
Bachelor of Science (BSc) with majors in: Biology, Computer Science, Environmental Biology and Technology, Environmental and Physical Geography, Liberal Science, Mathematics, and Psychology
Bachelor of Science in Nursing (BScN)
Bachelor of Social Work (BSW)
Bachelor of Arts (BA) or Bachelor of Science (BSc) combined with Bachelor of Commerce (Bcomm)
Concurrent Bachelor of Arts (BA)/Bachelor of Education (BEd)
Concurrent Bachelor of Business Administration (BBA)/Bachelor of Education (BEd)
Concurrent Bachelor of Physical and Health Education (BPHE)/Bachelor of Education (BEd)
Concurrent Bachelor of Science (BSc)/Bachelor of Education (BEd)
The following graduate and professional programs are offered at Nipissing University:
Consecutive Bachelor of Education
Master of Arts in Sociology
Master of Education
Master of Environmental Science
Master of Environmental Studies
Master of Science in Kinesiology
Master of Science in Mathematics
PhD in Education with a focus on Educational Sustainability
Main navigation
Accessibility Services
Admissions
Residence
Accessibility Transition Program
Registration
Academic Accommodations
Faculty Resources
Student Resources
Transition Programs and Supports
Financial Aid
Athletics
Campus Shop
Career Development and Education
Code of Student Rights and Responsibilities
Consent Belongs Here
Dave Marshall Leadership Award
Health Plan and Health Services
International
NU Listens
NU Promise
NU Success
Off-Campus Living
Record of Student Development
Residence
Student Counselling Services
Student Development Fund Policy
Student Initiatives Fund
Student Intervention Services
Student Learning and Transitions
Student Retention Alert
In addition to Nipissing University's main campus in North Bay, a facility shared with Canadore College, the university also has one satellite campus in Southern Ontario.
Brantford campus- Brantford campus is a satellite campus of Nipissing University offering education courses for professional development and part-time Masters of Education courses. On November 16, 2014, the university announced that it would end its partnership with Wilfrid Laurier University and wind down its operations in Brantford in the wake of changes to funding for education programs. As of November 10, 2015, there were 622 students enrolled at this campus. Nipissing University is no longer admitting students at the Brantford campus and the partnership will officially end once the last cohort of current students completes the program in 2019.
Nipissing University has been ranked 56th in Canada by webometrics. It offers programs in more than 50 areas of study. Faculty to student ratio is 26:1; officially accredited by the Ministry of Advanced Education and Skills Development, Ontario.
Nipissing University has four residence complexes: Chancellors House, Founders House, Governors House, and the Townhouse Residence Complex. Chancellors, Founders, and Governors are suite-style residences with four students per suite. First-year students coming directly from high school and who receive full-time admission are guaranteed a single room in one of these suite-style residences. The Townhouse Residence Complex is reserved for upper year students (second year and up). The townhouses have a six-bedroom floor plan and represent a stepping stone between the suite-style living and living off campus. All suites and townhouses have their own full kitchen. Each residence complex has a team of residence life student staff including residence dons, academic dons, residence office assistants, residents' council facilitators, and residents' council executives
Vic Fedeli
AengusFinnan
Colin Simpson
Kate Maki
Cam Westhead
Rick Bartolucci
Joe Cimino
Elie Martel
Nancy Olmsted
Judi Longfiel0064
If you are planning to study abroad in Canada and targeting this university, you can get in touch with AEC. Give us a call on +91-8448446609 or 011-43334444 to get assistance on call. You can also write a query and sent it to us at enquiry@aecoverseas.com.