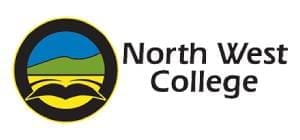 NORTH WEST COLLEGE

North Battleford, Canada
Particular: Details
Location: Meadow Lake
Established: 1975
Total Students: 2600
Percentage of International Students: 20%
North West offers programming in 24 communities spread over an area of 44,000 km2. That is approximately the same area as Switzerland!
In 2019/20 North West launched the Forest to Fork Program – a land-based food sovereignty program which draws on accrediting courses and local Indigenous traditions.
In 2014-15 North West has 87 Adult 12 graduates.
North West College is one of seven regional colleges in Saskatchewan that, through a provincial government act, are responsible for delivering adult educational opportunities within a rural catchment area. As such, North West has on average 24 rural programming sites supported by two main campuses located in Meadow Lake and North Battleford. North West's catchment area is 44,000 km2 in northwestern Saskatchewan which includes almost 1/3 of Saskatchewan's First Nations. The College is invited to deliver programming at 10-12 First Nations each year. Programs offered by North West include Master's and Bachelor's programs, skills training, industry training, Adult Basic Education Level 3 and Level 4, literacy, English as an Additional Language and safety tickets. The College serves about 2600 students each year and boasts an Indigenous Participation Rate of 50-60%. North West College strives to ensure all students have the opportunity to engage with the workforce before graduation either through a Work Integrated Learning (WIL) project or formal work placement.
If you are planning to study abroad in Canada and targeting this university, you can get in touch with AEC. Give us a call on +91-8448446609 or 011-43334444 to get assistance on call. You ca also write a query and sent it to us at enquiry@aecoverseas.com.