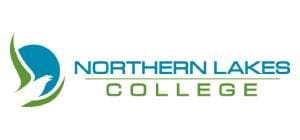 NORTHERN LAKE COLLEGE

Slave Lake, Canada
Particular: Details
Location: Alberta, Canada
Established: 1999
Total Students: 1000
Percentage of International Students: 8%
Northern Lakes College (NLC) is a publicly funded comprehensive college in the northern region of Alberta, Canada. The college is well known for its distance learning technology, mainly through Study International. It has collaborated with local school divisions. Dual credits are offered to high school students transitioning to secondary learning. The move will connect them to labor market opportunities.
Webometrics ranking: Canada – 235 :: World – 133376
Student satisfaction: 96%
On site class enrollment- 26% (in campus)
Distance Learning enrolment- 60% (online classes)
Both onsite and online classes- 14%
Increased student enrollment in Practical Nurse program and Primary Care Paramedic program.
Human Services: Popular programs in the labour market are Early Learning and Child Care, Educational Assistant and Social Work Diploma.
Distance and in-person training to interested adult learners for the remote community of Peerless/Trout Lake Area of Alberta.
Four campuses out of 26 provide student residences.
Fully-furnished rooms unless stated otherwise.
Rent including cost for utilities, WiFi and satellite TV.
Bring your own bedding and kitchen utensils.
All residences provide plenty of indoor and outdoor sports activities for residents.
25 campuses serving 25 different remote, rural communities of Alberta, Canada.
| | |
| --- | --- |
| Slave Lake Campus (Main Campus) | Grouard Campus |
| Athabasca Campus | Atikameg Campus |
| Cadotte Lake Campus | Chateh Campus |
| Driftpile Campus | East Prairie Campus |
| Fort Vermilion Campus | Gift Lake Campus |
| Grande Prairie Campus | High Level Campus |
| High Prairie Main Campus | High Prairie Health Learning Centre |
| La Crete CAP Site | Marten Lakes Wilderness Campus |
| Smoky River (McLennan) Campus | Paddle Prairie CAP Site |
| NLC Peace River Campus | Northern Lakes College Shell Canada Power Engineering and Technology Centre |
| Peavine Campus | Peerless Lake Campus |
| Slave Lake Trades and Technology Centre | Slave Lake Industry Training Annex |
| Valleyview Campus | Wabasca Campus |
These campuses offer real-time teaching through internet enabled course for rural First Nations students in vocational streams.
NLC recommends the following websites for job search also:
Workopolis – Student jobs within Alberta
Youth Employment Programs – Government of Canada
Indeed – Alberta jobs
Job Bank – Government of Canada
Student Job Board – Jobs all over Canada
The College has rolled out an Alumni Strategic Plan in 2016.
Currently, alumni members can choose to subscribe to the Alumni Association Newsletter to stay in touch with updates of past students.
If you are planning to study abroad in Canada and targeting this university, you can get in touch with AEC. Give us a call on +91-8448446609 or 011-43334444 to get assistance on call. You can also write a query and sent it to us at enquiry@aecoverseas.com.