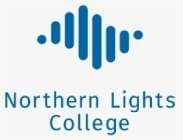 NORTHERN LIGHTS COLLEGE

Dawson Creek, Canada
Particular: Details
Location: British Coloumbia, Canada
Established: 1975
Total Students: 625
Percentage of International Students: 15%
The University of Sharjah offers the largest number of accredited programs in the United Arab Emirates. The university currently offers a total of 80 academic degree programs including 54 bachelor's degrees, 23 master's degrees, eleven PhD degrees, 15 diploma degrees. The University is fully licensed and all its programs are accredited by the Commission for Academic Accreditation (CAA) of the Ministry of Higher Education and Scientific Research in the United Arab Emirates. All Engineering Programs are accredited by ABET Bachelor of Science in Computer Science degree • Bachelor of Science in IT and Multimedia degree • Bachelor of Science in Chemistry • Bachelor of Science in Mathematics • Bachelor of Science in Biotechnology are accredited internationally by ABET(Applied Science branch) All Communication programs accredited by ACEJMC (Accrediting Council on Education in Journalism and Mass Communication) All College of Business Administration Programs are accredited by AACSB (International Accredilation)
Additionally, the Sharjah Surgical Institute (SSI), which is located in the Medical and Health Sciences campus and offers training program for surgeons from the region, was established with the cooperation of international partners, including Johnson and Johnson and Olympus. The Clinical Training Center (CTC) is accredited as a medical training and testing center by the: Royal College of Surgeons of England, International Federation of Surgery and Obesity and Metabolic Disorders(IFSO), European Association for Endoscopic Surgery (EAES), American Heart Association, and the Ministry of Health in United Arab Emirates.
Northern Lights College offers programs in the following areas:
Trades and Apprenticeships
University Arts and Sciences/ Academic
Business Management/Applied Business Technology
Career and College Preparation/ Upgrading
Workforce Training/Continuing Education
Oil & Gas Training
Clean Energy Technologies – Wind Turbine Maintenance
Early Childhood Education and Care/ Education Assistant
Teacher Training
Practical Nursing/Health Care Assistant
Aircraft Maintenance Engineering
Student Wellness Centre.
Student Services. Counselling and Accessibility Services. Accessibility. Counselling Services. Office of the Ombuds. Peer Tutoring. Co-Curricular Record. FANCard. Bus Pass. Helpdesk – IT Services. Student Health and Dental Plan. …
International Students.
Online Tools.
Student Union.
Athletics
NLC has campus locations in Chetwynd, Dawson Creek, Fort Nelson, Fort St. John, and Tumbler Ridge, along with access centres in Atlin, Dease Lake and Hudson's Hope. Northern Lights College campuses have relaxed atmospheres, where students may gather to study or visit, in common areas such as the cafeteria, Student Residence common rooms, Aboriginal Gathering Space, or lounge areas.
If you are planning to study abroad in Canada and targeting this university, you can get in touch with AEC. Give us a call on +91-8448446609 or 011-43334444 to get assistance on call. You can also write a query and sent it to us at enquiry@aecoverseas.com