One of the most popular career choices is – law. People whose families have been into this profession for generations generally choose to study this field too. However, to become a successful and proficient lawyer, it is not compulsory to have a family background in the same neither is it mandatory that you should be from an affluent family. Anyone passionate and interested in this field can choose to study in India as well as at an international university.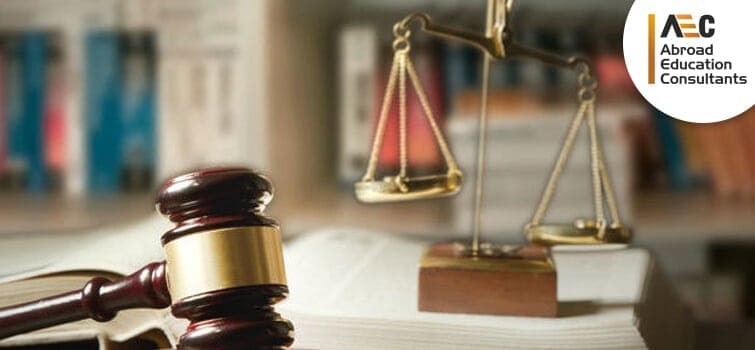 Generally, students can specialize in either civil law or criminal law. However, the concept has changed and now students are opting for other specializations such as corporate law, patent law, and so on. A degree in this subject area not only allows you to practice as a lawyer in the court or firm but open gateways to success in various sectors such as legal services, corporate management, administrative services, and so on.
A lawyer is also referred to as a counselor or attorney. They are licensed by the state where they practice to represent and advise clients on several legal matters along with animal rights. These professionals can represent individuals, groups as a single, businesses, litigating party or the government.
Duties and Responsibilities of a Lawyer
A lawyer represents either the plaintiff – the party that is initiating or filing a legal action or the defendant – the part that is being charged or sued. They advance the cases of their clients through written documents and oral arguments. They advise clients on how the facts of their specific case apply to the law.
The role and day-to-day responsibilities of a lawyer can considerably vary, depending on the field of specialization and practice environment. Some of their duties include the following:
They meet the existing clients and meet new ones to render appropriate legal advice
They perform legal research to find out how certain facts of the case will interact with the current law
They perform case research by attending site inspections, taking decisions, and engaging in findings to exchange information relevant to the case from both the parties
They attend pretrial appearances of the court and argue motions
They draft several legal documents including discovery, pleadings, briefs, motions, wills, and contracts
They follow up the court decision to ensure that all parties included in the case are doing what they have been ordered or committed to do
Average Salary of a Lawyer
The compensation of a lawyer varies and greatly depends on the practice settings, specialization area, geographic location, and the demand of the specialty. According to several online portals, the median salary for these professionals is the following:
Average Salary Per Annum: $119,250
Average Salary for Top 10% Professionals: Over $208,000
Average Salary for Bottom 10% Professionals: Below $57,430
Education, Training, and Certification Requirements
This field needs ongoing and significant education along with a license. Look at the following essential requirements to jump-start your career:
Education: To become a successful lawyer, you must complete a minimum of 7 years of education. However, everything depends on the country you are choosing for your studies. For instance, in some countries, education includes a total of 4 years of undergraduate followed by 3 years of full-time studies.
License: Your degree is not alone enough to kick-start your career in law, you will need a license from your state to start practicing in the court or a law firm.
Different Branches of Law
This field is now not limited to one or two options as multiple branches are available for specialization. Look at the indicative list given below:
International Law: The Law manages the connection between states and countries. This law is part of private international law, open universal law, and supranational law. This worldwide law manages the legal connections between government, organizations, and countries.
Business Law: The investigation of business law oversees legal issues of the particular business area. For instance, business cases, guardian commitments, contracts, and so on.
Criminal Law: Criminal law is otherwise called correctional law, which controls and rebuffs the demonstrations viewed as unfortunate for the states.
Patent and Protected Innovation Law: This law centers around executing, creating, and authorizing license innovation rights such as patents, copyrights, trademarks, etc.
Common and Private Law: This law mainly centers around the connection between the associations and people.
The following are the types available for aspirants to choose from:
Financial and Securities Lawyer
Business Lawyer
Intellectual Property Lawyer
Mergers and Acquisitions Lawyer
Employment and Labor Lawyer
Family Lawyer
Lawyer and Non-Lawyer Career Paths
As a professional, you can choose to walk on the legal career path or go to the non-legal option. Some of them have been listed in the table below:
Lawyer Career Paths
Non-Lawyer Career Paths

Law Firms
Litigation
Banking and Insurance Sector
Public Prosecutor
Judicial Services
Criminologist
Solicitor
Military Lawyer
Legal Academia

Law Firm Administrator
Legal Secretary
Legal Receptionist
Litigation Support Professional
Paralegal
Essential Skills and Competencies for a Lawyer
While these professionals are more like a diverse group with different personalities and backgrounds, several skills are needed to succeed. Some of the common skills have been listed here:
Exceptional Communication Skills both Oral and Written
Some cases can be won or lost based on the written submissions to the court before appearing in front of the judge. Impressive communication skills i.e. oral and written are needed to appear strongly in the court.
You need to determine if a case is winnable or not. After assessing the case, you must provide advice to your clients accordingly.
Clients always come to you when they have any problem or when they need legal support from you to sort those issues out. Hence, you need to show compassion and empathy towards them.
Trustworthiness and Honesty
A lawyer needs to follow strict client confidentiality rules and ethical guidelines. Honesty and trustworthiness are key factors for this field.
Job and Career Outlook for Lawyers
The employment for these professionals is expected to grow by up to 8% by 2026. It is because of the increased demand for legal services, new corporate compliance regulations, and increased business activity. This makes the law a highly competitive career option for students who are graduating from the law.
Interested in this field? Want to study abroad to get into your dream field? If yes, then get in touch with us to know more about the best universities for law situated in UK, Ireland, Australia, Singapore, Germany, New Zealand, etc.