The Master of Business Administration (MBA) degree has been started to provide the students with sound management knowledge to stand out. The MBA program has specifically been designed for aspirants who are executing the management of the sectors i.e. finance, marketing, etc. or related fields. It is said that an MBA degree is one of the most job provider degrees in the world. If you are planning to pursue an MBA degree abroad, read this to have a clearer picture of this program. Let us get started!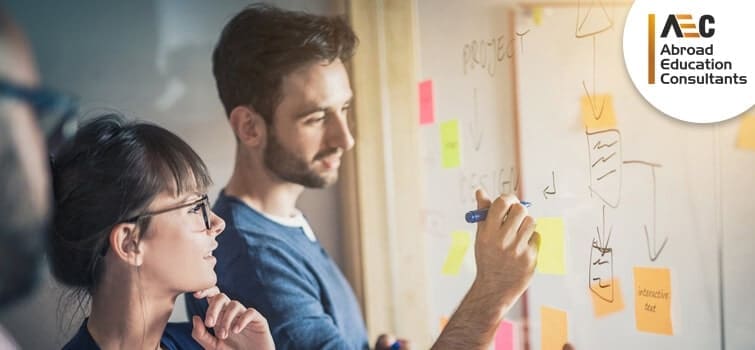 An MBA degree is an advanced education that gives hypothetical and reasonable preparing to help graduates gain a superior comprehension of general business management functions. This degree can have a general concentration or a particular concentration in a variety of fields.
Entry Requirements for an MBA Program
MBA requirements differ from one country to another and from one university to another but a general entry requirement for an MBA degree in the countries like the United Kingdom (UK) is mentioned here:
A bachelor's degree
A minimum of 3 years of full-time work experience
GMAT (Graduate Management Admission Test)
IELTS score of at least 6.0-6.5
This degree program comes with a vast area of specialization. Working professionals looking to get the highest degree as per their job profile can go for the MBA program. The aspirants can choose the core subject keeping their interest area in mind. Some of the most popular and top-rated core subjects of an MBA program are listed here:
Finance
Banking
Marketing
Accounting
International Business
Information Technology (IT)
Human Resources (HR)
Event
Operation
Oil and Gas
Retail
Supply Chain
Total Quality Management (TQM)
Tourism and Hotels
No matter whether you have completed your graduation in arts, humanities, science, or engineering, you are free to choose your MBA program specialization. We have tabulated the top MBA specializations that you can choose to study:
Top MBA Specialisation Courses

Aeronautical
Agribusiness
Agricultural
Analytics
Animation and Design
Architecture
Arts
Audiology and Speech
Automobile
Banking
Business Administration
Ceramic
Chemical
Civil
Commerce
Computer Science
Construction
Dentistry
E-Business
Education

Electrical
Electronics
Energy and Environment
Entrepreneurship
Family Business
Fashion
Finance
Finance and Accounts
Food
Forest
Formal Sciences
Foundry
General Science
Geo-technical
Health Care Management and Hospital Administration
Hospitality and Tourism
Hospitality Management
Human Resource Management
Information Technology and Management
Infrastructure

Instrumentation
Insurance
International Business
Journalism
Law
Life Sciences
Literature
Logistics and Supply Chain
Manufacturing
Marine
Marketing
Mechanical
Media and Communication
Medicine and Surgery
Metallurgy
Mining
Nanotechnology
Nursing Science
Occupational Therapy
Oil and Gas

Operation
Organizational Behaviour
Petroleum
Pharmaceutical
Pharmacy
Philosophy
Physical Sciences
Planning
Polymer
Power Printing
Product
Production
Public Enterprise
Retail
Rural
Sales
Social Sciences
Strategic
Technology or Systems
Telecom
Textile
Thermal
Modules Taught in an MBA Programs
Modules of an MBA program depend on the specialization you choose to study. However, some sections remain the same. And these general modules include:
Strategic Management
Financial Management
Marketing principles and practice
Enterprise and Innovation
Operations Management
Management Consultancy
Business Analytics
Optional Courses like Supply chain management, project management, and corporate finance, etc.
For a student having an MBA degree can choose from multiple options available. Possible job options include the following:
Brand Manager
Account Manager
Marketing Manager
Management Consultant
Business Consultant
Senior Product Manager
Senior Strategy Manager
International Business Manager
Business Technical Consultant
Marketing Executive
Business Development Executive
Senior Vice President
Chief Executive Officer
Median Salary for MBA Degree Holders
Management is considered one of the highest paying sectors. Hence, the salary is not an issue for the candidates having impressive decision-making skills, leadership qualities, and enthusiasm along with a good academic background.
In India, the initial package for MBA degree holders is around 2-3 lakh INR per annum but the maximum is unlimited. In addition to this, the increment opportunities in this sector are quite good but depending on the capabilities of the candidate, experience, geographical location, type of industry chosen, etc.
Apart from this, the median salary outside India i.e. UK according to the Payscale.com for different MBA profiles have been given in the table below:
| | |
| --- | --- |
| Job Profile | Average Salary Per Annum |
| Business Development Manager | £45,000 |
| Senior Buyer | £38,500 |
| Chief Executive Officer | £126,482 |
| Operations Manager | £34400 |
| Country Manager | £115000 |
| Marketing Executive | £39000 |
Where You Can Work After MBA?
After MBA, opportunities will be endless for you. Some popular employers for the candidates with an MBA degree include the following:
Amazon
Google
Facebook
Apple
Intel
Boeing
Qualcomm
Edward Jones
Boston Consulting Group
Mckinsey and Company
Genentech
Deloitte
Goldman Sachs
Top Abroad Universities Offering MBA Degree
An indicative list of popular abroad universities offering different MBA courses and programs include the following:
University of Oxford, UK
University of Cambridge, UK
University of Bath, UK
Lancaster University, UK
London Business School, UK
Macquarie University, Australia
University of Columbia, Australia
University of Auckland Business School, New Zealand
University of Canterbury, New Zealand
Want to study abroad? Contact AEC and get assistance for the countries like UK, Ireland, Australia, Canada, New Zealand, Singapore, and Germany. To find your best-fit university for an MBA program, call us on +91-8448446609 or 011-43334444 or simply write to us at enquiry@aecoverseas.com.