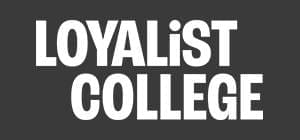 LOYALIST COLLEGE

Belleville, Canada
Particular: Details
Location: Belleville, Ontario, Canada
Established: 1967
Total Students: 15,000
Percentage of International Students: 13%
Loyalist College was founded in 1967 in Belleville, Ontario, Canada. It is an English-language institution focused on studies related to Applied Arts and Technology. It offers 77 postsecondary programs including with postgraduate, continuing education, college prep and skilled trades programs.
Has more than 70 university transfer agreements within Canada and internationally
Particularly known for its small class sizes which allows students to receive personalized attention from professors
Has skilled trades programs for students who are interested in joining the labour industry such as architecture, welding and manufacturing
Has e-Labs on both of its campuses which allow students to pursue education online with the benefit of having access to college facilities
Studying at the College helps students hone their communication and teamwork skills
Students are able to put theory into practice through the study programs as the teaching style shows them how to use their skills in the industry
Placements during the study program (internships/apprenticeships) increase chances of employment after graduation
Students success mentor program support students throughout their academic session
The College has a number of students clubs devoted to different activities such as gaming, choir, dancing, writing, sports, LGBTQ community, environmental protection, etc.
Students can join any of these clubs to volunteer for causes they are interested in or simply socialize with their peers.
Student success
Accessibility
Health and wellness
Academic advisors
Medical and mental support
Career advice
Financial aid
Indigenous services
The College has two campuses – the main one at Belleville and the other at Bancroft. The main campus spans 200-acres within easy access to shopping, dining and entertainment facilities in town. For those who love the outdoors, there are activities such as boating and fishing at the beach of Lake Ontario. The campus is easily accessible by public transport.
The following academic facilities are available at the campus –
The Bay of Quinte Skills Centre for students enrolled in skilled trades programs
Biosciences lab for biotechnology, chemical engineering and environmental technology programs
Human Simulation lab for students in healthcare programs
Digital Media Centre for students in journalism, film and TV production, and communication programs
Two Students Access labs – equipped with computers and wireless internet
Spa which acts as a training centre for students
Library with over 32,000 books, 229,000 eBooks and 190 journal subscriptions
Student Centre with a big screen for movies, television sets, and pool tables
Health Centre and Fitness Centre
Dining Halls
Resto213 – a dining room run by the College's Culinary students
The Bancroft campus provides education and training programs in the city of Bancroft along with outreach programs in at least 16 other nearby cities.
Loyalist College houses some of its students in the Loyalist College Residence located on the college campus. The residence contains five buildings and holds approximately 474 students. There are also 4 townhouse blocks housing 112 students. Located on the residence grounds is Residence Commons. This building contains laundry facilities, computer access, security office, food station and entertainment area. The entertainment area includes pool tables, ping-pong and television for student use.
The College has two types of residences available near the Belleville campus:
5 suite-style residence buildings – that can accommodate 476 students
4 townhouse buildings – that can accommodate 104 students
Each apartment in a residence building is equipped with-
Six bedrooms
Two bathrooms
Kitchen and dining areas – fridge, stove, microwave, dishwashers, dining tables and chairs
Living room
Free wireless internet
Laundry facility
Sports area
Outdoor barbecue
Each apartment in a townhouse building is equipped with-
Four bedrooms
Two bathrooms
Television
Living room
Laundry
Air conditioning
Kitching including Dishwasher
Additionally, there is a Residence Centre which has a coffee shop, lounge area, and a big screen TV for students to socialise in.
The residences are located in close proximity to the campus giving students easy access to campus facilities and cutting down on travel time.
Paul Ferguson: Country music singer
Zachary Prong: Photojournalist
Jamie Schmale: MP for Haliburton-Kawartha Lakes-Brock
Joe Roberts: The Skidrow CEO; motivational speaker
Laurie Scott: MPP for Haliburton—Kawartha Lakes—Brock
If you are planning to study abroad in Canada and targeting this university, you can get in touch with AEC. Give us a call on +91-8448446609 or 011-43334444 to get assistance on call. You ca also write a query and sent it to us at enquiry@aecoverseas.com.