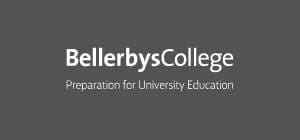 Location
Brighton and Hove, England



QS Ranking (2023)
Not ranked by QS
An Overview
Quick Facts
Rankings (2023)
Cost
Gallery
Map
An Overview
Bellerbys College was a series of two (formerly four) private international co-educational boarding schools based in the UK, owned by Study Group. It offered students subject pathway courses. Its colleges closed in September 2022.
Quick Facts
Rankings (2023)
Cost
Gallery
Map
If you are planning to study in UK and targeting this university, you can get in touch with AEC. Give us a call on 080-69029999 or 011-43334444 to get assistance on call. You can also write a query and sent it to us at enquiry@aecoverseas.com
Particular: Details
Location: Brighton, Cambridge and London United Kingdom
Established: 1959
Total Students: 20,000
Percentage of International Students: 20%
Bellerbys College is a series of three (formerly four) private international co-educational boarding schools based in the UK, owned by Study Group International who also operate language schools under the name Embassy.
Bellerbys College is accredited by the British Accreditation Council (BAC) for Independent Further and Higher Education and is on the UK Register of Independent Schools. In 2006 the college in Cambridge won 5 Good Schools Guide Awards for A Level results and in the last two years the colleges have won a further 12 awards in 2008 and 2009 combined.
This high-ranking school with more than 50 years' experience is known for its A-level and GCSE courses along with a wide subject range (art and design, business, management and finance, and science and pharmacy).
Being an international college, Bellerbys encourages students from all around the world to live in the UK, having access to world-class art, music, and literature.
Furthermore, multiculturalism is celebrated throughout the UK and students are able to learn from each other through many different aspects, students will also not feel alone as many students of the same cultures are present in the UK!
Education-wise, Bellerbys has an impressive record of students who achieved tremendously well on their A-level and GCSE with the help from highly remarkable teachers and the intensive academic preparation Bellerbys College provides.
Bellerbys College offers the following courses and programs:
A Levels
GCSE
Foundation
Pre-foundation
Undergraduate Year 1
High School Term
Summer School
English Language Preparation
IELTS Exam Preparation Course
They  provide a caring and supportive learning environment to ensure you have everything you need for a happy, healthy life. Student care includes: counselling, advice on visa queries, such as extension or visiting a third country, access to international phone cards, guidance on medical and dental registration, first aid, Student Services assistants, finance, student welfare, residential supervisors and language advisors.
At Bellerbys you will develop life skills to enable you to become a successful global citizen. Every year we see our students grow in confidence and gain outstanding academic results. You will establish international friendships that will last a lifetime.
If you're under 18
Day to day support
Experienced staff
Expert counselling
Small classes
Welfare and counselling
KYMBAT FROM KAZAKHSTAN
Bellerbys Cambridge Star Student Kymbat
2019 A-level results: 45%; compared to the national average of 25.5%
Accommodation fees vary, depending on the city you study in and the type of accommodation. You could live in a homestay (with a host family), or in a single or shared room in residence accommodation.
Most residence accommodation includes half board meals (breakfast and dinner), depending on your age. If meals are not included, accommodation is offered on a self-catered basis. All GCSE students at Bellerbys Brighton receive full board meals (breakfast, lunch and dinner). Homestay accommodation includes half board meals.
Residence accommodation (students under 18) in a single room with half board, starts from:
£5,714 per term in Brighton
£4,079 per term in Cambridge
£4,717 per term in London.
Homestay accommodation in a single room with half board starts from:
£2,239 per term in Brighton
£2,559 per term in Cambridge
£2,985 per term in London
The colleges are located in Cambridge, at Queens Campus 52°11′44″N 0°07′28″E and Manor Campus 52°13′29″N 0°07′50″E, Brighton 50°49′56″N 0°08′27″W, Greenwich 51°28′56″N 0°01′19″W, and formerly Oxford 51°45′00″N 1°16′17″W.
If you are planning to study abroad in the UK and targeting this university, you can get in touch with AEC. Give us a call on +91-8448446609 or 011-43334444 to get assistance on call. You can also write a query and sent it to us at enquiry@aecoverseas.com