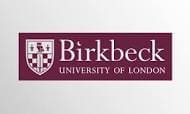 BIRKBECK UNIVERSITY

London, England
Particular: Details
Location: Bloomsbury
Established: 1823
Total Students: 11,390
Percentage of International Students: 20%
Birkbeck's main building is based in the area of Bloomsbury in London Borough of Camden in Central London. In partnership with University of East London, Birkbeck has an additional large campus in Stratford, next to the Theatre Royal.
Birkbeck offers over 200 undergraduate and postgraduate programmes that can be studied either part-time or full-time, though nearly all lectures are given in the evening. Birkbeck's academic activities are organised into five constituent faculties which are subdivided into nineteen departments.
Birkbeck is one of the largest colleges of the University of London not to award its own degrees. Although it has held its own degree awarding powers since 2012, Birkbeck has chosen to hold these in reserve, preferring to award University of London degrees. It also offers many continuing education courses leading to certificates and diplomas, foundation degrees, and short courses.
In 1907, Birkbeck's name was shortened to "Birkbeck College". In 1913, a review of the University of London (which had been restructured in 1900) successfully recommended that Birkbeck become a constituent college, although the outbreak of the First World War delayed this until 1920.[6] The Royal Charter was granted in 1926.
During the Second World War, Birkbeck was the only central University of London college not to relocate out of the capital.
In 2006, Birkbeck announced that it had been granted £5 million by the Higher Education Funding Council for England to expand its provision into east London, working with the University of East London.[10] The partnership was formally launched on 21 November 2006 and is called Birkbeck Stratford.
Birkbeck expanded into east London, in conjunction with the University of East London. The project is known as Birkbeck Stratford.[10] The campus officially opened in November 2013.
Telephone:  +44 (0)20 3907 0700
Chaplaincy: It offers confidential individual pastoral care and encourages good relations between people of different faiths. The Chaplains will also help reflection on issues of significance relating to study, work and research
Child care Services: Affordable evening nursery is available for children aged from 2 to 6 years.
Counselling Services: Student can talk to the counselors. All of the information will always remain confidential.
Disability and Dyslexia: For students like this, the university offers a complete screening, different time tables and a study support plan.
Janet Poole House
Goodge St
Percy St
Newman St
Somerset Court
Rathbone place
Monmouth St
Endell Street
Garrick St
Berwick St
Archer Street
59 Rupert Street
44 Drury Lane
Greek St
Birkbeck is principally located between Malet Street and Woburn Square in Bloomsbury, with a number of institutes, teaching hospitals, and scientific laboratories on nearby streets. The Friends House is also partially owned by Birkbeck Law School. The School of Arts, including the Department of English & Humanities, is housed in Virginia Woolf's former Gordon Square residence in Bloomsbury.
Ramsay MacDonald, first Labour Prime Minister of the United Kingdom
Sidney Webb, 1st Baron Passfield, economist and co-founder of the London School of Economics and Political Sciences
Patrick Blackett, professor of physics and Nobel prize winner in Physics 1948
S. Eliot, lecturer in English and Nobel prize winner in Literature 194
Aaron Klug, winner of the 1982 Nobel Prize in Chemistry
Eric Hobsbawm, historian
William Joyce, politician and Nazi propaganda broadcaster
Sir Arthur Wing Pinero, dramatist and stage director
William Joyce, politician and Nazi propaganda broadcaster
Sir Arthur Wing Pinero, dramatist and stage director
Roger Scruton, philosopher and activist
If you are planning to study abroad in the UK and targeting this university, you can get in touch with AEC. Give us a call on +91-8448446609 or 011-43334444 to get assistance on call. You ca also write a query and sent it to us at enquiry@aecoverseas.com.