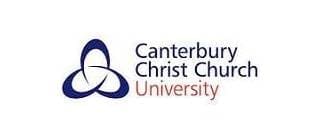 CANTERBURY CHRISTCHURCH UNIVERSITY

Canterbury, England
Particular: Details
Location: Canterbury
Established: 1962
Total Students: 17,980
Percentage of International Students: 22%
Canterbury Christ Church University (CCCU) is a public university located in Canterbury, Kent, England. Founded as a Church of England college for teacher training in 1962, it was granted university status in 2005.
The university has developed rapidly since its inception in 1962 and now has around 15,000 students based at locations across Kent in Canterbury, Medway (as part of the Universities at Medway partnership) and Tunbridge Wells. As well as being Kent's largest centre of higher education for the public services – notably teacher training, health and social care and the emergency services – the university also offers academic and professional programmes, including doctorates and research degrees in the arts, humanities and social and applied sciences.
The university is also developing its portfolio of STEM courses, including engineering and medicine. The university is working with industry and businesses in the south east to develop its STEM courses and is working in partnership with the University of Kent on the development of the medical school.
University Campus:
North Holmes:
The University's Canterbury Campus, at North Holmes Road, is built on land which was once used for orchards and domestic buildings of the adjacent St Augustine's Abbey, part of Canterbury's World Heritage Site. The campus is a low-rise development centred on a courtyard adjacent to the chapel of Christ in Majesty. The chapel roof, formed of four isosceles triangles in glass, is a distinctive local landmark. The campus buildings are largely named after former Archbishops of Canterbury.
In 2000, Canterbury Christ Church acquired the lease of the Sidney Cooper Gallery in Canterbury city centre, originally established as an art school by the noted cattle painter Thomas Sidney Cooper in 1868. Art students moved into the building in December 2002, taking it back to its original use as an art school. In 2004, the refurbished gallery space opened to the public. The gallery exhibits staff and student work, as well as work by local, national and international artists.
Hall Place, a 16th-century building in Harbledown, has been renovated and renamed Hall Place Enterprise Centre. It is home to the Centre for Enterprise and Business Development, a gateway for business support and access to academic resources and training programmes for small businesses,
Telephone:  +64 3 369 4999
University services are still available remotely, including the following for student support:
– Student Wellbeing Adviser Team: studentwellbeing@canterbury.ac.uk
– Mental Wellbeing and Counselling Team: mentalwellbeing@canterbury.ac.uk
– Student Disability Service: disability@canterbury.ac.uk
The university caters students of all types, – Disabled, Mental Health, Disability, Dyslexia, and many more. They have a special team to cater all of their needs and well-being.
The university also gives practical advice and support. From personal academic tutor, financial support, peer mentor, student meditation to safety support.
CCCU is a public university located in Canterbury, Kent, England.
Whitstable road
Sturry Road
Steele Court
Havelock Street
St Alphege Lane
Beaconsfield Road Flat 5
Classic en suite
Station Road West
Rob Beckett – Comedian studied Film, Radio and Television Studies at Christ Church between 2004 and 2007
Kate Blewett – producer and director with the BBC
Phil Gallagher – children's TV presenter
Jon Holmes – writer, script editor and presenter
Joel Hopkins – BAFTA award-winning film writer–director
Jon Culshaw – impressionist and comedian
Geraldine McCaughrean – children's author
DorothéeMunyaneza – actor, singer, dancer and choreographer
If you are planning to study abroad in the UK and targeting this university, you can get in touch with AEC. Give us a call on +91-8448446609 or 011-43334444 to get assistance on call. You can also write a query and sent it to us at enquiry@aecoverseas.com.