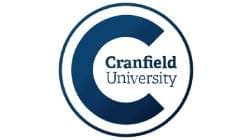 Location
Cranfield, England



An Overview
Quick Facts
Rankings (2023)
Cost
Gallery
Map
An Overview
Cranfield University is a British public research university located in Cranfield, Bedfordshire, England. It is a specialist university focused on aerospace, aviation, automotive, defense, energy, environment, and management.
Cranfield was founded in 1946 as the College of Aeronautics, and was granted university status in 1967.  The university has two campuses: the main campus in Cranfield, and the Shrivenham campus in Swindon.
Quick Facts
Rankings (2023)
Cost
Gallery
Map
If you are planning to study in UK and targeting this university, you can get in touch with AEC. Give us a call on 080-69029999 or 011-43334444 to get assistance on call. You can also write a query and sent it to us at enquiry@aecoverseas.com
Particular: Details
Location: Cranfield
Established: 1946
Total Students: 4828
Percentage of International Students: 28%
Cranfield University is a British postgraduate and research-based public university specialising in science, engineering, technology and management.
Cranfield was founded as the College of Aeronautics in 1946. Through the 1950s and 1960s, the development of aircraft research led to growth and diversification into other areas such as manufacturing and management, and in 1967, to the founding of the Cranfield School of Management. In 1969, the College of Aeronautics was renamed the Cranfield Institute of Technology, was incorporated by Royal Charter, gained degree awarding powers, and became a university.
Cranfield University has two campuses:
The main campus is at Cranfield, Bedfordshire,
And the second is at the Defence Academy of the United Kingdom at Shrivenham, southwest Oxfordshire.
The main campus is unique in the United Kingdom (and Europe) for having its own semi-operational airport – Cranfield Airport – and its own aircraft, used for teaching and research.
Telephone:  +44 (0)1234750111
Health, wellbeing and worship-
Life at university brings many challenges, from meeting academic expectations to adapting to student life away from friends and family – sometimes in a foreign country – to getting to know new people and adapting to new surroundings.
In these circumstances, it's important to look after your health and wellbeing, in all its forms. Take a look at the Wellbeing and Worship pages for additional information and support on:
Health,
Counselling services,
Disability and learning,
Places of worship
Medical services-
If you are from a European Economic Area (EEA) country, you should obtain a European Health Insurance Card (EHIC) for you and your family before you travelto the UK, to ensure you are able to use NHS medical services.
Spouses and children of international (non-EEA) students are eligible for some NHS treatments, providing that the students' course is for six months or more.
Cranfield University is in the top 1% of institutions in the world for alumni who hold CEO positions at the world's top companies according to the Centre for World University Rankings, 2017.
Cranfield School of Management's full-time one-year MBA programme was named 7th in the world and 1st in the UK and its MSc in Finance and Management was named 6th in the world and 2nd in the UK by the Times Higher Education/Wall Street Journal in 2018.
Cranfield School of Management's is ranked 80th in the world for Business and Economics by THE 2018.
Cranfield University is ranked 39th (2019) in the world and was ranked 27th in the world (2015) for mechanical, aeronautical and manufacturing engineering by the QS World University Rankings in 2015.
Cranfield University is ranked 9th in UK in the 2014 Research Excellence Framework (REF) for Aeronautical, Mechanical, Chemical and Manufacturing engineering. It is ranked 2nd in terms of Research Power, and 6th in terms of research Output Quality with 81% achieving 3*-4* research activity.
Cranfield has received the Queen's Anniversary Prize six times: in 2005 for Further and Higher Education for the Fellowship in Manufacturing Management (FMM) programme; in 2007 for its role in humanitarian demining; in 2011 for contribution to aviation safety through research and training in accident investigation; in 2015 for its work in water and sanitation;[35] in 2017 for its research and education in large-scale soil and environmental data for the sustainable use of natural resources and in 2019 for the work of the National Flying Laboratory Centre.
At the Cranfield University campus there are a wide range of accommodation options for full time students, from halls of residence to shared houses, apartments for couples and houses for families.For part time students, there are two options available – the 186 room Cranfield Management Development Centre and the 114 room Mitchell Hall, both of which are situated on campus.
Nader Al-Dahabi – Former prime minister of Jordan
AkinwunmiAmbode – Governor Lagos State, Nigeria
Michael Bear (Lord Mayor) – The 683rd Lord Mayor of London
Karan Bilimoria – Founder and Chairman, Cobra Beer Ltd[45]
Crispin Blunt – Member of Parliament for Reigate
Andy Bond – Former CEO, Asda
Clifford Braimah – Managing Director Ghana Water Company Limited
WinnieByanyima – Executive director of Oxfam International
J. Clancy – author of Aerodynamics (1975)
Nigel Doughty – Former co-chairman and co-founder of Doughty Hanson & Co
Warren East – CEO, Rolls-Royce Holdings
Andy Harrison – CEO, Whitbread
John Hull – Professor of Derivatives and Risk Management at the University of Toronto
Antony Jenkins – former Group Chief Executive, Barclays
Nick Jenkins – Founder of online greetings card retailer Moonpig, former "dragon" on the BBC Two business series Dragons' Den
Siddhartha Lal – Chief executive officer and Managing Director of Eicher Motors, and Chairman & Managing Director of VE Commercial Vehicles.
Martin Lamb – Chief Executive, IMI plc
SamerMajali – Former CEO of Royal Jordanian airlines
Charlie Mayfield – Chairman, John Lewis Partnership
John McFarlane – Executive Chairman, Barclays[46]
Lara Morgan – Founder, Company Shortcuts
JoãoFalcão e Cunha – Dean of Faculty of Engineering, University of Porto (Portugal). Attended Master in Operational Research (1984).[47]
Juan Rafael Elvira Quesada – Served as Secretary of the Environment and Natural Resources
Andy Palmer – CEO, Aston Martin
Ted Tuppen – CEO, Enterprise Inns Plc
James Vowles – Chief Strategist of Mercedes Formula 1 team
Sarah Willingham –entrepreneur and former "dragon" on the BBC Two business series Dragons' Den
Balakrishnan Suresh -Air Marshal and Chief of WAC in Indian Air Force
If you are planning to study abroad in the UK and targeting this university, you can get in touch with AEC. Give us a call on +91-8448446609 or 011-43334444 to get assistance on call. You can also write a query and sent it to us at enquiry@aecoverseas.com.