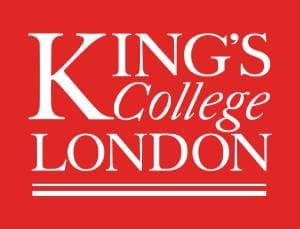 Total Students
Over 33,000 students

An Overview
Quick Facts
Rankings (2023)
Cost
Gallery
Map
An Overview
King's College London (KCL) is a public research university located in London, England. It is one of the two constituent colleges of the federal University of London. Founded in 1829 by King George IV and the Duke of Wellington, King's is one of the oldest universities in England.
Quick Facts
Rankings (2023)
Cost
Gallery
Map
If you are planning to study in UK and targeting this university, you can get in touch with AEC. Give us a call on 080-69029999 or 011-43334444 to get assistance on call. You can also write a query and sent it to us at enquiry@aecoverseas.com
Particular: Details
Location: London
Established: 1829
Total Students: 31,000
Percentage of International Students: 30%
King's College London (informally King's or KCL) is a public research university located in London, United Kingdom, and a founding college and member institution of the federal University of London. King's was established in 1829 by King George IV and Arthur Wellesley, 1st Duke of Wellington, when it received its first royal charter.
King's has five campuses: its historic Strand Campus in central London, three other Thames-side campuses (Guy's, St Thomas' and Waterloo) nearby and one in Denmark Hill in south London.
King's is generally regarded as part of the "golden triangle" of elite universities located in the English cities of Oxford, Cambridge and London.
King's enjoys royal patronage by virtue of its foundation. The current patron is Queen Elizabeth II.
The Faculty of Arts and Humanities was formed in 1989 following the amalgamation of the faculties of Arts, Music and Theology. The faculty encompasses traditional disciplinary subjects, as well as less-common subjects such as Hellenic, Portuguese and Medieval Studies, and emerging disciplines such as Digital Humanities and Queer Studies.
The Faculty of Dentistry, Oral & Craniofacial Sciences (formerly Dental Institute) is the dental school of King's and focuses on understanding disease, enhancing health and restoring function. The institute is the successor of Guy's Hospital Dental School, King's College Hospital Dental School, Royal Dental Hospital of London School of Dental Surgery, and the United Medical and Dental Schools of Guy's and St Thomas' Hospitals. It was a part of King's School of Medicine and Dentistry until 2005, when the dental school became the Dental Institute and then renamed in 2019.
The Faculty of Life Sciences and Medicine was created as a result of the merger of the School of Medicine with the School of Biomedical Sciences in 2014.
The Institute of Psychiatry, Psychology and Neuroscience (IoPPN) is a faculty and a research institution dedicated to discovering what causes mental illness and diseases of the brain, and to help identify new treatments of the diseases.The institute is the largest centre for research and postgraduate education in psychiatry, psychology and neuroscience in Europe.
The Dickson Poon School of Law is the law school of King's. Law has been taught at King's since 1831.The Faculty of Laws was founded in 1909 and became the School of Law in 1991.
The Faculty of Natural and Mathematical Sciences was established in 2010, following the reorganisation of the School of Physical Sciences and Engineering. The faculty provides education and research in chemistry, informatics, physics, mathematics and telecommunications. Physics and Mathematics has been studied at the university since 1829 and 1830 respectively, and there are six Nobel laureates who were either students or academic staff of the faculty.
The Faculty of Social Science and Public Policy was established in 2001, and is one of the largest university centres focusing on policy-oriented research in the UK. Following a restructuring in 2016, it is split into four schools:
School of Politics & Economics (European & International Studies, Middle Eastern Studies, Political Economy, Russia Institute)
School of Education, Communication & Society
School of Global Affairs (Geography, Global Health & Medicine, International Development, Brazil Institute, India Institute, Lau China Institute)
School of Security Studies (Department of Defence Studies, Department of War Studies)
King's Business School was established in 2017 at Bush House. The School of Management and Business within the Faculty of Social Science and Public Policy was reformed to create King's Business School. It offers programmes in economics, management, finance, entrepreneurship, human resource management and marketing.
The university provides-
Student Finances
Immigration
Well being
Private Hosing and Accommodation
Childcare Advices
Employment Rights
Disability Support
Finances
Chaplaincy
King's has a total of thirteen halls of residence located throughout London. Accommodation is guaranteed for first year undergraduates and international postgraduates. Great Dover Street Apartments, Wolfson House and Iris Brook and Orchard Lisle are located on Guy's Campus in London Bridge. Brian Creamer House, which was named after Dean of St Thomas's Hospital Medical School Brian Creamer, and the Rectory are situated in the grounds of Lambeth Palace near St Thomas' Campus. Stamford Street Apartments is located opposite Waterloo Campus and within walking distance of Strand Campus, and Champion Hill Residence is close to Denmark Hill Campus in south London. Urbanest Tower Bridge is located within a walking distance from the Tower of London and Tower Bridge. There are two new accommodations for 2018 such as Atlas and Vauxhall. Angel Lane in Stratford, Ewen Henderson Court, Julian Markham House in Elephant and Castle, Moonraker Point in Southwark and Stratford One are nominated residences run by the Unite Group.[299] Hampstead Residence was a residence near the former King's Hampstead Campus, but was sold by King's College London and is no longer a King's venue.
Strand Campus- The Strand Campus is the founding campus of King's and is located on the Strand in the City of Westminster.The Strand Campus houses the arts and science faculties of King's, including the faculties of Arts & Humanities, Law, Business, Social Science & Public Policy and Natural & Mathematical Sciences (formerly Physical Sciences & Engineering).
Guy's campus- Guy's Campus is situated close to London Bridge and the Shard on the South Bank of the Thames and is home to the Faculty of Life Sciences & Medicine and the Dental Institute. The Students' Union has extensive facilities on the Guy's Campus including activity rooms, meeting rooms alongside a student cafe; The Shed and student bar; Guy's Bar. Guy's Campus is located opposite the Old Operating Theatre Museum, which was part of old St Thomas Hospital in Southwark.
Waterloo campus- The Waterloo Campus is located across Waterloo Bridge from the Strand Campus, near the South Bank Centre in the London Borough of Lambeth and consists of the James Clerk Maxwell Building, the Franklin–Wilkins Building and the Waterloo Bridge Wing Building.
St Thomas's Campus- The St Thomas' Campus in the London Borough of Lambeth, facing the Houses of Parliament across the Thames, houses parts of the School of Medicine and the Dental Institute. The Florence Nightingale Museum is also located here. The museum is dedicated to Florence Nightingale, the founder of the Nightingale Training School of St Thomas' Hospital (now King's Florence Nightingale Faculty of Nursing and Midwifery). St Thomas' Hospital became part of King's College London School of Medicine in 1998. The St Thomas' Hospital and Campus were named after St Thomas Becket. The Department of Twin Research (TwinsUk), King's College London is located in St. Thomas' Hospital.
Denmark Hill campus- Denmark Hill Campus is situated in south London near the borders of the London Borough of Lambeth and the London Borough of Southwark in Camberwell and is the only campus not situated on the River Thames. The campus consists of King's College Hospital, the Maudsley Hospital and the Institute of Psychiatry, Psychology and Neuroscience (IoPPN). In addition to the Institute of Psychiatry, Psychology and Neuroscience, parts of the Dental Institute and School of Medicine, and a large hall of residence, King's College Hall, are situated here. Other buildings include the campus library known as the Weston Education Centre (WEC), the James Black Centre, the Rayne Institute (haemato-oncology) and the Cicely Saunders Institute (palliative care).
Notable alumni in the sciences include Nobel laureates Peter Higgs (Physics), Michael Levitt (Chemistry), Max Theiler (Medicine) and Sir Frederick Hopkins (Medicine); polymath Sir Francis Galton; Raymond Gosling who took Photograph 51 which was critical evidence in identifying the structure of DNA; co-discoverers of Hepatitis C and of the Hepatitis D genome Michael Houghton and Qui-Lim Choo; pioneer of in-vitro fertilisation (IVF) Patrick Steptoe; mammal cloning pioneer Keith Campbell; pathologist Thomas Hodgkin; founder of modern hospice philosophy Dame Cicely Saunders; botanist David Bellamy; Shaw Prize laureate Sir Richard Doll; Kyoto Prize laureate Anthony Pawson; Wolf Prize laureates Michael Fisher (Physics) and Sir James Gowans (Medicine); Lasker Award winner John Hughes; Gairdner Foundation International Award winner R. John Ellis; Beriberi researcher TakakiKanehiro; inventor of Kerosene Abraham Pineo Gesner; inventor of the Seismometer John Milne, and at least 111 Fellows of the Royal Society.
Notable King's alumni in poetry and literature include the poet John Keats (Guy's Hospital) the dramatist Sir W. S. Gilbert, and the writers Thomas Hardy, Sir Arthur C. Clarke, Virginia Woolf,Alain de Botton, Sir Michael Morpurgo, W. Somerset Maugham, Charles Kingsley, C. S. Forester, John Ruskin, Radclyffe Hall, Susan Hill, HanifKureishi, Maureen Duffy, Khushwant Singh, Sir Leslie Stephen and the Booker Prize winner Anita Brookner.
King's has educated numerous foreign Heads of State and Government including two former Presidents of Cyprus, Tassos Papadopoulos and GlafcosClerides, Prime Minister of Jordan Marouf al-Bakhit, President of the Seychelles France-Albert René,Prime Minister of the Bahamas Sir Lynden Pindling,[321] President of Uganda Godfrey Binaisa.
Notable King's alumni to have held senior positions in British politics include two Speakers of the House of Commons (Lord Maybray-King and Lord Ullswater) and the former Cabinet ministers Lord Watkinson, Lord Passfield and Lord Wilmot. As of the current Parliament there are 19 King's graduates in the House of Commons, namely Alex Burghart, Nic Dakin.
If you are planning to study abroad in the UK and targeting this university, you can get in touch with AEC. Give us a call on +91-8448446609 or 011-43334444 to get assistance on call. You ca also write a query and sent it to us at enquiry@aecoverseas.com.