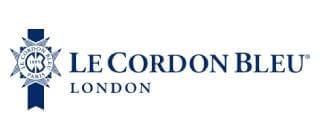 LE CORDON BLEU UNIVERSITY

London, England
Particular: Details
Location: London, England
Established: 1895
Total Students: 20,000
Percentage of International Students: 25%
Le Cordon Bleu (French for "The Blue Ribbon") is an international chain of hospitality and culinary schools teaching French cuisine. Its educational focuses are hospitality management, culinary arts, and gastronomy.
The origin of the school name may come from the French Royal and Catholic Ordre des Chevaliers du Saint Esprit.
The institution consists of 35 institutes in 20 countries and has over 20,000 students of many different nationalities.
Le Cordon Bleu played in central role in the 2009 American film, Julie & Julia, which was partly based on Julia Child's memoir My Life in France. In addition, central protagonists in other films attended or were graduates of Le Codon Bleu such as Audrey Hepburn's character in the eponymous 1954 American film, Sabrina and Huo Ting En in the 2017 Taiwanese television series, The Perfect Match.
Orientation Program – comprehensive induction program providing information on banking, medical, shopping, transport, cultural adjustment and campus tours.
Information and advice on student visas
Support with accommodation
Timetabling
Internship and Career Services
Student Insurance
Provide documents:
Letters to confirm your student status
Recommendation Letter
Academic Transcripts and Certificates
Examinations
Graduation Ceremonies
| | |
| --- | --- |
| Country rank | 93 |
| World rank | 11411 |
The Rosewood – 5* 252 High Holborn, London, WC1V 7EN
Tel: +44 (0) 20 7781 8888
Email: london@rosewoodhotels.com
Web: rosewoodhotels.com/en/london
Principal London – 4* 1 – 8 Russell Square, London,  WC1B 5BE
Tel: +44 (0) 203 733 9847
Email: phcompany.com/principal/london-hotel/contact/
Web: phcompany.com/principal/london-hotel/
The Bloomsbury Hotel – 4* 16-22 Great Russell Street, London, WC1B 3NN
Tel: +44 (0) 20 7837 6470
Email: bloomsbury@doylecollection.com
Web: doylecollection.com/hotels/the-bloomsbury-hotel
The Montague On The Gardens – 4* 15 Montague Street, London, WC1 5BJ
Tel: +44 (0) 20 7637 1001</p.
Email: bookmt@rchmail.com
Web: montaguehotel.com
Mentone Hotel – 2* 54-56 Cartwright Gardens, London WC1H 9EL
Tel: +44 (0) 20 7387 3927
Email: info@mentonehotel.com
Web: mentonehotel.com
The Judd Hotel 46 Cartwright Garden, London, WC1H 9EL
Tel: +44 (0) 20 7383 9210
Email: info@juddhotel.com
Web: juddhotelbloomsbury.com
Grange Hotels
QUOTE 19728 for special Le Cordon Bleu rates
Grange White Hall Hotel 2-5 Montague Street, London, WC1B 5BU
Tel: +44 (0) 20 7580 2224
Email: whitehall@grangehotels.com
Web: grangehotels.com/hotels-london/grange-white-hall
Grange Beauchamp Hotel 24-27 Bedford Place, London WC1B 5JH
Tel: +44 (0) 20 7016 2540
Email: beauchamp@grangehotels.com
Web: grangehotels.com/hotels-london/the-beauchamp
Grange Buckingham Hotel 39-40 Bedford Place, London, WC1B 5JT
Tel: +44 (0) 20 7636 2427
Email: buckingham@grangehotels.com
Web: grangehotels.com/hotels-london/the-buckingham
Grange Clarendon Hotel 34-37 Bedford Place, London, WC1B 5JR
Tel: +44 (0) 20 7307 1575
Email: clarendon@grangehotels.com
Web: grangehotels.com/hotels-london/the-clarendon
In 1933, former student Dione Lucas helped to open a school under the Le Cordon Bleu name in London, England. In the United States, 16 schools used to operate under the "Le Cordon Bleu North America" name through a licensing agreement with Career Education Corporation (CEC), a for-profit education company based in Chicago, Illinois. In 2009, the license was estimated to be worth $135 million.  In 2014, Le Cordon Bleu North America generated $178.6 million in revenue and $70.6 million of operating losses. However, in light of the gainful employment rules implemented by the US Department of Education in 2015, CEC, which owned and operated the US schools, made the decision to sell the 16 campuses. When they failed to find a buyer they announced on 16 December 2015 that they will close all 16 Cordon Bleu campuses in the United States teaching out the program through September 2017. Their last new students were accepted in January 2016. In June 2016, The Securities and Exchange Commission requested documents and information regarding Career Education's fourth quarter 2014 classification of its Le Cordon Bleu campuses. Le Cordon Bleu has continued to maintain a presence in the United States through their New York office, Le Cordon Bleu Inc., which places U.S. students in one of the school's global locations.
GastónAcurio
Darlene AntoninoCustodio
GarimaArora
ArgiroBarbarigou
GhillieBasan
Mario Batali
Simone Beck
Yasmin Belo-Osagie
Mary Berry
Michael Booth
Rodolfo Bottino
David Burtka
Homaro Cantu
Gianfranco Chiarini
Julia Child
Giada De Laurentiis
PoojaDhingra
Nathalie Dupree
Brad Farmerie
Judith Lynn Ferguson
Kathleen Flinn
GbubemiFregene
Maria Goretti (actress)
Stephanie Izard
Kelis
Rachel Khoo
Ai Kidosaki
Kristen Kish
John Klein
ErezKomarovsky
FumikoKono
Vicky Lau
Sandra Lee (chef)
Dione Lucas
Sheila Lukins
VirgilioMartínezVéliz
Aida Mollenkamp
YotamOttolenghi
Lyn Peters
Jeff Probst
Steven Raichlen
Lydia Shire
Nancy Silverton
Fife Symington
Ming Tsai
John Whaite
Jennifer Yee
If you are planning to study abroad in the UK and targeting this university, you can get in touch with AEC. Give us a call on +91-8448446609 or 011-43334444 to get assistance on call. You ca also write a query and sent it to us at enquiry@aecoverseas.com.