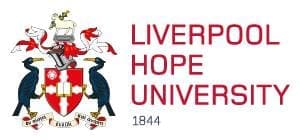 LIVERPOOL HOPE UNIVERSITY

Liverpool, England
Particular: Details
Location: Liverpool, England
Established: 1844
Total Students: 5,100
Percentage of International Students: 12%
The university has two campuses – the main Hope Park Campus in the suburb of Childwall and the Creative Campus in Everton, approximately 15 minutes walk to Liverpool city centre and approximately 22 minutes walk to Liverpool Central train station.
Charlie Chaplin– Liverpool local historian Ken Pye has attested that, although not an alumnus of the university, comedian and silent film actor Charlie Chaplin temporarily lived in Salisbury Street and was registered as a pupil at St Francis Xavier's Jesuit Secondary and Elementary schools (now part of the Creative Campus).
The Sheppard-Worlock Library is the university's central library, based at the Hope Park campus. Housed within the Hilda Caonstance Building, the library offers extended hours throughout the year, including periods of 24-hour opening.
Students at the university are represented by Liverpool Hope Students' Union (LHSU). Although there are two campus sites (plus another residential site) for the university, the Students' Union offices are located in the Foyer in the Lecture Theatre Complex at the Hope Park Campus.
The university also broadcasts its own student radio station, THIS Radio. THIS stands for The Hope Institute of Sound and is Liverpool Hope University's brand new student radio station. They broadcast globally online at thisradio.co.uk and through the THIS Radio Smartphone App.
DISABILITY SUPPORT-  Theyendeavour to ensure equality of educational opportunity across our diverse student community. The University will take reasonable steps to ensure that the general need for access and the specific requirements of individuals with additional support needs are addressed. The Learning Support Team works with disabled students in order to minimise any potential disadvantage they may face because of their disability.
MENTAL HEALTH AND WELL-BEING- University life can be very demanding at times and adjusting to a new environment can be difficult for some. Stress factors such as moving away from home, academic demands and financial worries can all impact on students' mental well-being. They provide support for anyone who is experiencing any form of mental health difficulty.
COUNSELING- They provide a professional and confidential student counseling service to help you with any personal issues that may be affecting your studies, self-esteem, relationships, emotional or general feelings of well-being.
| | | |
| --- | --- | --- |
| Team | Phone | e-mail |
| Student Administration | 0151 291 3331 | administration@hope.ac.uk |
| Student Enrolment (Admissions) | 0151 291 3899 | admission@hope.ac.uk |
| Student Finance | 0151 291 3339 | financequeries@hope.ac.uk |
| Student Funds | 0151 291 3464 | studentfund@hope.ac.uk |
University-owned accommodation is available on both campuses. At the main Hope Park campus, set in the landscaped gardens, there are:
Wesley: primarily for QTS and first year undergraduates.
Newman: taking its name from the eminent Catholic cardinal, Newman offers first year and masters accommodation.
Teresa: the final hall recently added to the Hope Park campus with en-suite accommodation.
Austin: located on the main campus offers mixed sex accommodation.
Angela: offers single sex, female accommodation.
Agnes & St. Margaret's: situated in the older part of the university.
Elphin's and St. Elthedreda: these halls are located in the older part of the university and are close to the central university library.
Michaels' and St. Julies: these halls are located in Aigburth Park and are offered to undergraduate and mature students.
The Creative Campus is served by Gerard Manley Hopkins Hall. The university also has halls of residence at Aigburth.
The main campus, Hope Park, is located in Childwall and the second campus, The Creative Campus, is located in Everton.
Malik Al Nasir, poet and author
Diane Allahgreen, athlete, hurdles champion, double European gold medallist
David Alton, Baron Alton of Liverpool, politician, life peer
Steve Brine, Member of Parliament for Winchester
Heather Craney, actress
Simon Gilbert (journalist), journalist and author
Peter Kilfoyle, politician, former Member of Parliament for Liverpool Walton
Colm McFadden, Gaelic footballer
Jenny Meadows, athlete
Terry Molloy, actor
Paul Nuttall, UKIP MEP
StelPavlou, screenwriter and novelist
Willy Russell, playwright
Mike Storey, (now Baron Storey) politician, former Leader of Liverpool City Council
Mary Lu Zahalan, singer and actress
Emma Hayes MBE, Chelsea Ladies manager
If you are planning to study abroad in the UK and targeting this university, you can get in touch with AEC. Give us a call on +91-8448446609 or 011-43334444 to get assistance on call. You can also write a query and sent it to us at enquiry@aecoverseas.com.