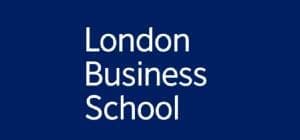 LONDON BUSINESS SCHOOL

London, England
Particular: Details
Location: London
Established: 1964
Total Students: 2,075
Percentage of International Students: 15%
The London Business School (LBS) is among the crème de la crème of the world's top b-schools.
Founded in 1964, it has striven, in its own words, "to have a profound impact on the way the world does business."
A constituent college of the federal University of London, the LBS welcomes over 2,200 degree students from 109 countries each year.
LBS offers a full-time MBA, Masters in Management, Global Masters in Management, and Masters in Analytics and Management, Finance (full-time and part-time), and Financial Analysis, besides an Executive MBA, EMBA-Global, and the LBS Sloan Masters in Leadership and Strategy.
Executive education courses cover, among other areas, general management, leadership, strategy, and digital transformation and innovation, which are organized in London and Dubai and at various organizations worldwide and online.
PhD programs, to prepare scholars for outstanding institutions of learning, are available in accounting, economics, finance, marketing, and other areas of business studies.
LBS and its programmes are often ranked among the best in the world and in Europe. According to Financial Times rankings it is:
1st Business School inEurope (2014, 2015, 2016, 2017, 2018)
1st in the world for the Masters in Finance post-experience (2012, 2013, 2014, 2015, 2017, 2018)
2nd in the world for the Executive MBA (Global-EMBA Asia joint programme – 2017)
3rd in the world for the Global MBA (2016)
4th in the world for the Executive Education (2015, 2017)
3rd in the world for the Masters in Management (2018, 2019)
LBS was ranked sixth in the Financial Times's Global MBA Ranking 2019 (fourth in 2018) and fourth in the QS Global MBA Rankings 2019. It topped FT's 2018 European business school rankings.
In 2017, Forbes ranked the two-year international MBA the best, with the highest return on investment for any two-year MBA in the world. In 2016, Bloomberg Businessweek ranked LBS the best international school.
The campus is located in Marylebone, on the perimeter of Regent's Park. The main building, designed by John Nash, along with the entire area of Regents Park, was originally built as 26 terraced houses in 1822–23. There are ten pointed cupolas along the roof line, and the façade is adorned with Corinthian columns.
LBS maintains a number of facilities, including a sports centre, restaurant, three cafes and a library, all dedicated for the exclusive use of its community. There is also a privately run pub, 'The Windsor Castle' attached to the campus. Most classrooms for the MBA are located in the Sainsbury Wing, the centre of the terrace, most of which are 100-student amphitheatre rooms.
There is no accommodation on campus for students in full-time programmes, although there are rooms on-campus for visiting faculty and executive education participants. Most students choose to live in nearby private residential buildings or in students halls of residence such as the International Students House, London.
LBS is expanding its campus in central London. The business school has redeveloped the Old Marylebone Town Hall into classrooms and offices as the Sammy Ofer Centre. It will further expand it in 2020.
LBS's main building, designed by the famous British architect John Nash (1752-1835) along with the entire Regents Park locality, was originally constructed as 26 terraced houses.
The roofline of the building features ten pointed cupolas with a façade adorned by Corinthian columns. The campus includes a library, a sports center, three cafés, a restaurant, a privately run pub, a fitness studio, and a swimming pool.Most of the MBA classrooms are amphitheaters that can seat 100 students. No accommodation is provided for full-time students, although rooms are available on the campus for visiting faculty and executive education students.
Most students live in private residential buildings or in student lodgings. The school has a secondary campus in Dubai, which runs EMBA and executive education programs.
KavehAlamouti, MBA & PhD – CEO of Citadel LLC Asset Management Europe
Ashley Almanza – CEO of G4S
Prince Chad Al-Sherif Pasha of the Hijaz and Turkey[
Nigel Andrews, MSc, 1978 – former chairman of Old Mutual Asset Management
Sir David Arculus – chairman, O2
Nicholas Ashley-Cooper, 12th Earl of Shaftesbury, MBA
SükhbaatarynBatbold, "a degree", 1991 – former Prime Minister of Mongolia
Pablo ZalbaBidegain, Executive MBA – Member of European Parliament (Spain)
Kumar Birla, MBA, 1992 – Chairman, Aditya Birla Group
Ronald Boire – Former President and CEO of Brookstone[
Vice Admiral Paul Boissier, MSc – Former CB Deputy Commander-in-Chief, British Navy Maritime Forces; CEO of Royal National Lifeboat Institution (RNLI
Jonathan Coleman – Member of Parliament (New Zealand)
Don Cowan – Former CEO and President of ABN AMRO Bank Canada
Stephen Crabb – member of the British House of Commons and former Secretary of State for Wales and for the Department of Work and Pensions
David Davis – UK Cabinet Member responsible for Brexit negotiations
Sir John Egan – Former CEO of Jaguar Cars, Former CEO of BAA, Chairman of Severn Trent plc
Philip Nevill Green – Chairman of Carillion
Justine Greening – Secretary of State for Education and member of the British House of Commons
Gillian Keegan – British Conservative Party politician and Member of Parliament for Chichester
Sir Richard Greenbury – former Chairman and CEO, Marks & Spencer
IllugiGunnarsson – Minister of Education, Science, and Culture, Iceland
Prince Faisal bin Al Hussein – Special Assistant to Chairman & Joint Chiefs of Staff, Jordanian Armed Forces
Hassan Jameel, Saudi businessman
Sir John Jennings (businessman) – former CEO, Shell
MoezKassam – Founder of Anson Group
Sir Christopher Kelly – Chairman, NSPCC
Maria Kiwanuka – Minister of Finance in Cabinet of Uganda
Timothy Kopra[80] – NASA Astronaut
Thomas Kwok – Vice Chairman and Managing Director, Sun Hung Kai Properties
Alex Loudon – former professional cricketer
Dame Mary Marsh – Former CEO of NSPCC
Stephen Martin (MBA 2003) – former CEO of Clugston Group, director general of the Institute of Directors[81]
Cyrus PallonjiMistry, Former Chairman and CEO of the Tata Group
Nigel Morris – Co-founder, Capital One Financial Services
David Muir – Director of Political Strategy, to then British Prime Minister Gordon Brown MP
Ray O'Rourke – CEO of Laing O'Rourke
IdanOfer – Chairman of Israel Corporation / Principal of Quantum Pacific International Limited[82]
Paul Onwuanibe – CEO of Landmark Group
Kenneth Ouriel – prominent vascular surgeon and medical researcher
Mike Parsons – CEO of Barchester Healthcare
Ted Pietka – Supervisory Board Member in BoryszewS.A..
RoysPoyiadjis – Entrepreneur and financier
David E.I. Pyott – former Chairman, President, and CEO of Allergan[83]
RamjiRaghavan – Founder and Chairman of Agastya International Foundation
Jim Ratcliffe – Chairman and CEO of Ineos Chemicals Group
Omar Samra – First Egyptian and youngest Arab to climb Mount Everest
Stewart Wallis – Executive Director of New Economics Foundation
Wong KanSeng – former Deputy Prime Minister, Singapore
Sir John Sunderland – former Chairman, Cadbury Schweppes plc
Tony Wheeler – Founder, Lonely Planet
If you are planning to study abroad in the UK and targeting this university, you can get in touch with AEC. Give us a call on +91-8448446609 or 011-43334444 to get assistance on call. You can also write a query and sent it to us at enquiry@aecoverseas.com.