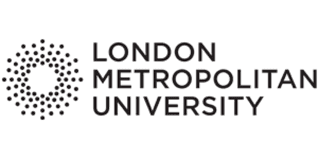 LONDON METROPOLITAN UNIVERSITY



Total Students
Over 16,000

An Overview
Quick Facts
Rankings (2023)
Cost
Gallery
Map
An Overview
London Metropolitan University (London Met) is a public university in London, England. It was founded in 1848 as the Northampton Institute, and became a university in 1992. London Met has over 16,000 students from over 150 countries, and offers a wide range of undergraduate and postgraduate courses in a variety of subjects.
Quick Facts
Rankings (2023)
Cost
Gallery
Map
If you are planning to study in UK and targeting this university, you can get in touch with AEC. Give us a call on 080-69029999 or 011-43334444 to get assistance on call. You can also write a query and sent it to us at enquiry@aecoverseas.com
Particular: Details
Location: London
Established: 1848
Total Students: 9,200
Percentage of International Students: 18%
The university has campuses in the City of London and in the London Borough of Islington, a museum, archives and libraries. Special collections include the TUC Library the Irish Studies Collection and the Frederick Parker Collection. London Metropolitan offers about 160 degree courses, to 9,200 students (including 7,000 overseas students from 155 countries). Student media at London Metropolitan University include:
Verve magazine – launched in 2009 by journalism students; articles about the university, general politics, entertainment, lifestyle, fashion and sports.
Verve Radio – launched in 2011 as a platform for student thoughts and opinions; regular shows hosted by student DJs.
Dictum – launched in 2010 by law students; articles on law, politics and international relations; notable guest writers include Supreme Court Judge Robert Walker and writer, blogger and barrister Tim Kevan.
The University's academic departments are currently arranged into six schools, where previously there were four faculties each comprising three schools. These are:
Guildhall School of Business and Law
School of Computing and Digital Media
School of Human Sciences
School of Social Professions
School of Social Sciences
Sir John Cass School of Art, Architecture and Design (otherwise known as "The Cass")
The university invests over £700,000 annually in its scholarship programme to help academically excellent students as well as students with outstanding achievements in various sports disciplines, such as hockey, tennis and basketball.
Accommodation
Find somewhere to live during your studies
It's important to find somewhere safe, affordable and comfortable to live in a new city, so we're here to give you a comprehensive guide to student housing in London.
Funding your studies
Find out what financial support is available
Discover what funding you're entitled to, help us take the stress out of those funding application forms and get help with student finance queries
Two women in counselling
Counselling Service support and personal development
We'll help you work through personal issues
The University's team of trained counsellors provide an opportunity for you to think and talk about any personal or emotional difficulties that may be concerning you.
Increase your employability
Improve your career prospects
The University careers team offers a range of services to support you with career planning whilst you are studying and for up to three years after graduation.
Library Services, supporting your success
Study spaces and materials to aid your learning
With a wide range of study areas and facilities, access to extensive study materials and helpful and well-informed staff, our library services are here to help you succeed.
Refugee Assessment and Guidance Unit (RAGU)
Services for refugee health professionals
The Refugee Assessment and Guidance Unit (RAGU) provides careers advice, guidance and skills development for refugee health professionals.
Access advice from one of our student hubs
Specialist student support
We have student hubs at both of our campuses to help you get advice and guidance from staff.
Get involved with student life
Find out more about the Students' Union
The Students' Union is the place to go for student discounts, clubs and societies, independent advice, representation, volunteering opportunities and more.
Optivo Wood Green Hall
Optivo- Park house
Optivo- goldsmiths House
Optivo- Helen Graham House
Cass and Claredel – John Cass Hall
Cass and Claredel-Clardel House
Axo Camden
Britannia South Bank
Chester House
Chapter- Highbury
Chapter- islington
Chapter- Spitafeilds
Chapter- Portobello
Chapter- Lewisham
Unite Students- Stapleton House
The main university campus is on Holloway Road in the London Borough of Islington where five of the University's Schools are based. London Met's Sir John Cass School of Art, Architecture and Design is based in Aldgate.
Helen Baker, author
John Box OBE, Academy Award and BAFTA-winning British film production designer and art director
Noel Clarke, director, screenwriter and actor
Alannah Currie, artist
James Hyman, DJ, Radio & TV presenter, music supervisor and MD of JLH.
Henry Irving, first English Stage actor to be awarded a knighthood[67]
W.R. Linton, West Australian artist and teacher[68]
Maimie McCoy, actress
Tom McRae, English singer-songwriter
Alison Moyet, pop singer
Michael Petry, multi-media artist, director of MOCA London, and co-founder of the Museum of Installation, London
Vic Reeves, comedian
Daniela Ruah, actress, most notably NCIS: Los Angeles
Edwin Smith, photographer
AdaoraOnyechere, a Nigerian TV/radio presenter, entrepreneur, motivational speaker and author.
Irwin Sparkes, front-man of pop band The Hoosiers[69]
Matthew Sweeney, Irish poet
William Neville Bingley, lawyer and academic known as the architect of Code of Practice for the Mental Health Act 1983[72]
Rowan Carstairs, 1973–1977 (Philosophy: North London Polytechnic) Entrepreneur, Writer, and Social Housing Advocate.[73]
Edward George Clarke, Victorian British barrister and politician[67]
Ian M. Cook, Chairman, President and chief executive officer of Colgate-Palmolive.
Harry Henry, one of Britain's market research pioneers and last survivor of the 23 founders of the Market Research Society (MRS)
Kojo Jones, a Ghanaian business mogul and the founder of Empire Domus.
Nick Leeson trader with Barings Bank who brought about its collapse
Jane Shepherdson, chief executive of UK clothing brand, Whistles and was brand director for TopShop.
Adel Al-Mouwdah, Deputy Speaker of Bahrain's first elected parliament and president of Salafist party, Asalah
Graham Allen, Member of Parliament (1974, City of London Polytechnic)
Candy Atherton, British journalist and former Member of Parliament (1985, BA Applied Social Studies, Polytechnic of North London)
Julie Bindel, English writer, feminist and co-founder of the group Justice For Women (Researcher)
James Brokenshire, Member of Parliament
Jeremy Corbyn, current leader of the Labour Party (Trade Union Studies, North London Polytechnic: did not graduate)
Kate Hoey, Member of Parliament (Economics, City of London College)
Sadiq Khan, Member of Parliament and Mayor of London (1992, Law, University of North London)
NainendraNand, former Solicitor-General of Fiji from 1997 to 2000
Christine Russell, former Member of Parliament
Neil Tennant, from the Pet Shop Boys (1972–75 History, North London Polytechnic)
AJ Tracey, Musician (dropped out)
If you are planning to study abroad in the UK and targeting this university, you can get in touch with AEC. Give us a call on +91-8448446609 or 011-43334444 to get assistance on call. You can also write a query and sent it to us at enquiry@aecoverseas.com.