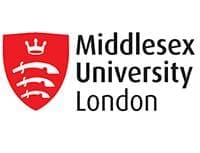 MIDDLESEX UNIVERSITY LONDON

London, England
Particular: Details
Location: London, United Kingdom
Established: 1878
Total Students: 19635
Percentage of International Students: 18%
Middlesex is ranked within the top 100, and highest ranked in the UK, universities in the world under 50 years old by the Times Higher Education Young University Rankings In 2017, it was awarded Silver by the Teaching Excellence Framework. The university has been awarded the Queen's Anniversary Prize three times and has twice received Queen's Award for Enterprise for its international work.
In the Faculty of Science and Technology, much of the work is guided by the notion that people have an essential part to play in modern engineering and technology. Within the Faculty they are attempting to integrate the study of people, both as individuals and societies, with that of artefacts and the sciences that are involved.
The name of the university is taken from its location within the historic county boundaries of Middlesex. 
The university has student exchange links with over 100 universities in 22 countries across Europe, the    United States, and the world. More than 140 nationalities are represented at Middlesex's Hendon campus alone.
The university also has partnerships with other educational institutions around the world.[8]The university has now consolidated its many London campuses into one Hendon campus where it now accommodates all its London-based teaching.
Middlesex Students' Union (MDXSU) is a non-profit organisation, separate to the university, which acts as the voice of students at Middlesex and supports them throughout their studies. The Students' Union provides social and skill-building opportunities through societies, events, volunteering and the student-run media. The latter, POW! Media, includes a termly magazine, radio station, TV channel and online blog showcasing student content. MDXSU is led by four Student Officers who are elected each spring by students at Middlesex.
National rankings
Complete (2020)
89
Guardian (2020)
70
Times / Sunday Times (2020)
110
Global rankings
ARWU (2019)
901–1000
QS (2020)
751–800
THE (2020)
401–500
British Government assessment
Teaching Excellence Framework
Silver
Halls of residence-There are many benefits to living in halls of residence. Here are three top reasons to choose halls.
Strong student community-Living in halls is a great way to meet people. Make the most of shared spaces to study, eat, watch TV and play sport together.
Safety and security-Our halls have 24-hour reception and security teams so there's always someone around to help. The team will also fix maintenance problems quickly with no hassle.
The Hendon campus is located in North West London, near Hendon Central Underground station. Its main College Building was built in the neo-Georgian style by H.W. Burchett and opened in 1939 as part of Hendon Technical Institute. This was extended in 1955 and in 1969 when a new refectory and engineering block were added, and later expanded using a number of London Borough of Barnet office buildings including the current Town Hall.
Helen Mirren, actress
Sir Ray Davies, CBE musician
Dermot O'Leary, broadcaster
Alan Carr, comedian
Araf Shardd, golfer
If you are planning to study abroad in the UK and targeting this university, you can get in touch with AEC. Give us a call on +91-8448446609 or 011-43334444 to get assistance on call. You can also write a query and sent it to us at enquiry@aecoverseas.com