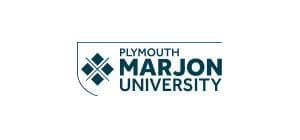 PLYMOUTH MARJON UNIVERSITY

Plymouth, England
Particular: Details
Location: Plymouth, UK
Established: 2012
Total Students: 4000
Percentage of International Students: 15%
Plymouth Marjon University has been educating students for 180 years.
One of the safest cities in the UK, situated between the moors and sea.
Green, safe campus with on-site accommodation, gym and swimming pool.
Plymouth Marjon is a small university with a green and spacious campus and world-class facilities in a spectacular part of the world. Its students achieve more thanks to a personalised approach and an ambitious, student-centred community. Specialisms include teaching, sport, health and wellbeing, social sciences, business, and performing arts.
The library includes a variety of workspaces for individuals or group study.
Over 120,000 print titles, along with over 16,000 journals and an e-book collection that can be accessed online, available 24/7.
24-hour computer suite.
Faith support
Marjon chaplains provides support for people of all faiths and none – a friendly and confidential ear for when life gets difficult. There is a prayer room as well as a chaplaincy, with services, discussion groups and social events.
Childcare services
There is a high-quality nursery on site, run by an external organisation, which many children of staff and students attend.
Campus spaces
The campus includes a small shop, a bar, several cafés and eating options, a theatre, a cinema room and a games room.
Detailed programme of study skills for all years, bookable online.
Topics include critical thinking, dissertation masterclass and academic research.
Online 24/7 service to upload and check quality of assignments before submission.
Every student has a personal development tutor for motivation and practical support.
Local GP surgery with good links to the university.
Focus on wellbeing, with a gym, pool and sports clubs on site.
Sport therapy and osteopathy clinics on site.
Counselling and mental health support
Wellbeing triage service run in conjunction with the chaplaincy to signpost services.
On-site counselling service with self-referral.
Wellbeing support for resident students via campus life coordinators.
Strong network of pastoral support across the whole university.
Plymouth is accessed via the A38 Devon Expressway which connects to the motorway network at Exeter (M5).
Frequent buses run between the campus, the city centre and the university, with discounted tickets for students.
Express coach services operate along the M5, offering good-value transport links.
Regular rail services link Plymouth and London Paddington, including high-speed services taking just over 3 hours.
Marjon Student Union has a very positive relationship with the university management team and a strong voice on committees.
The Student Union welcomes students to Marjon, organising events and activities to ensure everyone feels they belong.
The SU runs sport events, campaigns on critical topics and supports a wide variety of clubs and societies.
All first year students are guaranteed university-approved accommodation.
On-campus accommodation provides a safe environment with 24/7 security, group kitchen/diner and communal cleaning.
Resident student assistants in each hall provide wellbeing support.
Bills, broadband and contents insurance are included.
Shop, bar, canteen, laundrette, pool, gym and games room are all on site.
Part-time work is available within the university through the student ambassador scheme, and in Plymouth.
The student ambassador scheme offers flexible, paid work to assist with university events, open days and UCAS fairs.
Plymouth offers a wide variety of seasonal, retail and hospitality work.
If you are planning to study abroad in the UK and targeting this university, you can get in touch with AEC. Give us a call on +91-8448446609 or 011-43334444 to get assistance on call. You can also write a query and sent it to us at enquiry@aecoverseas.com.