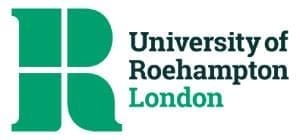 ROEHAMPTON UNIVERSITY LONDON

London, England
Particular: Details
Location: Roehampton, UK
Established: 1841
Total Students: 12,665
Percentage of International Students: 20%
The university opened a new library in 2017, designed by Feilden Clegg Bradley Studios. The library houses the Jewish Resource Centre Collection, the Centre for Marian Studies.
The university has a modern fitness centre, grass football pitches, a multi-use games area, studio facilities and a sports hall for indoor sports and classes.
The university has following schools-
Department of Dance
Department of Drama, Theatre and Performance
School of Education
Department of English and Creative Writing
Department of Humanities
Department of Life Sciences (including Nursing)
Department of Media, Culture and Language
Department of Psychology
Department of Social Sciences
Roehampton University Business School
Roehampton University Law School (opened in 2015)
Roehampton consists of four colleges, around which accommodation is centred. Mount Clare is offered to continuing students and Linden House is offered to Postgraduate students, whilst a majority of the others are available to First Year undergraduate students. Since 2014 it has also offered accommodation in central London at the Spring Mews development in Vauxhall, central London. In September 2015, it opened new student accommodation in the grounds of Downshire House – Chadwick Hall. In September 2016 new student accommodation opened on Digby Stuart College – Elm Grove Hall.
Digby Stuart College

Bede House
Elm Grove Hall
Lee House
Newman House
Shaw House

Froebel College
Aspen House
Chadwick Hall
Garden Court
Lawrence
Linden House
Mount Clare
New Court
Old Court
Southlands College
Aldersgate and Epworth Court
Wesley Hall
Whitelands College
Beverley and Cheltenham
Durham and Gilesgate
Kings and Melrose
Sutherland and Walpole
The university has its roots in the traditions of its four constituent colleges, all of which were founded in the 19th century as women's teacher training colleges:
Whitelands College – Founded in 1841, the college is one of the five oldest institutions for training educators in England. A flagship women's college of the Church of England, it was the first college of higher education in the UK to admit women. It occupies a 14-acre site overlooking Richmond Park.
Southlands College – Founded in 1872, the college derives its ethos from its Methodist foundation. It offers an open and valuable community for all of its members, and regularly organises a range of events and activities to help build and support the community.
Digby Stuart College – Established in 1874 as a teacher training college for Roman Catholic women. The college owes its existence to the Society of the Sacred Heart, whose members continue to support the college and the university.
Froebel College – Founded in 1892, the college was established to further the values of Friedrich Fröbel, the German educationalist who pioneered a holistic view of child development. It is one of the UK's major centres for initial teacher training.
NikiAlbon, Youtuber and twin
Sammy Albon, Youtuber and twin
Toby Anstis, radio DJ
Mike Bailey, actor
Joey Barton, footballer
Lyn Brown, politician
Jack Garratt, singer
Jon Gilbert, bibliographer
Jon Goodman, footballer
Allyson Jule, professor/author
Daniel Kitson, comedian
Samira Makhmalbaf, filmmaker
Helen Metcalf, educator/politician
Alize Mounter, former Miss England
Danielle Perez, former Miss Gibraltar
Rita Ramnani, actress and dancer
Chris Robshaw, Harlequins and England rugby captain
David Rossdale, Bishop of Grimsby
DjouminSangaré, footballer
Darren Shan, author
Joe Tillen, footballer
Deepak Tripathi, historian
Lamorna Watts, actress
Tim Woolcock, painter
If you are planning to study abroad in the UK and targeting this university, you can get in touch with AEC. Give us a call on +91-8448446609 or 011-43334444 to get assistance on call. You can  also write a query and sent it to us at enquiry@aecoverseas.com.