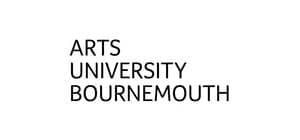 THE ARTS UNIVERSITY BOURNEMOUTH



Total Students
3,000 students (approx.)

An Overview
Quick Facts
Rankings (2023)
Cost
Gallery
Map
An Overview
Arts University Bournemouth (AUB) is a public university located in Poole, England. It was founded in 1880 as the Bournemouth and Poole College of Art and Design, and was granted university status in 1998.
AUB is a specialist university in the creative arts, offering undergraduate and postgraduate courses in art, design, media, and performance. It has a diverse student body, with students from over 100 countries.
Quick Facts
Rankings (2023)
Cost
Gallery
Map
If you are planning to study in UK and targeting this university, you can get in touch with AEC. Give us a call on 080-69029999 or 011-43334444 to get assistance on call. You can also write a query and sent it to us at enquiry@aecoverseas.com
Particular: Details
Location: Poole, Dorset, United Kingdom
Established: 1880
Total Students: 3,385
Percentage of International Students: 12%
It was formerly known as The Arts University College at Bournemouth and The Arts Institute at Bournemouth and is the home of Bournemouth Film School
AUB is the second largest university in Bournemouth and Poole. Bournemouth University being much larger and AECC University College being smaller.
The university was awarded Gold in the 2017 Teaching Excellence Framework, a government assessment of the quality of undergraduate teaching in universities and other higher education providers in England. This award noted high levels of professional employment among graduates.
AUBSU publishes a free, student led magazine called BUMF. It is published termly and includes content from university course programmes, music, poetry, and writing.
The university offers short courses, Summer courses as well as Foundation Diplomas, BA, MA and Research (MPhil/PhD) degrees. The main focus of all courses lies within the areas of art, design, media, and performance.
The institution runs 23 undergraduate and 10 postgraduate programmes organised in two faculties: the Faculty of Art and Design and the Faculty of Media and Performance. These courses are validated for a maximum period of five years and, during the final year, a periodic review is undertaken by a process similar to that for validation with the addition to the panel of up to two student representatives.
Arts University Bournemouth is currently divided into the following faculties:
Faculty of Media & Performance
Faculty of Art, Design & Architecture
AUB was named No.1 Creative University in the Which? University 2012 survey.  The university was not ranked in 2014 due to the lack of students taking part in the survey but was listed in the top 5 in 2018.
In 2016 Arts University Bournemouth was the first university or college of art to receive The Sir Misha Black Award, created in 1999 to honour the exceptional work of a teacher, team, department, or course within or between educational establishments in the UK.
AUB has twice won a Queen's Anniversary Prize for Higher and Further Education. In 1999 Arts University Bournemouth (the Arts Institute at Bournemouth) won the Arts prize for "Education for the film industry."  and in 2017 it was announced that the costume design course had won the prize.
The University maintains four off campus student halls throughout the town. Places are allocated with a priority to students living further away from Bournemouth and to students with disabilities/medical conditions. The University hosts two accommodation days before the beginning of each academic year, so prospective students can independently form house-sharing groups and view private rented accommodation.
The four main halls of residence are:
Bath Road – This town centre accommodation consists of 84 self-contained studios with modern kitchenettes and en-suite shower rooms.
Madeira Road – Built in 2014 with 378 beds, located in the town centre of Bournemouth
Skyline – Located in the Lansdown area of Bournemouth, the Skyline offers ensuite rooms and studios to first year students.
Campus Halls – New for 2020/21, three on-campus block are being built to house 300 students.
In their second and third years, many students live in nearby suburbs of Bournemouth: typically Winton, Charminster or Boscombe, where they can live in independently owned residences.
Most courses are based within one campus which is located in Poole, next to Bournemouth University and Wallisdown. The Campus covers around 3.7 hectares and houses 19 buildings with specialist workshops and workspaces, many of which are shared across similar courses. The BA (Hons) Dance course is partly based at Pavilion dance South West.
Notable facilities include:
The Library – Over 50,000 books available covering a range of art, design, media, and performance subjects.
The Refectory – Was a semi-finalist in the Bournemouth and Poole Tourism Awards 2018 "Breakfast of the Year" category
TheGallery – A gallery open to the public displaying both international touring exhibitions, and work from alumni, staff, and students.
MoDiP (Museum of Design and Plastics) – The only accredited museum in the UK with a focus on plastics. MoDiP is located inside the AUB library.
North Building Extension – A building mainly for photography courses offering flexible teaching spaces, IT suites, and a lecture theatre, which was shortlisted for the 2016 RIBA South West Awards. It was designed by Design Engine Architects Ltd.
The CRAB Drawing Studio, an innovative building designed by the Cook-Robotham Architectural Bureau led by Professor Sir Peter Cook, which was shortlisted for the 2016 RIBA South West Awards. It is the first purpose-built drawing studio to open in the UK for 100 years, emphasising natural light and featuring a large circular north-light and a rear clerestory, which provides softer light.
The Student Services Building, which also houses the Students' Union, and facilities management. This building was also shortlisted for the 2016 RIBA South West Awards.
If you are planning to study abroad in the UK and targeting this university, you can get in touch with AEC. Give us a call on +91-8448446609 or 011-43334444 to get assistance on call. You ca also write a query and sent it to us at enquiry@aecoverseas.com.